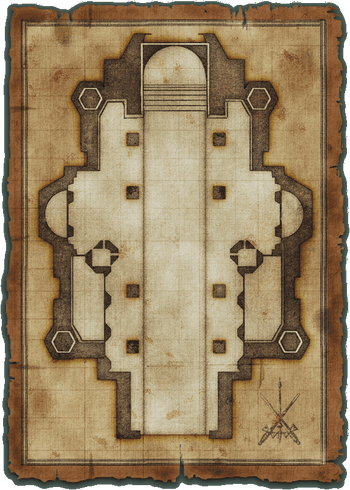 Above & Below (雲泥温泉郷 Undei Onsenkyō, Contrasting Hot Spring Village) is the 39th sub-chapter of Stories of Legend that was added in update version 6.1 of Nyanko Daisensou on May 18th, 2017. It is available up to 4★ difficulty.
Difficulty
Very hard overall, with the penultimate stage being quite easy (it can be defeated by spamming Manic Lion Cats and Maglev Cats), but the final stage compensating for it. This sub-chapter continues the trend of stages that mostly consist of one type of enemy.
2★ difficulty for this sub-chapter multiplies enemy strength magnifications by 120%.
3★ difficulty for this sub-chapter multiplies enemy strength magnifications by 130%.
4★ difficulty for this sub-chapter makes no change to enemy strength magnifications and only allows Special Cats and Rare Cats to be deployed.
New Features
This sub-chapter introduces one new enemy:
Cala Maria: An Angel variant of Calamary. This enemy does three consecutive attacks that deal 36,000 damage each, for a total of 108,000 damage! Fortunately, her attacks are single-target.
List of Stages
Stage number & cost
Stage name
Description
1-38-1
Electric Bath (自家製電気風呂, Jikasei Denkifuro, Homemade Electric Bath)
Spawns a lot of Metal Enemies, such as Super Metal Hippoe, Sir Metal Seal and Metal One Horn. To make it more annoying, Henry is also featured in this stage.
140
1-38-2
Boiling Spring (熱湯風呂我慢大会, Nettōburo Gaman Taikai, Boiling Bath Endurance Contest)
Spawns all sorts of Red enemies, like J.K Bun Bun, Berserkory, Professor A. and Capy.
145
1-38-3
Mineral Treatment (ケミカル長寿の湯, Kemikaru Chōju no Yu, Chemical Long-life Water)
Some Wall Doges at the beginning and a group of Elder Sloths that appear immediately if the player kills them fast enough. The stage width is extremely short here.
135
1-38-4
Soap Scum (垢い敵、黒い汗, Akai Teki, Kuroi Ase, Grimy Enemy, Black Sweat)
Spawns many Black Enemies, like Director Kurosawah and three Tackeys. After a while, Razorback appears as well.
135
1-38-5
The Sauna Crew (源泉に潜む者達, Gensen ni Hisomu-sha-tachi, Those Hiding in the Spring Source)
Mr. Mole and Dolphina combine effort to crush your base, they are both effortlessly spammed in this stage.
145
1-38-6
Steamed to Death (湯けむり極楽地獄, Yukemuri Gokuraku Jigoku, Hot Spring Smoke Paradise Hell)
Cala Maria makes her debut, backed by Kory, Berserkory and overbuffed Kang Roos.
160
Material Drop Rates
| None | Bricks | Feathers | Coal | Sprockets | Gold | Meteorite | Beast Bones | Ammonite |
| --- | --- | --- | --- | --- | --- | --- | --- | --- |
| 49% | 17% | 0% | 15% | 12% | 5% | 2% | 0% | 0% |
Trivia
雲泥 (undei) literally means "things that are very different" and is made up of the kanji for "cloud" (雲 un) and "mud" (泥 dei). This explains the English name, as above and below are antonyms of each other, with clouds being above and mud below.
Reference
---
<< Cutpurse Coast | Windless Island >>
---