Alien Ecology is the fourth stage in Galapa-Goth.
Background
The stage starts with two Metal Hippoes.
After 40 seconds, Hyppoh comes in. Kroxos begin to spawn indefinitely, with Galactic Overseer Nyandam as the boss.
Ursamajor will spawn 80 seconds into the battle, another one 53 seconds following the first.
Two Super Metal Hippoes will spawn if the player takes too long, which is around one minute and forty seconds.
Strategy
Strategy 1 (4 stars)
Lineup: Miss MONEKO, Corrupted Moneko, Mochi, Chill, Golfer, Catasaurus, Awakened Bahamut, Catelite, Ramen, Cameraman
Rich Cat power-up
Immediately bring out both Monekos and a Catasaurus or two. When the Hippoes are dead, summon Bahamut and then spam everything in row 2 just in case. The end!
Strategy 2
Lineup: Ninja Cat, Sumo Cat, Samurai Cat & Sushi Cat (to activate Cool Japan), Rich Cat III (if you don't have Rich Cat III, just put a rusher in his place),Manic Mohawk & Manic Eraser (35+), Critical Hitter, and A. Bahamut.
This startegy is easier to pull off than beating Korea! When the battle starts, Immediately Send out M. Mohawk. Soon after, send 5 or so M. Erasers and steadily keep spawning them until A. Bahamut is ready to be sent. Once you send A. Bahamut, start spamming everything you've got (except for the Cool Japan units and Rich Cat III) and watch as the base falls without you doing anything!!
Onwards to Heavenly Creatures!
Walkthrough
Cheese strategy by The Cattle Bats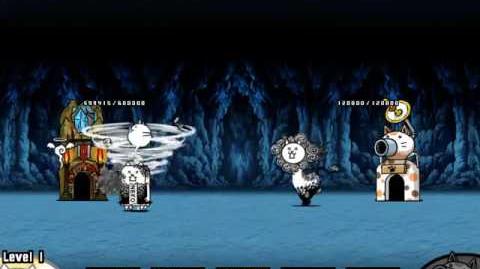 Reference
Community content is available under
CC-BY-SA
unless otherwise noted.