Alien Ecology is the fourth stage in Galapa-Goth.
Battleground
Strategy
Strategy 1 (4 stars)
Lineup: Miss MONEKO, Corrupted Moneko, Mochi Cat, Chill Cat, Golfer Cat, Catasaurus, Awakened Bahamut, Catelite, Ramen Cat, Cameraman Cat
Battle Items: Rich Cat (Required)
Immediately bring out both Monekos and a Catasaurus or two. When the Hippoes are dead, summon Bahamut and then spam everything in row 2 just in case. The end!
Strategy 2
Lineup: Ninja Cat, Sumo Cat, Samurai Cat, Sushi Cat, Rich Cat III, Manic Mohawk Cat, Manic Eraser (35+), Critical Hitter, A. Bahamut.
First four cats are present for their combo.
This startegy is easier to pull off than beating Korea! When the battle starts, immediately send out Manic Mohawk. Soon after, send 5 or so Manic Erasers and steadily keep spawning them until A. Bahamut is ready to be sent. Once you send A. Bahamut, start spamming everything you've got (except for the Cool Japan units and Rich Cat III) and watch as the base falls without you doing anything!!
Onwards to Heavenly Creatures!
Walkthrough
Cheese strategy by The Cattle Bats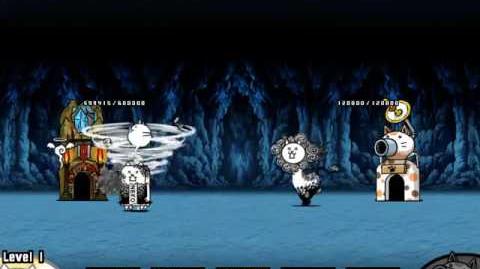 Reference