Raise a Floppa - The Loop
Play Sound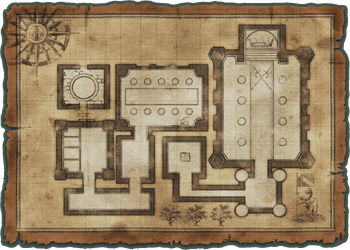 Ancient Forest Labyrinth (古代樹の迷宮 Kodai-ju no Meikyū, Ancient Forest Labyrinth) is the 36th sub-chapter of Uncanny Legends, and the 85th sub-chapter overall. It was added in Version 10.6, and is currently only available in 1♛ difficulty. The Surge Base is in every stage except the last.
Difficulty
Most of the stages are relatively easy for a sub-chapter this late into Uncanny Legends, although Re-Leaf Towers may catch players by surprise on first try.
New Features
This subchapter introduces 1 new enemy:
Elder Flame Doron: A long-ranged kamikaze Relic enemy that is extremely durable. It attacks only once, but deals heavy damage, creates a Lv.8 Surge Attack, and weakens cats to 1% for 40 seconds
When the final stage is completed, players have a 3% chance to unlock Elder Flame Doron as a Cat Unit (guaranteed if a Treasure Radar is used).
List of Stages
Stage number & cost
Stage name
Description
2-36-1
The Ivy-Sealed Door (蔦に閉ざされた扉, Tsuta ni Tozasa Reta Tobira, The Ivy-Sealed Door)
A stage that includes many Black Enemies. Ragin' Gory makes a return with Doge Darks, the Surge Base, and periodic Assassin Bears as support for a Le'noir and a Two Can.
185
2-36-2
Reincarnation Ring (輪廻を表す年輪, Rin'ne o Arawasu Nenrin, A Tree Ring That Symbolizes Saṃsāra)
This stage starts off with One Horn and occasional Ginger Snaches. When the Surge Base is hit, Professor A. appears as the boss alongside two Rain Ds, a Croakley, and an extra One Horn.
200
2-36-3
Re-Leaf Towers (レ・リーフの双塔, Re Rīfu no Sō Tō, Twin Re-Leaf Towers)
Sir Metal Seal and Super Metal Hippoes are the main threats supported by Project A and the Surge Base, with the peons being Kroxo, Those Guys, and Metal Doge.
185
2-36-4
Canopy Altar (樹冠の祭壇, Jukan no Saidan, Canopy Altar)
A few Relic Doges, a Raynards and a Li'l Bun Bun appear at the start. When the Surge Base is hit, St. Dober spawns alongside another Raynard and three more Li'l Bun Buns.
190
2-36-5
Sappy Underpass (樹液の湧き出る地下道, Jueki no Wakideru Chikadō, Sap-gushing Underpass)
Zollows and Zuches try to rush you down, with Capies providing support, Sir Seals for money, and Miss Haka as the boss. Again, the Surge Base is here.
190
2-36-6
The Face of God (神の面を賜りし者, Kami no Men o Tamawarishi Mono, Those Bestowed with the Face of a God)
Elder Flame Doron spawns seven times throughout the battle, supporting Owlbrows, THE SLOTH, Croconators and Ragin' Gories. However, the Surge Base is not present.
260
Material Drop Rates
| None | Bricks | Feathers | Coal | Sprockets | Gold | Meteorite | Beast Bones | Ammonite |
| --- | --- | --- | --- | --- | --- | --- | --- | --- |
| 32% | 17% | 5% | 14% | 10% | 2% | 5% | 10% | 5% |
Reference
---
<< DNA Plantation | Castle of the Sentinels >>
---