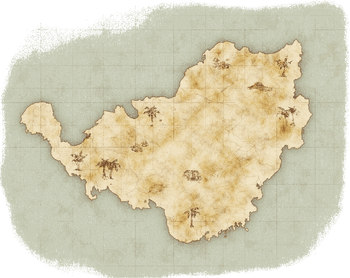 Ancient Mountains (はえぬき三連山 Haenuki San Renzan, Three Original Mountains) is the 18th sub-chapter of Uncanny Legends, and the 66th sub-chapter overall. It was introduced in version 8.10, and is currently only available up to 1★ difficulty.
Difficulty
This sub-chapter is a remake of Alcatraz, and the stages are quite easy with the exception of the 5th stage.
List of Stages
Stage number & cost
Stage name
Description
2-18-1
Famine Village (枯れた集落, Kareta Shūraku, Withered Village)
Hippoe, Those Guys and Ginger Snache spawn infinitely, with three Bores and two Mesomocyclones spawning in slow intervals after the base is hit.
190
2-18-2
The Night of Claws (深爪を負った夜, Fukadzume o Otta Yoru, The Night of Deep Claws)
Le'boin, Le'noir and Le'Solar spawn at the beginning of the battle, being supported by The Thrillerz and later Owlbrows.
180
2-18-3
Rocky Surface (がらんどうの岩肌, Garandō no Iwahada, Rocky Surface of Emptiness)
Lowkey supported by 2 Tackeys and a Two Can, with Trolly Blogger spawning periodically.
185
2-18-4
Exaggeration Falls (過言の滝, Kagon no Taki, Exaggeration Falls)
Doge, Snache, and spawn until the base is hit. When the base is hit, Camelle, Mr. Mole, and a group of five Cyberhorns spawn. When an enemy dies, a Cyberhorn replaces it; up to 20 can be seen.
180
2-18-5
Abandoned Desire (落とされた欲と垢, Otosa Reta Yoku to Ku, Abandoned Desire and Klesha)
Three Mr. Puffingtons and three Capies spawn slowly throughout the battle, supported by occasional Jackie Pengs.
200
2-18-6
Slave to Instinct (本能に従順な山伏, Hon'nō ni Jūjun'na Yamabushi, Instinct-obeying Yamabushi)
Dober P.D is supported by Miss Haka and a Zir Zeal, with Zory, Celeboodle, Otta-smack-u, Dagshund, Doge, Those Guys and Squire Rel spawning periodically.
230
Material Drop Rates
| None | Bricks | Feathers | Coal | Sprockets | Gold | Meteorite | Beast Bones | Ammonite |
| --- | --- | --- | --- | --- | --- | --- | --- | --- |
| 33% | 18% | 4% | 9% | 0% | 0% | 9% | 18% | 9% |
Reference
---
<< Battle in the Bath | Marine Ministry >>
---
Community content is available under
CC-BY-SA
unless otherwise noted.