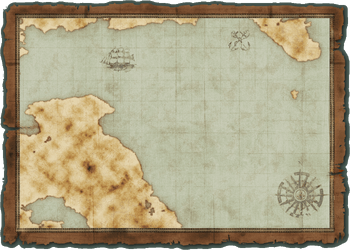 Bikura, Harbor of Evil (魔海域ビックラ港 Ma Kaiiki Bikkura Minato) is the 40th sub-chapter of Uncanny Legends, and the 89th sub-chapter overall. It was added in Version 11.0 and is currently only available in 1♛ difficulty.
Difficulty
As the proper introductory subchapter for the Aku, the stages here can easily catch players off-guard. Since the last three feature the Aku Altar, it is more important than ever for players to have progressed as far as possible in the Aku Realms, as not having done so easily results in much higher difficulty. It is overall harder than the previous ones, especially as the stages aren't remakes of familiar ones.
New Features
This sub-chapter sees the introduction of several Aku enemies. Most of them were first seen in The Aku Realms, but there are also two from the Empress' Reports and another that is completely new:
List of Stages
Stage number & cost
Stage name
Description
2-40-1
Toy Boat Graveyard (ポンポン船の墓場, Ponponsen no Hakaba, Ponpon Ship Graveyard)
Miz Devils are spawned to protect Big Sal and Le'Behemoth.
180
2-40-2
Breathtaking Waves

(壮絶な荒波, Sōzetsuna Aranami, Fierce Waves)

B.B.Bunny and Sinner Snaches appear as peons, along with one Owlbrow at the start. Raynard and Medu-san spawn together on base hit.
195
2-40-3
Dried Fish Market (とれたて干物市, Tore-tate Himono-shi, Fresh Dried Fish Market)
Lowkey spawns at the start, with backup from Condemned Pengs, Zollows, Relic Doges, Doge Darks and Gabriels.
185
2-40-4
Breakwater Blood Feud (防波堤の血戦, Bōhatei no Kessen, Bloody Battle on the Breakwater)
Features an Aku Altar, Cerberus Kids, Aku Gories and timed Youcans supporting Dark Emperor Nyandam, who appears at the start. After a while, Loris and Sir Rels can also be seen.
200
2-40-5
Fishermen On Strike (漁業組合の反乱, Gyogyō Kumiai no Hanran, Unified Fishery Rebellion)
Celeboodles, Miz Devils, Mr. Puffingtons, an Aku Altar and, of course, Fallen Bears.
190
2-40-6
Seahorses Caught (網にかかりしオトシゴ, Ami ni Kakarishi Otoshigo, Consequences Caught in a Net)
Johnnyleon, Aku Doge and Aku Gory return alongside newcomer Ackey. The Aku Altar is still here.
260
Material Drop Rates
| None | Bricks | Feathers | Coal | Sprockets | Gold | Meteorite | Beast Bones | Ammonite |
| --- | --- | --- | --- | --- | --- | --- | --- | --- |
| 32% | 14% | 11% | 4% | 0% | 7% | 7% | 11% | 14% |
Trivia
"Bikura" is derived from the Japanese phrase bikkura-koita, meaning "be surprised".
The Ma Kaiiki part of the Japanese name, Ma Kaiiki Bikkura Minato, literally means "Devil Sea Area", but is also a pun on makai ("Devil World"). Minato means harbor.
Reference
---
<< Imminent Disaster | Dead Heat Land >>
---