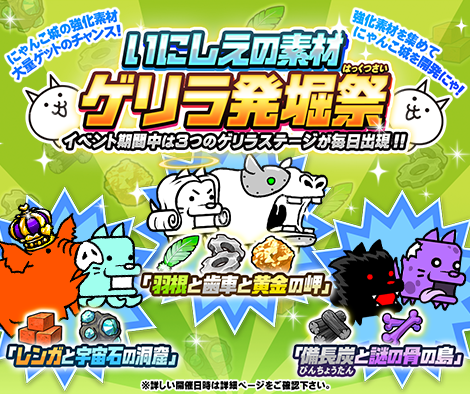 The Builder's Blitz Stages are a group of time-limited stages that drop materials to upgrade the Cat Base. They were added in update 6.3. First period: August 1st to August 4th, 2017.
List of Maps
Overview
Similar to the Growing Stages, each map consists of 3 stages, rated Normal, Veteran and Insane. When clearing any of the stages, materials may be obtained as drop rewards. Each map drops different types of materials, and the player can only receive one type of material each time. The drop rates for each stage are as follows:
Normal
Veteran
Insane
Drops

Material +1 (23%)

Material +2 (77%)

Material +3 (33%)

Material +2 (57%)

Material +1 (10%)

Material +6 (19%)

Material +4 (71%)

Material +2 (10%)
Schedule
Starting from August 7th, 2017:
Monday: 12:00~14:00
Tuesday: 07:00~08:00
Wednesday: 18:00~20:00
Thursday: 08:00~10:00
Friday: 11:00~13:00
Saturday: 20:00~22:00
Sunday: 08:00~10:00; 13:00~15:00; 18:00~20:00
Trivia
Each material correspond to their respective enemies in the respective stages
Brick - Red
Meteorite - Alien
Feather - Floating
Sprockets - Metal
Gold - Angel
Charcoal - Black
Beast Bones - Zombies
Community content is available under
CC-BY-SA
unless otherwise noted.