Capy (カルピンチョ Karupincho, Carpincho) is a Red enemy that appears in Legend Stages.
Enemy
Since she is a single-target attacker, Capy will only target the nearest cat unit, But Capy does insane damage to the cat that she attacks, she has huge DPS and 15% chance for a Critical Hit so there is no way to tank it without your tankers going down in seconds along with 335 range, meatshielding and using ranged attackers is the way to fight her.
Description
Enemy Unit # 207

Red

Capy

Furry Brazilian fitness freak. Hits the gym twice a day and always chews her food thoroughly. Weighed down by muscle, she's slower than she looks, but those critical attacks hurt real bad...
Enemy Unit # 207

Red

カルピンチョ (Rik)

JP Script
健康オタクなカピバラ。 モットーはご飯を

よく噛むことと、のぼぽせるまで温泉に 浸かること。 見た目よりは移動速度が めっぽう遅い。たまにクリティカルを放つ。

EN Translation
A healthy geeky capybara. Motto is rice

Chew well and go to a hot spring until you can Soaking. Movement speed is faster than it looks It's slow. Occasional crit shoots.
Strategy
She is very easy to stall with meatshields, as she is a single-target attacker. However, if she is supported by bosses like Teacher Bun Bun, the latter can wipe out all the shields for Capy, allowing her to hit stronger cat units (notably in Oil Platform and Morning Rush Hour).
Dread Pirate Catley in particular has an easy time repelling this enemy with heavy enough meatshielding.
There is no difference between Eraser Cat variants and other 75¢ meatshields getting one-shotted, so bringing 75¢ meatshields is recommended over the former.
Strong Up combos on Crazed Fish and Island Cat work greatly against a single Capy, and fantastically against multiple, if meatshielded properly.
Encounters
Stats
Capy (Red)
Health
Attack Power
Attack Range
Attack Frequency
Movement Speed
Knockback
Attack Animation
530,000 HP
52,000 damage
(29,434 DPS)
335
(Single Target)
53f
7
3 times
14f
(17f backswing)
Special Ability
Attribute
15% chance for a Critical Hit.
Red
Trivia
Her name and design is based off the Capybara.
Gallery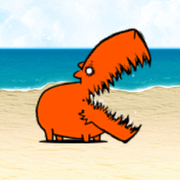 Reference
---
<< God of War - Odin | Berserkory >>
---
Community content is available under
CC-BY-SA
unless otherwise noted.