Raise a Floppa - The Loop
Play Sound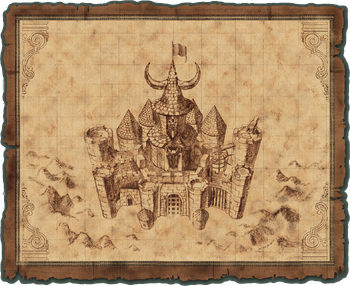 Castle of the Sentinels (立ちはだかる者達の城 Tachihadakaru-sha-tachi no Shiro, Castle of Obstructionists) is the 37th sub-chapter of Uncanny Legends, and the 86th sub-chapter overall. It was added in Version 10.7 and is currently only available in 1♛ difficulty. Its stages consist of only a few major enemies, without any peons.
Difficulty
Half of these stages are a gimmick; knowing that can save a lot of trouble.
List of Stages
Stage number & cost
Stage name
Description
2-37-1
Confront the Tyrant (気高き暴君との対決, Kedakaki Bōkun Tono Taiketsu, Battle Against a Noble Tyrant)
Starts with 2 Mr. Puffingtons, with 1 more alongside Cli-One and Teacher Bun Bun when the enemy base is hit. If you take more than ~8.8 minutes to beat the stage, 5 more Mr. Puffingtons will spawn at once.
185
2-37-2
Disaster Cycle (天変地異の局面, Tenpenchii no Kyokumen, A Calamitous Scenario)
Mr. Mer spawns at the start, followed by Mr. Mole and later Dober P.D. The boss fight includes Boraphim, Cala Maria and Sunfish Jones.
185
2-37-3
Three Evil Brothers (極悪三兄弟とのデュエル, Gokuaku Sankyōdai Tono De~yueru, A Duel with Three Evil Brothers)
Kory spawns after 6.7 seconds, Koronium after 26.7, another Kory after 80 and Berserkory after 133.3.
185
2-37-4
Pulled Punch Bout (寸止め打撃対戦, Sun Tome Dageki Taisen, Cun Batting Match)
Cala Maria spawns at the start. J.K Bun Bun, Othom and Winged Pigge appear when the enemy base is attacked; each at a slightly different % of base HP, making it possible to fight them separately.
190
2-37-5
Border Between Worlds (あの世とこの世の 境界線, Ano Yo to Kono Yo no Kyōkai-sen, The Border Between Two Worlds)
Johnnyleon, Zamelle, Razorback, Angelic Sleipnir spawn over the course of 80 seconds, while Dread Bore joins in after 133.3.
200
2-37-6
Hall of the Four Kings (四皇帝の殿堂, Shi Kōtei no Dendō, The Four Emperors' Palace)
The titular kings are Elder Sloth, M. Ost, St. Dober and Assassin Bear, each spawning once the previous one is defeated. The Assassin Bear is massively buffed, but cannot spawn before 233.3 seconds have passed.
250
Material Drop Rates
| None | Bricks | Feathers | Coal | Sprockets | Gold | Meteorite | Beast Bones | Ammonite |
| --- | --- | --- | --- | --- | --- | --- | --- | --- |
| 66% | 8% | 8% | 6% | 3% | 17% | 8% | 8% | 8% |
Trivia
This is the first sub-chapter to have a difficulty rating of ★11.
Reference
---
<< Ancient Forest Labyrinth | Spacetime Distortion >>
---