A group of special stages only appears in 1 day per month. Upon completing one of the stages, the player will be rewarded with the Crazed Cat that appeared as the Boss.
Crazed Cats
For Crazed Cats see here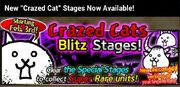 "From February 3rd, take on those Crazed Cat Blitz stages, available for only a short time at the Stories of Legend in The Battle Cats app!
If you have the guts and strength to triumph these "Insane" stages, you will be rewarded with a unit from this series of powerful Super Rares!
So, power up your Cats to the max and take on these fearsome opponents - spoils of victory await!"
Pros and Cons:
Pros
Better Stats then normal cats
Some Have Special Ability
Cons
To unlock you need to play very hard stage
Manic Cats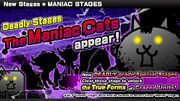 "Are you a Battle Cats pro? Have you collected all 9 Crazed Cats?
If so, take on these Deadly-difficulty stages in Stories of Legend and unlock the final form of the Crazed Cat units!
Can you handle this ultimate challenge? Prove it by clearing a different stage every day!!!"
Pros and Cons:
Pros
OP stats and sp. ability (Most of them)
Cons:
Harder than crazed cat stages.
Schedule
The Crazed True Form levels will appear when all 9 levels above were cleared.
List of Levels
Clan of the Maniacs
Clan of the Maniacs is a set of 2 stages unlocked after all 9 original crazed cat stages are completed. They feature all 9 crazed cat enemies in one level
The Levels include:
Clan of Maniacs
SNdhashdhashd
Trending pages
All items (21)
A
B
C
D
F
H
I
L
M
O
R
T
U
V
Community content is available under
CC-BY-SA
unless otherwise noted.