Raise a Floppa - The Loop
Play Sound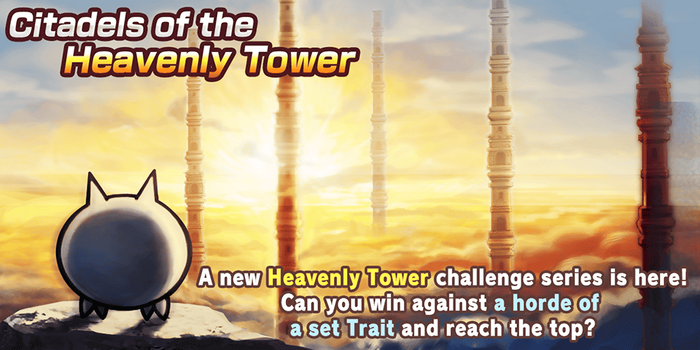 Not to be confused with Heavenly Tower or Infernal Tower.
The Citadels (にゃんこ別塔, Nyanko Betsutō, Cat Annex) are a group of event maps added in the Version 10.5 Update. They are accessible from the Legend Stages menu. When a Citadel ends, all progress made in it will reset, so the player can replay the floors to get the same rewards again.
Overview
About the Citadels
The Citadel event contains 6 separate maps, all of which have stages called Floors (階 Kai), with regular and event enemies from monthly and annual events. After completing a floor for the first time, the player will receive gifts including Battle Items, Tickets and XP.
Tower Battlegrounds
List of Floors
In all of the floors with a boss, the boss is the bold enemy (with boss shockwave):
Red Citadel (にゃんこ別塔【赤】, Nyanko Netsutō【Aka】, Cat Annex【Red】)
| Floor | Enemies | Energy | Treasure | Restriction |
| --- | --- | --- | --- | --- |
| 1 | Doge, Pigge | 80 | Rich Cat +1 | N/A |
| 2 | Snache, B.B.Bunny, Sir Seal | 80 | +100,000 XP | N/A |
| 3 | B.B.Bunny, Sluggy | 80 | Sniper the Cat +1 | N/A |
| 4 | B.B.Bunny, Pigge, Pigge Back, Pigge Victorious | 120 | +250,000 XP | N/A |
| 5 | B.B.Bunny, Sir Seal, Shy Boy, Dark Emperor Nyandam | 120 | Cat Ticket +2 | N/A |
| 6 | B.B.Bunny, Sir Seal, Sluggy, Lord Enma | 120 | +400,000 XP | N/A |
| 7 | B.B.Bunny, Pigge, St. Pigge the 2nd, Dark Emperor Santa | 160 | Cat Jobs +1 | N/A |
| 8 | Ginger Snache, Sir Seal, Lord Enma, J.K Bun Bun | 160 | +750,000 XP | N/A |
| 9 | B.B.Bunny, Ginger Snache, CTO Seal, Capy | 200 | Treasure Radar +1 | No Continues |
| Top Floor | B.B.Bunny, Ginger Snache, St. Pigge the 2nd, Sluggy, The Red Malice | 200 | Rare Ticket +1 | No Continues |
Black Citadel (にゃんこ別塔【黒】, Nyanko Netsutō【Kuro】, Cat Annex【Black】)
| Floor | Enemies | Energy | Treasure | Restriction |
| --- | --- | --- | --- | --- |
| 1 | Doge Dark | 80 | Rich Cat +1 | N/A |
| 2 | Doge Dark, Sluggy | 80 | +100,000 XP | N/A |
| 3 | Doge Dark, Chocolate Wall Doge | 80 | Sniper the Cat +1 | N/A |
| 4 | Sluggy | 120 | +250,000 XP | N/A |
| 5 | Doge Dark, Gory Groom | 120 | Cat Ticket +2 | N/A |
| 6 | Doge Dark, Gory Black, Lucky Dags | 120 | +400,000 XP | N/A |
| 7 | Doge Dark, Selena, Director Kurosawah | 160 | Cat Jobs +1 | N/A |
| 8 | Doge Dark, Sluggy, Shadow Boxer K, Gory Groom, Le'noir | 160 | +750,000 XP | N/A |
| 9 | Doge Dark, Tackey, Selena, Chocolate Wall Doge | 200 | Treasure Radar +1 | No Continues |
| Top Floor | Doge Dark, Sluggy, Lucky Dags, Gory Groom, Razorback | 200 | Rare Ticket +1 | No Continues |
Angel Citadel (にゃんこ別塔【天】, Nyanko Netsutō【Ten】, Cat Annex【Heaven】)
| Floor | Enemies | Energy | Treasure | Restriction |
| --- | --- | --- | --- | --- |
| 1 | Squire Rel, Hippoe, Gabriel | 80 | Rich Cat +1 | N/A |
| 2 | Gabriel | 80 | +100,000 XP | N/A |
| 3 | Gabriel | 80 | Sniper the Cat +1 | N/A |
| 4 | Sluggy | 120 | +250,000 XP | N/A |
| 5 | Squire Rel, Heavenly Hippoe, Sluggy | 120 | Cat Ticket +2 | N/A |
| 6 | Gabriel, Angelic Gory | 120 | +400,000 XP | N/A |
| 7 | Sluggy, Le'saint | 160 | Cat Jobs +1 | N/A |
| 8 | Gabriel, Angelic Gory, Angelic Sleipnir, Gabriel | 160 | +750,000 XP | N/A |
| 9 | Mr. Angel, Le'saint, Heavenly Hippoe, Chickful A, Sunfish Jones | 200 | Treasure Radar +1 | No Continues |
| Top Floor | Sluggy, Gabriel, Angelic Gory, Boraphim, Cala Maria, Gabriel | 200 | Rare Ticket +1 | No Continues |
Alien Citadel (にゃんこ別塔【蒼】, Nyanko Netsutō【Ao】, Cat Annex【Blue】)
| Floor | Enemies | Energy | Treasure | Restriction |
| --- | --- | --- | --- | --- |
| 1 | Shibalien | 80 | Rich Cat +1 | N/A |
| 2 | Shibalien, Hyppoh | 80 | +100,000 XP | N/A |
| 3 | Shibalien, Helmut Krabbe, Shibalien | 80 | Sniper the Cat +1 | N/A |
| 4 | Shibalien, Hyppoh, Imperator Sael | 120 | +250,000 XP | N/A |
| 5 | Shibalien, Helmut Krabbe, Maawth | 120 | Cat Ticket +2 | N/A |
| 6 | Hyppoh, Imperator Sael, Shibalien, I.M. Phace | 120 | +400,000 XP | N/A |
| 7 | Kroxo, Imperator Sael, Ursamajor, Elizabeth the LVIth, Kroxo | 160 | Cat Jobs +1 | N/A |
| 8 | Shibalien, Hyppoh, Helmut Krabbe, Maawth, Nimoy Bore, Shibalien | 160 | +750,000 XP | N/A |
| 9 | Ursamajor, Kroxo, Scissoroo, Cyberhorn, Elder Sloth, Gorilliam | 200 | Treasure Radar +1 | No Continues |
| Top Floor | Shibalien Elite, Star Peng, General GreGory, Bun Bun Symbiote, Spacefish Jones | 200 | Rare Ticket +1 | No Continues |
Tips
Zombie Citadel (にゃんこ別塔【屍】, Nyanko Netsutō【Kabane】, Cat Annex【Dead】)
| Floor | Enemies | Energy | Treasure | Restriction |
| --- | --- | --- | --- | --- |
| 1 | Croco, Those Guys, Zoge, Croco | 80 | Rich Cat +1 | N/A |
| 2 | Hippoe, Zoge, Kang Roo, Zroco, Zory | 80 | +100,000 XP | N/A |
| 3 | Le'boin, Jackie Peng, Zoge, Znache | 80 | Sniper the Cat +1 | N/A |
| 4 | Squire Rel, Zroco, Kang Roo, Zigge, Zory | 120 | +250,000 XP | N/A |
| 5 | Gory, Zoge, Zroco, Zomboe, Lord Gravey | 120 | Cat Ticket +2 | N/A |
| 6 | Jackie Peng, Squire Rel, Zigge, Zackie Peng, Zang Roo, Dagshund, Squire Rel | 120 | +400,000 XP | N/A |
| 7 | Those Guys, Znache, Duche, Zroco, Zir Zeal, Miss Haka | 160 | Cat Jobs +1 | N/A |
| 8 | Celeboodle, Zoge, Dead Donny Dash, Croco, Otta-smack-u, Dread Bore | 160 | +750,000 XP | N/A |
| 9 | Jackie Peng, Zroco, Zigge, Zuche, The Thrillerz, THE SLOTH | 200 | Treasure Radar +1 | No Continues |
| Top Floor | Zoge, Znache, The Thrillerz, Squire Rel, Li'l Zyclone, Cadaver Bear, Dread Bore, Lord Gravey, Squire Rel | 200 | Rare Ticket +1 | No Continues |
Traitless Citadel (にゃんこ別塔【無】, Nyanko Netsutō【Mu】, Cat Annex【None】)
| Floor | Enemies | Energy | Treasure | Restriction |
| --- | --- | --- | --- | --- |
| 1 | Doge, Snache, Those Guys, Baa Baa, Gory, Kang Roo, Teacher Bear | 80 | Rich Cat +1 | N/A |
| 2 | Jackie Peng, Hippoe, Le'boin, Lione Hippoe, Chief Peng | 80 | +100,000 XP | N/A |
| 3 | Drummer Doge, Festival Ms. Sign, Croco, Squire Rel, Carny Otta, Chicka Fry | 80 | Sniper the Cat +1 | N/A |
| 4 | Those Guys, Penlight Guys, Leggsy, Master A. | 120 | +250,000 XP | N/A |
| 5 | Mighty Gui Zuli, Gory, Bearkini, Audience Bears, Otta-smack-u | 120 | Cat Ticket +2 | N/A |
| 6 | Dagshund, Celeboodle, Master Da Xun, Rain D., Sunny Celeboodle | 120 | +400,000 XP | N/A |
| 7 | Gory Junior, Ms. Madonna, Bang-Bang, Teacher A. | 160 | Cat Jobs +1 | N/A |
| 8 | Duche, Hermit Peng, Easter Duche, R.Ost, Camelle | 160 | +750,000 XP | N/A |
| 9 | Lucky Sloth, Trolly Blogger, Easter Bunny, H. Nah | 200 | Treasure Radar +1 | No Continues |
| Top Floor | Wall Doge, Kory, Icy Doge, Bore Jr., Dober P.D, Mammothe | 200 | Rare Ticket +1 | No Continues |
First Schedule
English Version
July 26th, 2021 to August 9th, 2021
Japanese Version
April 26th, 2021 to May 10th, 2021
See also
Reference