Cursing the Curser is the sixth and final stage in Unearthed Artifacts. This stage is a remake of Imp's cold sweat.
Battleground
Strategy
Strategy 1
Lineup:
Unit Levels: Awakened Bahamut Cat 40, Fishman Cat 50, Pizza Cat 50+9, Housewife Cat 50, Cameraman Cat 50+16, Medalist Cat 30.
Uber/Legend Rare-reliant alternatives should include units similar to the Rares/Super Rares used, such as Cats in the Cradle or Lasvoss, but the high health needed for a knockback may render some units counterproductive.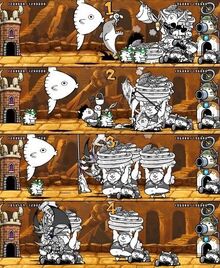 Battle: The concept of this strategy is very straightforward: you simply need to make an army capable of withstanding any assault and slowly pushing the enemies back. The first step is very important: you need to summon a Fishman as soon as possible to distract the boss when he spawns, then wait for the Thrillerz to burrow below Fishman (except one who will likely die) and finish them with a lone Pizza Cat before you start spamming Camera and Housewife. Thanks to the money income, upgrading the Worker Cat once or twice is plenty enough to cover you for the whole fight, so do not worry too much, especially if your Pizza Cat has the Cost Down Talent. Once the two armies start engaging one another, add all other units in the second row to the spam. Whenever your army pushes too far, try to capitalize by using Bahamut and/or the Cat Cannon to push Jones back. Eventually, you will destroy the enemy base and win.
Trivia
Cursing the Curser's name foreshadowed the next update after its release, version 9.5, which made the Curse ability usable by players.
Cursing the Curser's Japanese name, Miira Trigger Miira (Mummy Trigger Mummy), is a reference to the phrase "miira toriga miira ninaru", which refers to when someone experiences the very thing they were trying to do to others; a classic example is a hunter becoming the hunted.
Reference