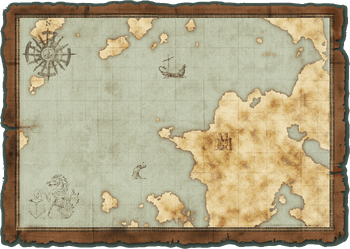 Cutpurse Coast (こしぎんちゃくの浜辺 Koshi Gincha Ku no Hamabe, Cutpurse Beach) is the 38th sub-chapter of Stories of Legend, added in update version 6.0. This sub-chapter is available up to 4★ difficulty.
Difficulty
This sub-chapter can and will be difficult. The hardest stage is either Procrastinator Parade (a group of R. Osts supporting one Camelle) or No Return Flights (Dolphina's first appearance as support for overbuffed Rain Ds, Otta-smack-us and a Master A.). Most prior enemies will get a noticeable increase in strength from this sub-chapter onward, which can be seen in Swim Meet and No Return Flights.
2★ difficulty for this sub-chapter multiplies enemy strength magnifications by 120%.
3★ difficulty for this sub-chapter multiplies enemy strength magnifications by 130%.
4★ difficulty for this sub-chapter makes no change to enemy strength magnifications and only allows Special Cats and Rare Cats to be deployed.
New Features
This sub-chapter introduces one new enemy:
List of Stages
Stage number & cost
Stage name
Description
1-38-1
Swim Meet (よたもの遊泳大会, Yota Mono Yūei Taikai)
An Alien-fest, highly buffed Alien enemies such as Helmut Krabbe and Kroxo appear here. Ursamajor and up to two Calamaries are spawned when the enemy base is attacked, with annoying LeMurrs appearing as support.
135
1-38-2
Sea Breeze Salon (ヘアーサロン潮風, Heā Saron Shiokaze, Hair Salon Sea Breeze)
A Bore-fest. Up to 13 regular Bores, up to 13 Nimoy Bores, and one Boraphim can be seen here.
140
1-38-3
Deep Sea Dying (ディープシー決死隊, Dīpushī Kesshi-tai, Death-ready Deep Sea Squad)
A timed stage, J.K Bun Bun is the boss, supported by eight Big Sals.
120
1-38-4
Procrastinator Parade (ぺこぺこパレード, Pekopeko Parēdo, Hungry Parade)
A parade of R. Osts, they will be spawned like peons for the boss, Camelle.
135
1-38-5
Grand Exhibition (大御所大博覧会, Ōgosho Dai Hakurankai, Great Imperial Palace Exhibition)
Director Kurosawah assists infinitely-spawning Two Cans.
140
1-38-6
No Return Flights (ウニバーサンスタジオ, Mō Riku ni wa Kaerenai, Can't Return to Land Anymore)
A 1500% Master A. is the boss, backed up by Dolphinas along with 400% Otta-smack-us and Rain D.s.
150
Material Drop Rates
| None | Bricks | Feathers | Coal | Sprockets | Gold | Meteorite | Beast Bones | Ammonite |
| --- | --- | --- | --- | --- | --- | --- | --- | --- |
| 49% | 15% | 6% | 6% | 0% | 3% | 18% | 3% | 0% |
Trivia
Dolphina (and possibly this entire sub-chapter) was planned for update 5.10, but for some reason, her entry in the Release Order was empty.
---
<< Walk of Fame | Above & Below >>
---