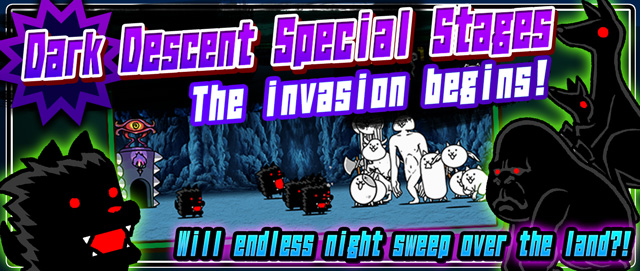 "
Even as the days grow longer, the darkness continues to run riot over the empire of the Cats... muster your forces and stand against the Black Cyclones, Doges and other baddies that threaten your kingdom!
"

—PONOS' announcement

Dark Descent (闇討ち Yamiuchi, Darkness) is a group of special stages appearing during special occasions.
Each stage includes Timed Score Rewards which feature Black Enemies exclusively. All stages feature XP and a Cat Ticket as timed score rewards, with the exceptions of Dark Descent ∞. Western Walk and Final Battleground, which all have additional rewards.
List of Stages
Dark Descent
Dark Descent (闇討ち 1st, Yamiuchi 1st, Darkness 1st)
| | English Version | Japanese Version | Translation | Energy Cost |
| --- | --- | --- | --- | --- |
| Stage 1 | Eastern Cave | 東の洞窟 (Higashi no Dōkutsu) | East Cave | 60 |
Dark Descent II
Dark Descent II (闇討ち 2nd, Yamiuchi 2nd, Darkness 2nd)
| | English Version | Japanese Version | Translation | Energy Cost |
| --- | --- | --- | --- | --- |
| Stage 1 | Western Walk | 西の夜道 (Nishi no Yomichi) | West Road | 60 |
Dark Descent III
Dark Descent III (闇討ち 3rd, Yamiuchi 3rd, Darkness 3rd)
| | English Version | Japanese Version | Translation | Energy Cost |
| --- | --- | --- | --- | --- |
| Stage 1 | Southern Fort | 南の城 (Minami no Shiro) | South Castle | 60 |
Dark Descent ∞
Dark Descent ∞ (闇討ち Last, Yamiuchi Last, Darkness Last)
| | English Version | Japanese Version | Translation | Energy Cost |
| --- | --- | --- | --- | --- |
| Stage 1 | Northern Crater | 北の火口 (Kita no Kakō) | North Crater | 110 |
Cover of Darkness
Cover of Darkness (闇討ちの戦い, Yamiuchi Chino Tatakai, Battle of Darkness)
| | English Version | Japanese Version | Translation | Energy Cost |
| --- | --- | --- | --- | --- |
| Stage 1 | Cave of Beginnings | はじまりの洞窟 (Hajimari no Dōkutsu) | Cave of Beginnings | 60 |
| Stage 2 | Dark Forest | 漆黒の森 (Shikkoku no Mori) | Jet-Black Forest | 60 |
| Stage 3 | Eastern Cemetery | 東の墓地 (Higashi no Bochi) | East Cemetery | 60 |
| Stage 4 | Western Walk | 西の夜道 (Nishi no Yomichi) | West Road | 110 |
| Stage 5 | Southern Fort | 南の城 (Minami no Shiro) | South Castle | 110 |
| Stage 6 | Northern Crater | 北の火口 (Kita no Kakō) | North Crater | 110 |
| Stage 7 | Cold Snowfield | 極寒の雪原 (Gokkan no Setsugen) | Intense Snowfield | 150 |
| Stage 8 | Final Battleground | 決戦の地 (Kessen no Chi) | Decisive Battleground | 150 |
First Schedule
July 6th, 2015 to August 1st, 2015
Gallery
Reference