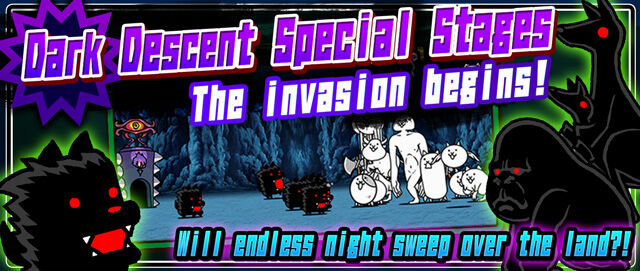 Dark Descent (闇討ち Yamiuchi, Sneak Attack) is a group of special stages appearing during events.
For the article about the schedule, see Dark Descent/Schedule.
List of Stages
Dark Descent includes 4 timed stages which feature Black Enemies exclusively. All stages feature XP and a Cat Ticket as timed score rewards, except Northern Crater, which has additional rewards.
| | English Version name | Japanese Version name |
| --- | --- | --- |
| Stage 1 | Dark Descent: Eastern Cave | 闇討ち 1st (Sneak Attack 1st): 東の洞窟 (Eastern Cave) |
| Stage 2 | Dark Descent II: Western Walk | 闇討ち 2nd (Sneak Attack 2nd): 西の夜道 (Western Road at Night) |
| Stage 3 | Dark Descent III: Southern Fort | 闇討ち 3rd (Sneak Attack 3rd): 南の城 (Southern Fort) |
| Stage 4 | Dark Descent ∞: Northern Crater | 闇討ち Final (Sneak Attack Final): 北の火口 (Northern Cave) |
Reference