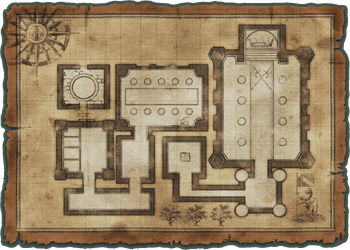 Dead End Night (終わりを告げる夜 Owariwotsugeru Yoru, The Night That Will Tell the End) is the 23rd sub-chapter of Stories of Legend. It is available up to 4★ difficulty. This sub-chapter was released on March 13th, 2015 (iOS, Android) and March 17th, 2015 (Amazon) - update Version 3.5 of Nyanko Daisensou; and on April 22nd, 2015 - update Version 2.1 for The Battle Cats.
Difficulty
Although substantially easier than some of the preceding sub-chapters, Dead End Night is still not to be taken lightly due to its variety of tricky stages. Expect to change your lineup frequently in this sub-chapter.
2★ difficulty for this sub-chapter multiplies enemy strength magnifications by 120%.
3★ difficulty for this sub-chapter multiplies enemy strength magnifications by 140%.
4★ difficulty for this sub-chapter multiplies enemy strength magnifications by 120% and only allows Special Cats and Rare Cats to be deployed.
New Features
This sub-chapter introduces two new enemies:
Le'noir: A Black variant of Le'boin with way higher health and damage, along with slightly increased range.
Li'l Nyandam: A Red enemy and the boss of the final stage, Saint Red Fox. Has exceptional range and attack power, but attacks and moves slowly.
When the final stage is completed, players have a 3% chance to unlock Li'l Nyandam as a Cat Unit (guaranteed if a Treasure Radar is used).
List of Stages
Stage number & cost
Stage name
Description
1-23-1
Feast of Betrayal (裏切りの宴, Uragiri no Utage, Feast of Betrayal)
Wall Doges and Metal Doges spawn in the beginning, with an extremely large number of H. Nahs stacking up behind them.
80
1-23-2
Catharsis' End (終焉のカタルシス, Shūen no Katarushisu, Final Moments' Catharsis)
Dark Emperor Nyandam serves as the boss, with Those Guys and Trolly Bloggers as peons.
85
1-23-3
Black Premonition (黒い予感, Kuroi Yokan, Black Premonition)
In the beginning, Gory Black, Doge Dark and Shadow Boxer K appear to rush the player. When the enemy base is attacked, the previous enemies will start spawning constantly and Le'noir and Bun Bun Black appear as bosses. Dark Otter also makes an appearance.
90
1-23-4
Broken Mask (砕けた仮面, Kudaketa Kamen, Broken Mask)
Gabriels and Heavenly Hippoes appear at the beginning, and Sunfish Jones appears as a boss with an Angelic Sleipnir and periodically spawning Angelic Gories. Can be considered an Angel version of Black Premonition.
95
1-23-5
Agape's Cage (アガペーの檻, Agapē no Ori, Agape's Cage)
The Face spawns as soon as the battle begins and serves as the boss, accompanied by Kories, Pigeon de Sables and Dober P.Ds that spawn over time.
100
1-23-6
Saint Red Fox (赤いきつねの聖者, Akai Kitsune no Seija, Saint of the Red Fox)
Teacher Bun Bun appears to fill up the player's wallet and spawns when the battle begins, accompanied by Metal Doges. After some time, the boss, Li'l Nyandam, will be spawned. Trolly Bloggers, Wall Doges, Le'noirs and Shy Boys appear as support for Li'l Nyandam.
150
Material Drop Rates
| None | Bricks | Feathers | Coal | Sprockets | Gold | Meteorite | Beast Bones | Ammonite |
| --- | --- | --- | --- | --- | --- | --- | --- | --- |
| 55% | 6% | 10% | 13% | 4% | 11% | 1% | 0% | 0% |
Trivia
This is the second time the player visits this map layout. The first time was immediately after The Great Escaper in Jail Break Tunnel. This time, however, the player is in the cordoned-off western part of the complex.
Reference
---
<< Prince of Darkness | Battle Royale >>
---