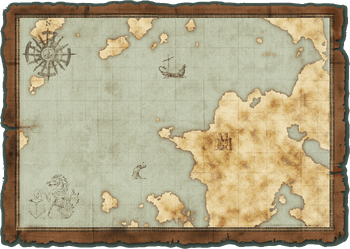 Diver's City (ダイバー都市 Daibā toshi, Diver City) is the 33rd sub-chapter of Uncanny Legends and the 82nd sub-chapter overall. It was introduced in the Version 10.3 Update and is currently only available in 1★ difficulty. Similarly to how all stages in Forgotten Graves have Zombie enemies, all stages here have Metal enemies.
Difficulty
Highly dependent on the quality of one's critical hitters, but quite easy if one is prepared. The last stage is, ironically, the easiest stage.
New Features
This sub-chapter introduces one new enemy:
List of Stages
Stage number & cost
Stage name
Description
2-33-1
Diversity, Alkilinity
The boss, St. Dober, spawns after a while. Gabriels, Metal Doges, Metal One Horns and Angelic Gories spawn regularly.
190
2-33-2
Ironsand Beach
Sir Metal Seal spawns three times, each with a Hackey and support from a different trait. First Blacks, then Angels, then Zombies.
190
2-33-3
Oil Spill Rainbow
A fight against Lord Gravey, while Metal and Zombie peons provide support. Notably, Zollow and Super Metal Hippoe are among them.
180
2-33-4
Love Refinery
Some weak peons and some Bore Jr. protecting the boss, Koronium. There are also decently powerful Le'boins.
210
2-33-5
Overnight Overtime
A stream of Croconators supporting Kurosawah, who spawns upon hitting the base with 3 CyberFaces coming out periodically.
180
2-33-6
Cathode Influencer
A boss fight against Raynard, with support from Metal Hippoes and Metal Doges.
260
Material Drop Rates
| None | Bricks | Feathers | Coal | Sprockets | Gold | Meteorite | Beast Bones | Ammonite |
| --- | --- | --- | --- | --- | --- | --- | --- | --- |
| 34% | 7% | 0% | 7% | 25% | 12% | 0% | 15% | 0% |
Trivia
For the first time in Uncanny Legends, there are no Relic enemies in this sub-chapter.
This sub-chapter has the highest drop rate of Sprockets out of all Uncanny Legends sub-chapters, this is most likely because all stages here contain Metal enemies.
Reference
---
<< Theatre of Fear | Nasi-Go-Round >>
---
Community content is available under
CC-BY-SA
unless otherwise noted.