Doge (わんこ Wanko, "Doggy" or "Puppy") is a Traitless enemy that appears in the Main Chapters and Legend Stages.
Enemy
Doge is the first enemy, encountered in Korea. In almost all stages its appears in it is used as a meatshield for stronger enemies of all sorts. Do not fear this enemy, and focus your strategies on whatever else is in the stage.
Strategy
With its low health and attack power, Doge can easily be killed by almost anything, even by low level Normal Cats. Although it can be ignored most of the time, be aware of its buffs in Way of the Ninja and The Noble Tribe.
In later encounters, the use of Wave Attack Cats like Crazed Gross Cat is recommended to clear waves of Doges, in aid of Single Target Cats or others who may miss because of a Doge getting in the way, although this is far from necessary.
Dictionary
Enemy Unit

#

02

White

Doge

EN Description
A Loving Shiba and Battle Cat's rival.


Trying to enter college this year.
Very thoughtful and sends
birthday gifts to Cat every year.
Enemy Unit

#

02

White

わんこ (Wanko, Doggy)

JP Script
にゃんこを勝手にライバル視するシバ犬。


にゃんこの誕生日には忘れずプレゼント
を用意するマメな一面もある。実は
受験生で毎年大学受験に挑戦している。

EN Translation
A Shiba dog that sees Cat as a rival. Never forgets to give Cat presents on its birthday.

Is currently trying to qualify to get into college.
Variants
A Black variant of Doge with superior overall stats and more knock-backs. Drops good amounts of money for how easily it is killed.
A Doge in a Type 10 tank. Has the Metal trait, with extremely low stats overall. Appears in Unseen in 2019.
A Doge Dark riding a One Horn. Has a 100% chance to knockback cats, is a Red/Black enemy, is first seen in Love is Sickness event, and behaves like a faster One Horn.
A Floating variant of Doge introduced in the Ghostly Houseguests event.
A red Doge riding a red Le'boin, the Red variant of both enemies. Introduced in the Ghostly Houseguests event. Lord Enma behaves similar to a regular Le'boin.
This Red enemy introduced in Autumn = Sports Day! takes the form of three regular Doges carrying a Pigge.
Gabriel is Doge's Angel variant. Behaves similarly to Doge Dark, but with shorter range, Area Attack, faster movement and more knockbacks.
A Metal variant of Doge featuring far superior attack rate, movement speed and damage compared to Doge, along the Metal trait & low health.
A stationary Metal enemy with the face of a Doge. Has incredible range and always freezes cats for a short time, but does almost no damage. Appears in Year's First Dawn.
A tanky version of Doge. Has much more health and damage, with Area Attack and a slower speed, essentially behaving like a highly-damaging Wall Cat.
A birthday cake carried by 3 Doges. Has moderate HP and the Metal trait with just 1 attack power. Appears in Memorial Events.
Alien version of Doge. Slightly faster in terms of speed, with much higher strength and slightly improved attack rate than Doge.
A Doge hiding inside a pumpkin, introduced in All Hallows Road.
A "Macho Doge" on a Taiko Drum, it is a stationary enemy, has extremely long range, high health and a 100% chance to freeze cats, but deals minimal damage. Similar to Angry Sun, appears in Summer Diary.
A Doge-faced cardboard box used for delivery. Stationary, with the Metal trait and extremely low health and attack power. Appears in Sender Unknown.
The Zombie variant of Doge. Far stronger, has fewer knock backs, can burrow under cats and revives once with 50% HP.
A slightly tougher version of Wall Doge, with more health, damage and range. Appears in Cats in the Snow.
A Zombie variant of Wall Doge, with more health, damage and range. Revives with 100% HP an unlimited number of times with short revive time but lacks the ability to burrow.
A golden variant of Doge wearing a top hat and monocle. Drops a large amount of money when killed and appears in The Midas Touch.
A weak enemy found in the Gudetama Collaboration Event.
Another Gudetama Collaboration Event enemy, it has a 50% chance to knockback Cat Units.
A fast-moving enemy from the Gudetama Collaboration Event with decent health and range.
The Starred Alien variant of Doge. He has massively increased stats, slightly higher speed and a chance of Warping cats backward.
A Red enemy similar to Pigge Back, with a chance to knockback Cat Units. Appears in Go Graduates!.
A Doge piloting a mechanical version of Teacher Bun Bun. Has behemoth amounts of health and damage, non-stop attacks, and attack that extend past its range. Does not have the Metal trait. Appears in the final stage of Stories of Legend, Eldritch Forces.
Doge's Relic variant. It has massively increased stats, improved speed, rapid attack and a chance to inflict the Curse effect.
A Doge piloting a Gude-Cat Machine. Appears in the Gudetama Collaboration Event.
Lord Enma's Angel variant, with increased attack power which becomes even higher at 50% HP, but a longer attack animation and shorter range. Appears in Ghostly Strangers.
A slightly stronger version of Doge that appears in the Shakurel Planet Collaboration Event.
An even weaker version of Birthday Cake that appears during Meow Meow Day.
A Doge wearing a rat costume. Appears in Year's First Dawn and Lunar New Year 2020.
A faster and stronger Doge that can dodge attacks. Appears in the Hatsune Miku Collaboration Event.
A faster Doge that is essentially a reskin of Rat Doge. Appears in the Gauntlet of the You Nears 2021 event, A Colossal New Year!.
A Freeze-immune Black variant of Wall Doge, with guaranteed Lv.4 Mini-Waves on every hit. Appears in A Colossal Valentine's.
A Aku variant of Doge, he has a weak Shield that regenerates with 50% HP each time he gets knocked back.
Encounters
Strength magnifications are 100% in Chapter 1, 150% in Chapter 2, and 400% in Chapter 3.
Strength magnifications are 200% in Chapter 1, 400% in Chapter 2, and 600% in Chapter 3.
Stats
Doge
Health
Attack Power
Attack Range
Attack Frequency
Movement Speed
Knockback
Attack Animation
90 HP
8 damage
(5.11 DPS)
110
(Single Target)
47f (1.57 seconds)
5
3 times
8f 0.27s
(10f 0.33s backswing)
Special Ability
Attribute
-
Traitless
Existence Elsewhere
Kumanchu Rowaiaru
Doge was one of the many returning enemies in Kumanchu Rowaiaru.
Nyanko Daibōsō
Doge appeared as a regular enemy in Nyanko Daibōsō.
Nyanko Defense Force
A variety of UFO Doges served as the weakest and most common enemies in Nyanko Defence Force. Like most normal enemies, they could rarely appear as sparking, which would drop either an item or a type of gem.
| | | | | |
| --- | --- | --- | --- | --- |
| | | | | |
| UFO Doge | Red UFO Doge | UFO Doge Dark | UFO Shibalien | UFO Zoge |
| | | | | |
| Metal UFO Doge | Shiny UFO Doge | Shiny UFO Doge | Shiny UFO Doge Dark | Shiny UFO Zoge |
Go! Go! Pogo Cat
While Doge itself does not appear in Go! Go! Pogo Cat, its face can be seen on a large ruin in the background, and Ecto Doge occasionally drifts through the foreground after the 12th checkpoint has been reached.
Kyoto Project
Doge appeared as an enemy in Kyoto Project during the game's collab with The Battle Cats.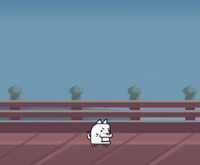 Doge as an enemy in Kyoto Project
The Burgle Cats
Doge takes on many different appearance as traps in The Burgle Cats.
| | | | | |
| --- | --- | --- | --- | --- |
| | | | | |
| Security Doge | Fake Door | Fake Coin | Tatamigaeshi | Doge Balloon |
| | | | | |
| Loudspeaker | Haunter | Bomberdoge | Curser | MechaDoge |
Gallery
Trivia
Its English name references the eponymous Shiba Inu dog that became a meme on the internet.
Its Japanese name, wan-ko (puppy), is the dog equivalent to nyan-ko (kitty) in that the onomatopoeia for a dog's bark is 'wan' and a cat's meow is 'nyan'. The 'ko' is just a suffix meaning child.
Nyanko New Japan is the only Battle Cats game not to include any variation of Doge.
The Birthday Cake enemy may be a reference to how Doge sends gifts to Cat annually.
According to Gabriel's and Aku Doge's description, Doge and its variants were part of a larger Doge clan.
Zoge's description mentions him as Doge's late father.

The fact that Zoge was resurrected by his demand to see his children's grades may refer to how Doge was about to enter college recently.

It is the enemy with the most variants.
Doge is one of the three enemies to have both unstarred and Starred Alien variants, the others being Gory and the Cyclones.
Doge placed #2 in Most Defeated 2019, with #1 being Those Guys.
Doge placed #3 in Most Appearances 2020, only beaten by Doge Dark at #2 and Those Guys at #1.
Reference
---
<< N/A | Snache >>
---