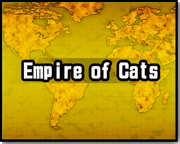 Empire of Cats
is the first saga in
The Battle Cats
and is unlocked from the beginning. This mode contains 3 chapters, with 48 levels in each. Collecting all
Treasures
available in each stage is the main goal in this mode.
Story
In most versions of The Battle Cats, Empire of Cats focuses on the Cats taking over Earth and the Moon, but in the Japanese Version, they only take over Japan. As a result, the Japanese Version has different names, Treasures, backgrounds and enemy bases for most levels, though the levels themselves play out the same in all versions.
Intro
Amongst all the global issues, civil wars, financial crises, terrorism, a brand new threat appears...
"The Battle Cats"
We found it too hard to fight back...because...these Cats...are too cute.
We are powerless to their reign. We cannot stop their legion.
Come to think of it, Cats have already invaded the internet too...We have the best information technology systems and use them to look at Cats.
By the way, the developer of these Battle Cats was interviewed on TV. It went like this...
"Why is the new weapon a Cat?"
and he answered -
"Because I love Cats."
...are you serious?
I just read what I've written. It's horrible...so horrible. I've forgotten how bad my writing was.
My biggest mistake was I don't know who I am writing to...
I remember my days as a kid, I wanted to be a major leaguer.
Now...Now I want to be a millionaire CEO of a Social Networking Service.
I mean, if you have money, you don't need love, right?
YES/NO
Whatever the answer is...I want to tell you one thing.
The "Battle Cats" aren't so bad.
That's pretty much it.
Ending
After all the battles, the world was overrun by the Battle Cats.
A government of the Cats, by the Cats, for the Cats is the new world!
Or that's what I thought...
In the end, nothing really changed.
Well, if I have to say something, I see a lot more Cats nowadays.
That's pretty much it.
Oh, by the way, I had a "Cat" come into my office for a job interview, he didn't get in.
We might be really busy, but a Cat...
is just a Cat.
However, I do feel lucky if I see one, in the office or at school.
Wouldn't you?
Anyways,
Congratulations to The Battle Cats!
Thank you Battle Cats!
Battle Cats Forever!
T H E E N D
Thank you for Playing!!
Chapter 1: The Battle Cats Rising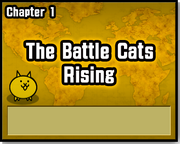 Chapter 2: The Emperor of Darkness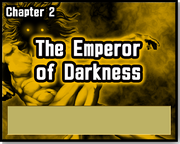 Units have their usual cost in this chapter, or 50% more than in Chapter 1.
All enemies in this chapter have a strength magnification of 150%.
Boss of this chapter is Dark Emperor Nyandam, with a stronger wave of peons.
Players unlock Valkyrie Cat upon completion.
Completing this chapter also increases the level cap to 20 and unlocks the Filter and All Cats buttons in the Upgrade and Equip menus.
Chapter 3: Revival of Bahamut-Cat
Units cost 33.3% more than they normally would in this chapter, or twice as much as in Chapter 1 (example: Macho Cat costs 100¢ instead of 75¢).
All enemies in this chapter have a strength magnification of 400%.
Boss of this chapter is Teacher Bun Bun, with non-stop waves of even stronger peons.
Players unlock Bahamut Cat upon completion.
Completing this chapter also unlocks Catfruit and Catfruit Stages.
Treasure Explanation
Main article: Treasure
These Treasures can be split into three groups (in ascending order): Inferior, Normal, and Superior. When completing a stage, you have a chance to earn a Treasure (quality is random). You can try a stage again to get higher Treasure quality.
Using a Treasure Radar in a stage will result in a guaranteed Superior Treasure.
Completing a set of Treasures activates its associated effect. Effectiveness is determined by the quality of the whole set.
Splash Texts
Train in the Present! Win in the Future!
(more to be added)
Trivia
Gallery
Community content is available under
CC-BY-SA
unless otherwise noted.