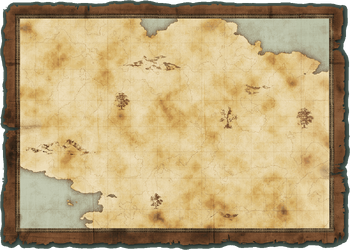 Ends of the Earth (オワーリ大陸 Owāri Tairiku, Conclusion Continent) is the 47th sub-chapter of Stories of Legend, added in version 6.10. It is available up to 4★ difficulty.
Difficulty
Not very hard compared to the previous sub-chapters. However, don't take these stages too lightly, as some require lots of skill and luck. Luckily, there are no Starred Aliens in this sub-chapter, so you won't have to worry about them.
2★ difficulty for this sub-chapter multiplies enemy strength magnifications by 120%.
3★ difficulty for this sub-chapter multiplies enemy strength magnifications by 130%.
4★ difficulty for this sub-chapter makes no change to enemy strength magnifications and only allows Special Cats and Rare Cats to be deployed.
List of Stages
Stage number & cost
Stage name
Description
1-47-1
Ultimate Shrine (最果ての祠, Saihate no Hokora, Ultimate Shrine)
Three extremely buffed Dagshunds will appear along with constant spam of Trolly Bloggers, protecting the the boss, Master A.
180
1-47-2
Valley of the End (終末の谷, Shūmatsu no Tani, Valley of the End)
THE SLOTH appears at the beginning of the battle. Later, a J.K Bun Bun appears with Doge Darks and Dark Otters.
160
1-47-3
Final Tower (ファイナルタワー, Fainaru Tawā, Final Tower)
Director Kurosawah appears at the beginning with swarms of Metal Enemies such as Metal One Horn and Sir Metal Seal. This stage can be cheesed if done quickly enough.
160
1-47-4
Last Labyrinth (ラストラビリンス, Rasuto Rabirinsu, Last Labyrinth)
Hyper-buffed Owlbrows spawn at the beginning. Once the enemy base is hit, a 200% R. Ost, more Owlbrows and Brollows appear.
170
1-47-5
Cave Conclusion (終焉の洞窟, Shūen no Dōkutsu, Cave of Final Moments)
Similar to Pigpen Taboo except the three Dober P.Ds spawn on their own on a timer along with a Sunfish Jones.
180
1-47-6
Apocalypse Temple (フィナーレ神殿, Fināre Shinden, Finale Temple)
Two buffed Berserkories and a buffed Rain D. that spawn on a timer.
200
Material Drop Rates
| None | Bricks | Feathers | Coal | Sprockets | Gold | Meteorite | Beast Bones | Ammonite |
| --- | --- | --- | --- | --- | --- | --- | --- | --- |
| 44% | 9% | 14% | 14% | 14% | 5% | 0% | 0% | 0% |
Trivia
When this sub-chapter was first released, its theme served to foreshadow the end of Stories of Legend in the following update.
Reference
---
<< Singularityville | The Legend Ends >>
---
Community content is available under
CC-BY-SA
unless otherwise noted.