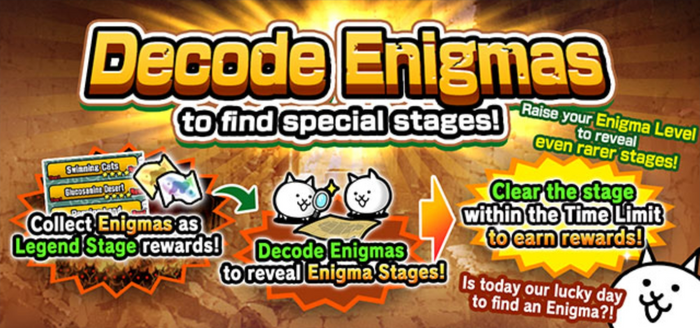 Enigma Stages are a feature available after unlocking any Legend Cat from Stories of Legend. They were added in the Version 9.4 Update.
Introduction
Enigma Stages are a special type of stage added in update 9.4. In order to unlock one, you need to get an Enigma (also known as an Enigma Map), an item that has a set chance to drop when clearing any Legend Stage (other than Challenge Battle, Catamin Stages, Continuation Stages and the Enigma Stages themselves), with a guaranteed chance to drop in Isle of the Map Lord. If you happen to obtain one, the Enigma has a chance of being an Inferior, Normal, or Superior Enigma, depending on your Enigma Level. After obtaining the Enigma, the cats will start decoding it in the Legend Stages menu. It takes 3 hours for an Enigma to be decoded. The player can tap on the Enigma that is being decoded to see how much time is remaining until it is decoded.
Once the Enigma has been decoded, the player can tap on the "Complete!" button to reveal a random Enigma Stage. After beating the Enigma Stage, the player will receive a reward, which can be Battle Items, XP, Cat Tickets, Catseyes, Talent Orbs or Catamins depending on the stage. Only 4 Enigma Stages are to be shown at once, so if you unlock one but already have four others waiting to be played, you will not get another.
All Enigma Stages cost 100 energy and have a difficulty of Insane, Deadly or Merciless. They last for 24 hours after being unlocked and may only be completed once before disappearing.
Enigma Level
Enigma Level is a leveling system that allows players to gain a higher chance to obtain rarer Enigmas. E.g. level 1 has a higher chance to get Inferior Enigmas and level 5 has a higher chance of getting Superior Enigmas. Enigma Level is dictated by how many units have been unlocked from Stories of Legend (Ururun Wolf, Li'l Nyandam, Red Riding Mina, Miyamoku Musashi and Mecha-Bun). Orb stages have a 2.88~3x higher chance to drop than other enigma stages.
Enigma Drop Rates
Enigma drop rates are based on how much energy you have spent in since your previous drop, following the below chart.
List of Stages
Below are the stages of which you have a chance of receiving when you have decoded an Enigma. Note that Enigmas found in Isle of the Map Lord will always lead to the Cradle, Summit or Frontier stages.
Trivia
Although the first image for the Enigma Stage tutorial includes a platinum Enigma, no such item can be found in-game.
Sprites for two more Enigma rarities can be found in the game's files.
Gallery