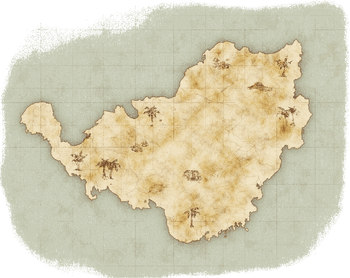 Exile's Resort (島流しリゾート Shimanagashi Rizōto, Exile Resort) is the 14th sub-chapter of Uncanny Legends, and the 63rd sub-chapter overall. It was introduced in version 8.6, and is currently only available up to 1★ difficulty.
Difficulty
This sub-chapter has a variety of stages, with the worst for most being A Private Rainforest (Cadaver Bears + Brollows). The others shouldn't cause too much trouble.
List of Stages
Stage number & cost
Stage name
Description
2-14-1
Holiday Atonement (贖罪バカンス, Shokuzai Bakansu, Atonement Vacation)
THE SLOTH appears as the boss, with Shibalien Elites, St. Pigge the 2nds and Corporal Weylands and support.
180
2-14-2
A Private Rainforest (プライベート熱帯雨林, Puraibēto Nettaiurin, Private Rainforest)
Znaches, Those Guys, Brollows and Wall Doges start spawning at the beginning. After around half a minute, a Cadaver Bear spawns. Another one spawns slightly later. When the base is down to 90%, 80%, and 70%, three Brollows for each spawn.
190
2-14-3
Rude on the Beach (無礼講ナイトビーチ, Bureikō Naitobīchi, Unceremonious Party Night Beach)
H. Nah, the boss, spawns after around three seconds. He comes with some Those Guys, a Croakley, an Otta-smack-u and another Otta-smack-u.
170
2-14-4
13th Ward Resident (13番ホールの住人, 13-Ban Hōru no Jūnin, Resident of the 13th Hall
Crocos and Imperator Saels start spawning at the beginning, and continue to spawn. After a while, Zrocos start spawning, followed by a Henry. Later, Kroxos begin to come into play.
180
2-14-5
Spa of Ascension (昇天スパマッサージ, Shōten Supa Massāji, Ascension Spa Massage)
This is basically Heavenly Creatures v2. Director Kurosawah spawns at the beginning, followed by infinitely spawning Doge Darks. Cala Maria, Angelic Sleipnir, Boraphim, and Squire Rels follow, in that order.
190
2-14-6
Wonders of Nature (ホテル花鳥風月, Hoteru Kachōfūgetsu, Hotel Wonders of Nature)
This stage starts with an Owlbrow, and Pigeon de Sables follow not long after. On base hit, Youcan appears as the boss, supported by three M. Osts, with a delay of 40 seconds between each M. Ost.
220
Material Drop Rates
| None | Bricks | Feathers | Coal | Sprockets | Gold | Meteorite | Beast Bones | Ammonite |
| --- | --- | --- | --- | --- | --- | --- | --- | --- |
| 33% | 7% | 4% | 11% | 11% | 4% | 18% | 11% | 4% |
Reference
---
<< Ghost Sea | Roads of Torment >>
---
Reference
https://battlecats-db.com/stage/s13013.html
Community content is available under
CC-BY-SA
unless otherwise noted.