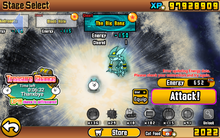 Filibuster Invasion (フィリバスター襲来ステージ, Filibuster Attack Stage in the Japanese version) is a special stage in Cats of the Cosmos Chapter 3. It temporarily replaces a random stage after completing the chapter for the first time, much like a Zombie Outbreak. It can only be completed once. Upon completion, Filibuster Cat X will be unlocked.
Restrictions
There are no restrictions for this stage.
Battleground
Strategy
Filibuster Obstructa spawns with a Kid Tappa, which can be ignored, as it doesn't do much damage to the Cat Base. Once enough money is accumulated, summon Awakened Bahamut along with other cats that are effective against Aliens. Don't use wave attackers, as he is immune to waves, (which means the Cat Cannon can't stop his attack) and don't bother with Warp Blockers, as he can't warp.
Several enemies will spawn to assist Filibuster Obstructa, including Bun Bun Symbiote, Shadow Boxer K and a Bore. They largely function as meatshields for Filibuster Obstructa and players must build an effective multi-purpose lineup to deal with these threats before Filibuster launches his attack. Megaphrodite and Oni Hayabusa are excellent Uber Super Rares for this stage, while Fishman Cat and Seafarer Cat would be the most effective Super Rares.
Filibuster Obstructa's range is 300~4300, meaning he will destroy the Cat Base no matter where he is when his attack fires off. When he starts charging his attack, don't worry yet, it will take some time. But when he starts sucking planets in, that's the warning sign that the attack will soon go off in 15 seconds.
Sniper the Cat is very effective against Filibuster Obstructa, as it's able to continuously interrupt its attacks, granted it doesn't hit the enemy infront.
Due to the fact that he is a boss enemy, he cannot be knocked back behind the base, however because only 10,000 damage is required to knock him back, he can constantly be in his knocked back animation, allowing quick units like Sanada Yukimura or Awakened Bahamut to glitch through and hit the base directly.
Strategy 1
Lineup: Manic Mohawk Cat (30), Manic Eraser Cat (40), Eraser Cat (20+25), Can Can Cat (38+2), Fishman Cat (29+1), Octopus Cat (44+1), Seafarer Cat (29+1), iCat (30), Awakened Mina (30), Awakened Bahamut Cat (40)
Cat Cannon: Breakerblast or Thunderbolt
Kid Tappa spawns instantly, just spawn Can Can Cat during this part and you won't need to spawn anything else until Kid Tappa is dead. Using the money from Kid Tappa's death, spawn Awakened Bahamut to charge into Filibuster to knock him back. The Shadow Boxer K will then come out, just meatshield to protect Bahamut and he will be able to kill it easily. The Bore is what iCat is for. Even though the iCats you spawn will probably not be able to reach the frontline in time, this is fine because Can Can will usually be able slow the Bore until iCat gets there and then Bahamut just goes ham. Once you have 2 desynced iCats, upgrade your Worker Cat during this part and don't spawn out anything more, as the Bore will die quickly due to Awakened Bahamut and since the Bore drops a lot of money upon death, upgrading your worker cat will allow you to get the most cash possible. Now for the hardest part of this battle; Bun Bun Symbiote. He is not really too big of a threat, as long as you have knockbacked Filibuster all the way to his base before hand, that is, because otherwise Awakened Mina will not be able to reach Filibuster and snipe him. Using the money that you got from the Bore, spawn out Awakened Mina, Fishman, Octopus and Seafarer. eventually Bun Bun Symbiote will go down the next and last wave; General Gregory, though he is barely an issue as you will have Awakened Bahamut off his cooldown again by the time Gregory comes out, so just send out an Awakened Bahamut to kill him and some Seafarers as well. After that Filibuster will die and you will have beaten all of Story Mode!
Trivia
Reference