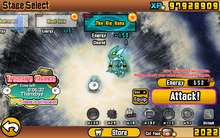 Filibuster Invasion (フィリバスター襲来ステージ, Filibuster Attack Stage in the Japanese version) is a special stage in Cats of the Cosmos Chapter 3. It temporarily replaces a random stage after completing the chapter for the first time, much like a Zombie Outbreak. It can only be completed once. Upon completion, Filibuster Cat X will be unlocked.
Restrictions
There are no restrictions for this stage.
Battleground
Filibuster Obstructa and Kid Tappa spawn at the start of the battle, after 1.7 seconds and 3.3 seconds respectively.
Shadow Boxer K spawns when Kid Tappa is killed, after 6.7 seconds.
Bore spawns when Shadow Boxer K is killed, after 10 seconds.
Bun Bun Symbiote spawns when Bore is killed, after 80 seconds.
General GreGory spawns with a boss shockwave when the enemy base is at or below 50% HP, and another without a boss shockwave spawns at 25% HP.
Strategy
The key to this level is to knockback Filibuster Obstructa to not allow him to attack only because, his attack animation is long and he does a whopping 1000000 damage.
Trivia
Reference
Community content is available under
CC-BY-SA
unless otherwise noted.