Floating Continent is the 47th stage in Into the Future. It is the introduction of Nimoy Bore.
The next stage is Moon.
The previous stage is Brazil.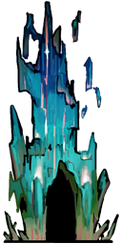 Into the Future - Stage 47
Information
Chapter 1
Energy:
75
Enemy's Castle Health:
750000
Enemies:
-Those Guys (600%)
Enemy Boss:
-Nimoy Bore (Alien) (100%)
Treasure:
English Version: Floating Rock

Japanese Version: 浮遊石 (Floating stone)

Score rewards:

6500 - Treasure Radar x1

5500 - Cat Food x10

4500 - Cat Ticket x1

3000 - XP 125000

XP earned:
14200
Stage Width:
6000
Max number of Enemies:
9
Chapter 2
Energy:
85
Enemy's Castle Health:
750000
Enemies:
-Those Guys (1200%)
Enemy Boss:
-Nimoy Bore (Alien) (250%)
Treasure:
English Version: Floating Rock

Japanese Version: 浮遊石 (Floating stone)

Score rewards:

6000 - Treasure Radar x1

3000 - Cat Food x10

1500 - Cat Ticket x1

500 - XP 187500

XP earned:
14200
Stage Width:
6000
Max number of Enemies:
9
Chapter 3
Energy:
95
Enemy's Castle Health:
750000
Enemies:
-Those Guys (1800%)
Enemy Boss:
-Those Guys (1800%)
Treasure:
English Version: Floating Rock

Japanese Version: 浮遊石 (Floating stone)

Score rewards:

6000 - Treasure Radar x1

3000 - Cat Food x10

1500 - Cat Ticket x1

500 - XP 250000

XP earned:
14200
Stage Width:
6000
Max number of Enemies:
9
Battleground
Chapter 1
The stage starts off spawning nothing for a little while. Eventually, a couple of Baa Baa will spawn, eventually being supported by Heavenly Hippoe and Gabriel. Heavenly Hippoes and Gabriel will spawn slowly throughout the early battle, blocking the way to the enemy castle, which has 750,000 health. Once you attack the enemy base, a couple Kroxo will spawn, eventually being supported by Maawth. After the enemy castle reaches 600k health, Nimoy Bore will spawn.
Chapter 2
Pretty much the same, except everything has a higher strength magnification.
Another big difference is that Cyberhorns will spawn after the boss shockwave.
Chapter 3
Still pretty much the same, with an intense buff.
When you attack the base enough, Nimoy Bore spawns, with an even higher buff. Cyberhorns will still spawn, with an even higher buff as well.
After some time another Nimoy Bore will spawn, meaning now the player must deal with two 750% buffed Nimoy Bores.
Eventually, a third Nimoy Bore will spawn if you take long enough.
Strategy
Chapter 1 & 2
Castaway/Seafarer Cat really helps here. Drop him as frequently as you can. With many surfer cats, and a lot of luck, you can pretty much freeze the Nimoy Bore for a long time. Dark Heroes help here, especially Akira, as his Normal Form can stop the Nimoy Bore and Hayabusa to knock him back. Combined with lots of Castaway Cats, the Nimoy Bore will be stopped for most of the battle. If you have Paris Cat, Bahamut, Neo Psychocat, and Dancing Flasher, you can possibly kill the Nimoy Bore in under 30 seconds.
Once the enemy castle falls below 600k health, the base will spawn Nimoy Bore. It helps to kill the support enemies before the Nimoy Bore spawns, as it will make the boss much easier. Gabriel, Heavenly Hippoe, and Kroxo will spawn at a slow rate, acting as support. Depending on your anti-alien treasures, the Nimoy Bore can have over 1 million health and 10,000 damage in Chapter 1.
Once the boss spawns, be sure to mass-produce meatshields. If the wave of meatshields is not constant, the Nimoy Bore may rush forward and kill your long-ranged attackers. Cats that can stop or knock back alien enemies are very useful, as stopping the Nimoy Bore can give you many chances to hit it. Knocking it back prevents it from advancing, giving you a bit more time. The Nimoy Bore gets knocked back twice. Once he dies, then the stage is very easy. Just keep killing the other enemies, and you should win soon.
Chill Cat, in True Form, is very helpful here and can guarantee a victory with only the help of meatshields and, if possible, Psychocat.
Chapter 3
Strategy 1
Lineup: 4 cheap meatshields, Macho Legs Cat, Neo Psychocat/Castaway Cat, Chill Cat, Holy Valkyrie Cat, Bahamut, Ururun Wolf.
Items: Cat CPU (required), Rich Cat (optional).
The stage is extremely difficult and nasty this time, because 3 Nimoy Bores come instead of 1. Psychocat and/or Castaway Cat are almost obligatory, to stop the bosses. Wheel Cat also helps, especially his True Form, because he does massive damage to aliens and has fast attack speed. Macho Legs Cat can be a huge help, too. The rest of your party should be filled with meatshields and heavy hitters.
Build up money at the beginning, using Bahamut to bring down the Heavenly Hippoes. Use Eraser Cat and Crazed Wall to protect your Bahamut. Spam Psychocat/Castaway Cat. Send Ururun Wolf and Holy Valkyrie when the base is hit.
You are probably going to fail. Don't give up. Whatever you do, try and get lots of anti-alien treasures so you can do more damage and take less. If you die, restart until you win. What do you have to lose?
Strategy 3 (Ft. Can Can)
Lineup: Crazed Wall/Manic Eraser Cat(Level 20 or higher), Ramen Cat, Can Can Cat, Necro-Dancer Cat, Skelecat, any five anti-Alien/anti-Angel Cats.
All first row Cats besides Crazed Wall should be at least level 30
Necro-Dancer Cat and Skelecat are both present for their combo.
When the battle starts, do not send out anything. Save up until you have enough money for both Can Can and Crazed Wall, then send Can Can out first then Crazed Wall. Once you can can get out Ramen, send him out. Keep spamming meatshields and Can Can. When Nimoy Bore comes out, don't get scared. Can Can will attack him and knock him back in a few hits. If you have a big enough stack of Ramens, Nimoy Bore will die. Note that the second row is for if anything goes wrong during the stage (i.e the meatshields keep dying too fast).
Zombie Outbreaks
Chapter 1
Baa Baa, Those Guys, Heavenly Hippoe and Gabriel spawn early on as peons.
Zroco start to appear after a while and Gabriel spawn until the stage is over.
Maawth, Imperator Sael, Zir Zeal and Dread Bore all appear when you damage to base a bit. There is a boss shockwave that knocks your cats back.
Strategy
The stage is massive and the enemies are slow. Save up as much as you can, you even have time to stall and stack units if you like. Seriously, its a lot of time i got level 8 worker cat and summoned almost all my ubers before pushing to the base. Ramen Cat is perfect for the stall as they take 1/4 dmg from the Gabriels/Hippoes.
Once you hit the base, Dread Bore and Zir Zeal will burrow and start to wreck your ubers. If you're lucky, they'll go past all your ubers and only have to fight your reinforcements. This is why i summoned "almost" all of my ubers, leaving a good zombie killer in reserve for the burrow. This will become a common tactic -- if it hasn't already -- for stages with long distance burrowers.
You want to get rid of Dread Bore and Zir Zeal fast so your units can catch up to the front line, who are fighting a Maawth and Imperator Sael. The Slow + Freeze combo could wreck your meatshields but also beware of Zir Zeals ability to freeze your cats.
Chapter 2
Baa Baa and Those Guys continuously spawn during the beginning with 3 Heavenly Hippoes spawning shortly afterward. Gabriels spawn infinitely during the battle in long intervals.
Once the base is down to 90% an Imperator Sael, Ursamajor, Zir Zeal, and Dread Bore spawns.
More Heavenly Hippoes, Imperator Saels, and Zir Zeals spawn after another 60 sec or so as well as a second Dread Bore.
Strategy
Similar to chapter 1, the major difference in enemies being that Ursamajor replaces the Maawth. That doesn't honestly change a whole lot as you deal with them in about the same fashion but Ursamajor hits harder and doesn't freeze your cats.
You also get a second Dread Bore, which comes out a little too early for my liking and it may cause a wipe. Omnistrike units that can freeze zombies or knock them back are super helpful. Also timing a Cat Cannon proc(or using the Holy Blast cannon upgrade) can be helpful if you're struggling with keeping enemies from burrowing to your damage dealers or your base.
Chapter 3
Gabriel, Heavenly Hippoe, Baa Baa, The Thrillerz and Zroco appear as peons.
Imperator Sael and Maawth appear as support when the base is hit.
Cyberhorn and Dread Bore are the major threats and spawn with their support and a boss wave when the base is down to 90%. Two more Dread Bore will to spawn at ~60 seconds intervals after the first.
Strategy
Heavenly Hippoes spawn after about 30 seconds and a couple Gabriel soon after. You have a lot of time to save up cash and spawn a couple heavies due to the amount of cash that the Gabriels and Heavenly Hippoes give.
A couple Baa Baa, Zroco and The Thrillerz will spawn after about 90 seconds and continue to spawn throughout the match. Be vigilant with your meatshielding or The Thrillerz could get by your troops.
Once you hit the base a few times you'll be knocked back and the big fight starts. Dread Bore will burrow right away and will leave your units at the front stranded for reinforcements. Hopefully they are strong enough to deal with the Cyberhorn, Sael and Maawth because they won't get much help for a bit.
The first Dread Bore should go down with little issue but there's a second one to deal with.. and then a 3rd one. The biggest issue is that because they burrow for a good distance. By the 3rd Bore you'll be running on fumes if you're not careful who you spawn early(so they'll be ready to spawn again in time for Bore #3 a couple minutes later)
The timing is the toughest part but having good anti-alien units and great zombie killers will be a huge help. Anti-Angel units do not seem particularly necessary but i did take Ramen Cat just incase and it helped smooth out the early game. Rare zombie killers like Ectoweight Cat or Weedwacker Cat are almost mandatory since there are so many burrowing enemies. Anything with Massive/Strong vs. Zombies or with high dps is a great choice since it helps you get back to the Alien battle that much faster.
Trivia
Reference
Community content is available under
CC-BY-SA
unless otherwise noted.