Roblox: DeepWoken - The Loop
Play Sound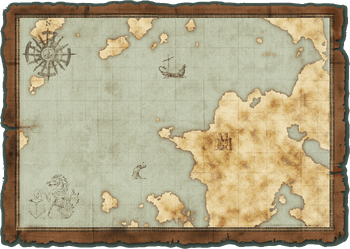 Ghost Sea (絶滅海洋タウン Zetsumetsu Kaiyō Taun, Extinct Sea Town) is the 13th sub-chapter of Uncanny Legends, and the 62nd sub-chapter overall. It was added in version 8.5 and is currently only available up to 2♛ difficulty.
Difficulty
Starred Aliens' strength magnifications are further increased from this sub-chapter onward, therefore the player will need to have all Anti-Starred Alien Treasures from all three Cats of the Cosmos chapters, especially for 2,500% Star Pengs and 1,000% Mesocosmocyclones. Otherwise, this sub-chapter is fairly straightforward; the hardest stages are probably Iwa Rock Reef and Nautilus Tomb.
2♛ difficulty for this sub-chapter multiplies enemy strength magnifications by 140%.
New Features
This sub-chapter introduces no new enemies, however, the Starred Aliens from Cats of the Cosmos Chapter 3 appear in Legend Stages for the first time in this sub-chapter (besides Filibuster Obstructa).
Gardeneel Bros.: A long-ranged Starred Alien enemy. They have low overall stats but stand at 1,800 range and have a 100% chance to warp Cat Units forward. This can lead heavy hitters to a painful death since they'll be unprotected.
Mesocosmocyclone: A smaller version of Super Cosmic Cyclone, it has shorter range and warps cats forward 150 range for 100f. Don't underestimate it, because without debuffers or Warp Blockers, it'll push incredibly quickly.
List of Stages
Stage number & cost
Stage name
Description
2-13-1
Iwa Rock Reef (イワロック岩礁, Iwa Rokku Ganshō, Iwa Rock Reef)
B.B.Bunnies, Mistress Celeboodles, Star Pengs, and Gardeneel Bros. are sent out as support for Professor A, who serves as the main threat.
180
2-13-2
Nautilus Tomb (オウム貝の墓場, Ōmugai no Hakaba, Nautilus Graveyard)
Lord Gravey starts off as the boss, supported by 2 Mr. Moles. Infinitely spawning Znaches and Zrocos also appear, and a Kang Roo is deployed every 53.33 seconds. Up to four Kang Roos can be seen in total.
170
2-13-3
Lost Sailors (海より還りし亡者, Umi Yori Kaerishi Mōja, The Dead Return from the Sea)
The Face starts off the level. An Oldhorn then joins in, followed by a few Mesocosmocyclones.
180
2-13-4
Caged Carp (人面魚の渚, Jinmengyo no Nagisa, Beach of the Human-faced Fish)
Somewhat similar to Leadfoot Drive. Le'noir starts off the battle, supported by Kroxos, UltraBaaBaas, Gory Blacks, Angelic Gories and one Chickful A.
190
2-13-5
Quay of Camels (らくだ岸壁, Rakuda Ganpeki, Camel Quay)
A few Relic Doges start off the level, and are infinitely spawned hroughout the battle. When the enemy base is damaged, Lowkey appears as the boss, backed up by Othom and groups of two Shy Boys. Doge Darks and Squire Rels appear along the threats once the base is hit.
190
2-13-6
Endless Dead Zone (視界なき死海, Shikai Naki Shikai, Dead Sea Without Visiblity)
This is the first time that Axoloty can be seen in Legend Stages, and two of them can be seen here. They are supported by a few LeMurrs, Zackie Pengs and a few Zomboes.
220
Material Drop Rates
| None | Bricks | Feathers | Coal | Sprockets | Gold | Meteorite | Beast Bones | Ammonite |
| --- | --- | --- | --- | --- | --- | --- | --- | --- |
| 33% | 7% | 9% | 7% | 0% | 4% | 18% | 13% | 9% |
Reference
---
<< Depths of My Heart | Exile's Resort >>
---