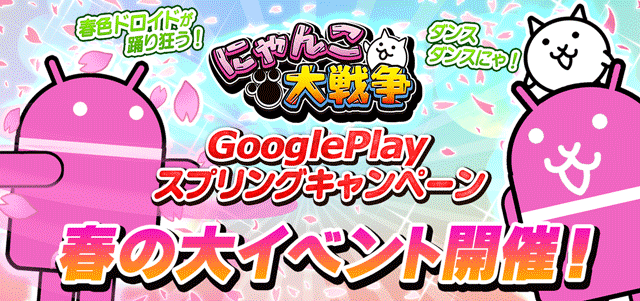 A collaboration event between Nyanko Daisensou and a company brand known as Google (グーグル) was held from December 26th, 2013 to January 6th, 2014. The collaboration includes a special login stamp and exclusive stages.
Event
Google Collab
List of Units
【Rare】 Droid Cat - Chance to obtain when playing the To the Future Limited Stage, with greater chance as the player progresses to harder levels. Using a Treasure Radar provides a guaranteed drop.
Google Play Collab
Spring limited discount event for all users. Draw one time for 30 Cat Food, and 11 times for 750 Cat Food for the first time.
During this event, gift one "Rare Ticket" to all users
New Users Startup Campaign
Only the first time, if the stage Fukuoka is cleared, player will earn a gorgeous item set, include 1 Rare Ticket, XP +10000 and 2 "Cat Jobs" power ups
Limited Droid Stages Appear
The special stage "Message from the Dawn(?)" (黎明期からの使者) reappear and introduce the new stage: Droid Awakens! Stages, for a chance to evolve Droid to its third form.
Notes:
Collaboration Stages will appear after chapter 1 is cleared as a condition.
To get the third form for Droid Cat, this character's level must be at least 20.
If the special stages does not appear, player must update Battle Cats to the latest version.
List of Levels
To the Future
| | EN name | JP name | translation |
| --- | --- | --- | --- |
| Stage 1 | ParaDroid (Expert) | ドロイド進化の道 超上級 (Doroido shinka no michi chō jōkyū) | Road to Droid Evolution Super Advanced |
| Stage 2 | ParaDroid (Insane) | ドロイド進化の道 超激ムズ (Doroido shinka no michi chō geki muzu) | Road to Droid Evolution Super Hard |
Gallery
Appears
Japanese Version
March 30th, 2015 to April 6th, 2015 (20:00)
August 5th, 2014 to August 15th, 2014
March 26th, 2014 to April 5th, 2014
December 26th, 2013 to January 6th, 2014
Trivia
Community content is available under
CC-BY-SA
unless otherwise noted.