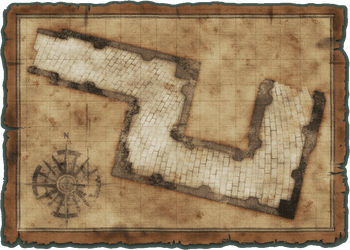 Grotesque Gallery (変覧会の絵 Hen Ran-kai no E, Weird Painting Exhibition) is the 42nd sub-chapter of Stories of Legend. It was added in update 6.4 of The Battle Cats on the 13th of September, 2017. This sub-chapter is available up to 4★ difficulty.
Difficulty
A joke of a sub-chapter, these stages should be a breeze, with the possible exception of the last stage. Most of these stages' gimmicks is that if you do a certain thing wrong, you'll essentially lose.
New Features
Although not his first appearance in-game, Angel Fanboy makes his first and only appearance in Stories of Legend here.
List of Stages
Stage number & cost
Stage name
Description
1-42-1
Cubist Crimes (ヘタうまキュビズム, Hetauma Kyubizumu, Cubism So Bad It's Good)
Just a lot of peons spawning, but if the enemy base reaches 99% health, then infinite 4000% Brollows will spawn, destroying the player's base immediately. The only way to win is to use a cat that can destroy the enemy base instantly, such as Awakened Bahamut.
150
1-42-2
Surrealist Sins (癒し系地獄絵図, Iyashikei Jigoku Ezu, Heartwarming Hell Painting)
Just a Doge Base. After 2 minutes, a single 4500% Assassin Bear will spawn. This Assassin Bear is the only enemy in the stage, except for Ms. Sign.
155
1-42-3
Gouache Ghouls (和尚のスケベな水墨画, Oshō no Sukebena Suibokuga, Buddhist Priest's Lascivious Ink Picture)
Spawns a single Angelic Gory and an Angel Fanboy at the beginning. After 66 seconds, infinite Ms. Signs will spawn, allowing the stage to be cheesed. If the base is hit before then, then the player will be met with infinite 1000% Angelic Gories, Angelic Sleipnirs and Sunfish Joneses.
150
1-42-4
Death by Dada (一筆三億五千万円, Ippitsu San Oku Senban Go-en, One Stroke 350 Million Yen)
Spawns two Croakleys, and two more when the base is hit, along with a One Horn. Ginger Snaches and Znaches serve as peons throughout. Stage width is significantly short, allowing the Croakleys to easily hit the Cat Base.
145
1-42-5
Baroque Beasts (ヤンキー宗教画, Yankī Shūkyōgaku, Yankee Religious Paintings)
A single Teacher Bun Bun appears at the beginning with lots of Wall Doges. After 3 minutes, three 1000% CyberFaces will spawn.
155
1-42-6
Atrocious Deco (館長の自画像, Kanchō no Jigazō, Curator's Self-portrait)
A stage much like Kugel Schreiber, with waves of bosses. Begins with Berserkory, then Razorback, then Bun Bun Symbiote, and finally Boraphim with Angelic Sleipnir. Stage width is even shorter here. Unlike Kugel Schreiber, the enemies spawn when their base takes enough damage, rather than when an enemy dies.
175
Material Drop Rates
| None | Bricks | Feathers | Coal | Sprockets | Gold | Meteorite | Beast Bones | Ammonite |
| --- | --- | --- | --- | --- | --- | --- | --- | --- |
| 46% | 12% | 9% | 6% | 6% | 15% | 3% | 3% | 0% |
Trivia
All the stages are named after a type of art.
Reference
---
---
Community content is available under
CC-BY-SA
unless otherwise noted.