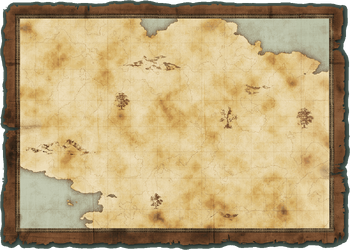 Here Be Dragons (まんぷく秘境 Manpuku Hikyō, Completely Unexplored Area) is the 2nd sub-chapter of Uncanny Legends, and the 51st sub-chapter overall. It was added in version 7.1, and is currently available up to 2★ difficulty.
Difficulty
Regardless of how easily you've beaten A New Legend, this sub-chapter shouldn't be harder than its predecessor. However, be wary of the 2000% Master A. in Pasta Desert, and do not underestimate Mince Hill's difficulty.
2★ difficulty for this sub-chapter multiplies enemy strength magnifications by 150%.
New Features
This sub-chapter introduces one new enemy:
Oldhorn: A Relic Enemy with massive health and DPS, but slow movement speed and short range. He also has a 100% chance of inflicting Curse.
List of Stages
Stage number & cost
Stage name
Description
2-2-1
Pilaf Field (ピラフ大草原, Pirafu Ōkusabara, Pilaf Prairie)
Snaches appear as peons, with Relic Doge and Gory appearing as the main threats.
160
2-2-2
Nyandaria (ニャンダルメシアン, Nyandarumeshian, Nyandalmation)
Just some basic peons and Relic Doges assisting a buffed Super Metal Hippoe.
170
2-2-3
Annin Pass (アンニン峠, Annin-tōge, Annin Pass)
The only enemy, Oldhorn, spawns at the beginning of the level.
180
2-2-4
Ajillo Highlands (アヒージョ高原,Ahījo Kōgen, Ahijo Plateau)
Imperator Saels are spawned at a mild pace as support for periodic Elizabeth the LVIths along with various peons.
165
2-2-5
Pasta Desert (パスタ砂丘, Pasuta Sakyū, Pasta Dunes)
Master A. serves as the boss with many Those Guys, Relic Doges and Zrocos blocking the way.
175
2-2-6
Mince Hill (ルーロウ丘陵, Rūrou Kyūryō)
Dark Emperor Nyandam is the boss, with protection from many Squire Rels and a few Oldhorns.
200
Material Drop Rates
| None | Bricks | Feathers | Coal | Sprockets | Gold | Meteorite | Beast Bones | Ammonite |
| --- | --- | --- | --- | --- | --- | --- | --- | --- |
| 33% | 10% | 0% | 10% | 5% | 0% | 14% | 5% | 24% |
Reference
---
<< A New Legend | The Endless Wood >>
---