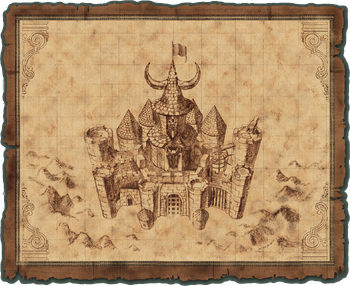 In the Sleeping Forest (眠れる森の何か Nemureru Mori no Nanika, Something in the Sleeping Forest) is the 27th sub-chapter of Uncanny Legends, and the 76th sub-chapter overall. It was introduced in version 9.8, and is currently only available up to 1♛ difficulty.
Difficulty
This sub-chapter is a real mix in difficulty. The first three stages are extremely easy, but the last three stages are rather difficult. Glass Slippers is probably the most difficult stage here, due in no small part to a combination of Cli-One, R.Ost, Gardeneel Bros. and the Doge Base, while Wicked Beauty is the easiest.
New Features
This sub-chapter introduces one new enemy:
Surge Base: An animated base with a long attack animation and incredibly high damage, which is delivered through a level 3 Surge Attack that can spawn anywhere between 150 range and 2,000 range.
List of Stages
Stage number & cost
Stage name
Description
2-27-1
The Prince's Woods (王子様の出てくる森, Ōji-sama no Detekuru Mori, The Emergent Prince's Woods)
Three Teacher Bun Buns are supported by the Relic Doge Base, some Li'l Bun Buns and Owlbrows.
200
2-27-2
Aria of the Princess (歌うま姫の家, Utau Ma Hime no Ie, Home of the Singing Princess)
M. Ost is supported by some Relic peons, Doge Darks and the Doge Base.
180
2-27-3
Wicked Beauty (邪悪な美魔女の城, Jaakuna Bi Majo no Shiro, Castle of the Wicked Beauty Witch)
A stage similar to Kugel Schreiber, featuring Oldhorn, Bore and Bun Bun Symbiote with the Relic Doge Base as support.
190
2-27-4
Glass Slippers (ガラスの靴下, Garasu no Kutsushita, Glass Socks)
Cli-One and R.Ost are supported by Ursamajor and Kroxos while Gardeneel Bros. warp cats into the range of a Doge Base as a mean to trigger it.
190
2-27-5
Guild of Masks (仮面武道会, Kamen Budōkai, Masked Martial Arts Club)
Relic Doge Base, Professor A. and St. Dober with Ginger Snaches and Gabriels as peons.
180
2-27-6
Happily Ever After (幸せに暮らしました, Shiawase ni Kurashimashita, They Lived Happily Ever After)
The Surge Base is introduced here as support for an army of Loris, Mr. Mole, Master A. and some peons.
250
Material Drop Rates
| None | Bricks | Feathers | Coal | Sprockets | Gold | Meteorite | Beast Bones | Ammonite |
| --- | --- | --- | --- | --- | --- | --- | --- | --- |
| 33% | 9% | 15% | 3% | 0% | 6% | 15% | 0% | 18% |
Trivia
This sub-chapter is based on the fairy tales Sleeping Beauty and Cinderella.
This and Theatre of Fear are the only Uncanny Legends sub-chapter to have an animated base in every stage.
Reference
---
<< Morningstar Isle | Laboratory Island >>
---