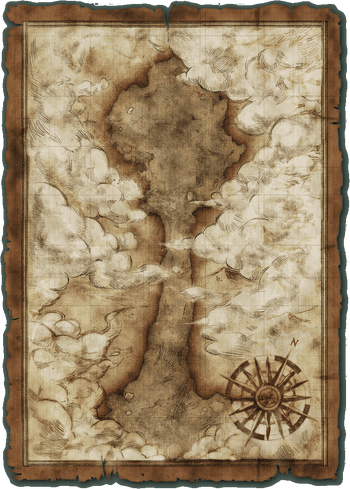 Intrepid Cats (導かれしネコ達 Michibi Kareshi Neko-tachi) is the 29th sub-chapter of Stories of Legend. It was released on June 14th (2016) for the English version, and is available up to 4★ difficulty.
Difficulty
This sub-chapter's difficulty really depends on your cats (and their levels). A lot of these stages are very hard and should not be underestimated. And as you may already know, this sub-chapter has the infamous Darkweb! Don't worry, though. It's not hard if you have Kotatsu Cat's True Form. But if you don't have good waveproof cats, well heavens above, this is going to be one hell of a sub-chapter for you. Darkweb aside, the hardest stage is probably Thorny Dialogue, a timed stage that can be difficult without high-level cats or Major Leaguer Cat.
2★ difficulty for this sub-chapter multiplies enemy strength magnifications by 120%.
3★ difficulty for this sub-chapter multiplies enemy strength magnifications by 140%.
4★ difficulty for this sub-chapter makes no change to enemy strength magnifications and only allows Special Cats and Rare Cats to be deployed.
New Features
This sub-chapter introduces two new enemies:
List of Stages
Stage number & cost
Stage name
Description
1-29-1
Renewed Conflict (新たなる戦い, Aratanaru Tatakai, Renewed Conflict)
The player is rushed with Mr. Angel and later Trolly Bloggers, many Shy Boys appear as well. The boss is I.M. Phace.
100
1-29-2
Mysterious Order (ミステリーサークル, Misuterī Sākuru, Mystery Circle)
In the beginning, the player is rushed with Maawths and Mistress Celeboodles. Many, MANY Aliens are present, notably Calamary and Cyberhorn. Both Metal Doge and Owlbrow appear as a counter to your defenses.
105
1-29-3
Birdwatching (野鳥観察, Yachō Kansatsu, Birdwatching)
4 Duches appear as the starting enemies, and each defeated Duche will spawn an R. Ost.
90
1-29-4
Thorny Dialogue (言葉の端のトゲ, Kotoba no Hashi no Toge, Thorns at the End of Words)
Wall Doges appear very fast and Tackey follows soon as a support enemy. Alpacky joins later. Another Tackey spawns later with another Alpacky spawning after that. 5 more Tackeys are then spawned at a slow pace with Imperator Sael joining as support after the 3rd Tackey.
115
1-29-5
Darkweb (ブラックウェーブ, Burakkuu~ēbu, Black Web)
Dober P.D and a few Gory Blacks and a Two Can. After a while, two more Two Cans, Otta-smack-us, a Berserkory and Le'noir appear if you take too long, along with a stream of Mr. Angels.
125
Material Drop Rates
| None | Bricks | Feathers | Coal | Sprockets | Gold | Meteorite | Beast Bones | Ammonite |
| --- | --- | --- | --- | --- | --- | --- | --- | --- |
| 52% | 7% | 15% | 9% | 2% | 4% | 11% | 0% | 0% |
Trivia
This is the only sub-chapter to have 5 stages.
Reference
---
<< Weak & Mildly Acidic | Shadow Cosmopolis >>
---