Japan is the 1st stage of Into the Future and is pretty straightforward in all 3 chapters.
The next stage is Korea.
Caution to newcomers
Into the Future introduces the Alien class of enemies, which have their stats scaled to 700% of normal when you first arrive here. Each time you complete a set of treasures from Into the Future, you will see a stat-boost reduction of based on the value of the bronze, silver and gold treasures you have acquired.
Once all superior treasures from a single set are obtained alien stats are reduced 100% and there are 2 sets of alien treasures in each ITF chapter. This means that once all superior treasures are collected from all ITF chapters that we will see alien stats reduced to a normal 100% of base value.
It is generally recommended that you only attempt Into the Future AFTER you finish Empire of Cats Chapter 3, even though it is unlocked after you defeat The Face in Chapter 1 Moon. The jump in difficulty can be drastic if you do not have very many cat levels and Alien units are unforgiving at first..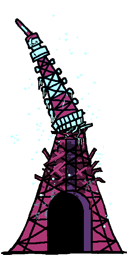 Into the Future - Stage 1
Information
Chapter 1
Energy:
30
Enemy's Castle Health:
4000
Enemies:
- Doge (200%)
- Snache (200%)
- Those Guys (200%)
Enemy Boss:
- Shibalien (Alien) (100%)
Treasure:
EN: Home Electronics


JP: ちょんまげ (Topknot)

Score Rewards:
8500: Cat Food +10


5000: Cat CPU +1

XP earned:
1000
Stage Width:
4000
Max number of Enemies:
5
Chapter 2
Energy:
40
Enemy's Castle Health:
6000 HP
Enemies:
- Doge (400%)
- Snache (400%)
- Those Guys (400%)
Enemy Boss:
- Shibalien (Alien) (250%)
Treasure:
EN: Home Electronics


JP: ちょんまげ (Topknot)

Score Rewards:
9000: Cat Food +10


7000: Cat CPU +1

XP earned:
1000
Stage Width:
4000
Max number of Enemies:
5
Chapter 3
Energy:
50
Enemy's Castle Health:
8000 HP
Enemies:
- Doge (800%)
- Snache (800%)
- Those Guys (800%)
- Shibalien (Alien) (500%)
Enemy Boss:
- Doge (800%)
Treasure:
EN: Home Electronics


JP: ちょんまげ (Topknot)

Score Rewards:
9000: Cat Food +10


7500: Cat CPU +1

XP earned:
1000
Stage Width:
4000
Max number of Enemies:
8
Battleground
Chapters 1 and 2
The stage begins with a few Doges, Snaches and Those Guys appearing as peons. However, after hitting the enemy base a Shibalien comes out as a main threat; as it is an Alien, its stats are buffed by 700% (Provided you have no anti-Alien Treasures), meaning it has 6300 HP and does 1050 damage per hit. Players coming from Chapter 1 of Empire of Cats should take caution.
Chapter 3
Plays out similarly to the previous chapters, but three Shibaliens will spawn instead of one.
Strategy
For all Chapters - Since it's the first stage of ItF, it's relatively easy: Even if the Shibalien overpowers your troops, it has a moderate attack rate and single-target attack, meaning:
Once the Shibalien is dead, the remaining peons pose no threat and you can claim victory.
Zombie Outbreaks
Chapter 1
Zoge, Znache and Those Guys appear as peons.
Zackie Peng, Zroco and Shibalien appear as major threats when you attack the base.
Battleground
Peons head your way at the very beginning but only a couple spawn at first.
Once you make it to the base, the major threats will appears with a shockwave.
Strategy
Just like the other zombie stages you will want meatshield to make the first set of zombies dive and then sound out any heavy hitters or zombie killers to start finishing them off. Once you start to press towards the base you can spawn any anti-alien units you have to help deal with the Shibalien.
The stage is straight forward but if you're having trouble go back and collect treasures from EoC and any from ITF that you can manage, especially Zombie or Alien treasures.
Chapter 2
Zoge and Znache appear as peons.
The Thrillerz, Shibalien and Zackie Peng appears as the main threats.
Battleground
Zombie peons spawn early with The Thrillerz spawning about every 10-15
Enemies have boosted stats, spawn more often and The Thrillerz have been added to give less money and shake things up with their double-burrow.
The Thrillerz are a zombie version of Those Guys and make their first appearance in ch.2 ITF outbreaks. They will burrow twice when reaching one of your cats but its only for 500f each time so not a very far burrow. Spawning units on cooldown should keep them from being a problem.
Strategy
Basic zombie stage strategy applies here; Zombie killers, freeze them if possible, 3-4 meatshields, etc... Just be careful of The Thrillerz burrowing twice, they can sneak right up to your base if you don't have omnistrike or units on reserve.
You will have a much larger wall of enemies to deal with this time and each peon spaws on a 5 second timer more or less so expect to see a couple Thrillerz stacked up and Shibalien stack up to about 6 regularly. Zackie peng is the exception but you can still have about 3 of them stacked up.
Once you've created your mega-meatshield you can slowly start to save up for an uber(or stack super rares like Vaulter/Piledriver). This should allow you to clear most of the zombies away and push to the end, it will just take a little bit.
Chapter 3
Zoge, Znache and The Thrillerz appear as zombie peons.
Zackie Peng and Shibalien appear as major threats after about 45 seconds with a boss knockback.
Battleground
This is a buffed version of chapter 2, you will probably not beat this on your first try despite it being the first stage.
The Shibaliens spawn in groups of 3 or 4 and pretty often once they've started spawning.
Strategy
Very similar strategy to chapters 1 and 2 but you're hit with about 3x as many enemies so spam those units on CD. Any area attackers or zombie killers that you have acquired since chapters 1/2 would be very helpful here. Strong vs Alien units are useful too but the shibaliens are the least of our problems.
Keep a spare Zombie Killer/heavy hitter on reserve(or at least keep spawning your lower cost ZK's constantly) incase you start having problems with The Thrillerz but overall this is still a fairly simple and very similar to chapters 1 and 2 outbreaks if you don't get overwhelmed by the sheer volume of enemies.
As the enemies hit pretty hard at this point, having as many treasures as possible is highly recommended.
Tips
The Treasure in this stage is a part of the Aqua Crystal, which reduces the stats of Alien enemies. This will make them deal less damage to your units and have less health.
Trivia
This level is most likely underwater because the intro to this chapter says the Aliens sunk Japan. However, on the in-game map, some of Japan appears above water.
Reference
Community content is available under
CC-BY-SA
unless otherwise noted.