Raise a Floppa - The Loop
Play Sound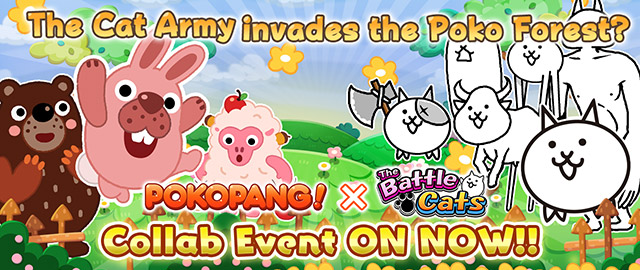 A collaboration event between Nyanko Daisensou and the LINE Sticker brand known as Pokopang! (ポコパン Pokopan) was held from April 25th, 2018 to May 9th, 2018 for BCJP and May 17th, 2018 to May 31st, 2018 for all other versions. The collaboration includes exclusive stages going on during the collab period.
Event
Character from Pokopang are available to unlock in the Battle Cats via the collaboration stage the event period.
Collaboration Fixed Stages
Collaboration Stages are available to play in the Legend Stages menu from the title screen. These stages are colored in purple, which include characters from Mentori as enemies. The two stages to become available are Pokopang Forest Friends! and Trio from the Woods, the former of which has a Timed Score Reward which contains the collabs Rare Cats as a Treasure. Trio from the Woods, of which is a Timed Score Reward stage that has various items as Treasures. As the player progresses to the more difficult levels, the higher rarity and amounts of Treasures that can be obtained.
Clear all the levels in a Pokopang map to receive 30 Cat Food and 1 Leadership.
Missions based around the collab stages are available throughout the whole collab.
* The player can't achieve the rewards if they clear the missions before their start date.
* The player needs to tap the button next to each completed mission to claim the rewards.
List of Levels
Pokopang Forest Friends!
Pokopang Forest Friends! (ポコ森の仲間たち, Poko Mori no Nakamatachi, Poco Forest Friends)
| | English Version | Japanese Version | Translation | Energy Cost |
| --- | --- | --- | --- | --- |
| Stage 1 | Rabbit's Mischief | いたずら好きなウサギ (Itazura Sukina Usagi) | Mischievous Rabbit | 50 |
| Stage 2 | Sheep's Bravado | ぼーっとしたヒツジ (Bōtto Shita Hitsuji) | Vague Sheep | 60 |
| Stage 3 | Bear's Bashfulness | 意外とずぼらなクマ (Igaito Zuborana Kuma) | Surprisingly Sloppy bear | 75 |
Trio from the Woods
Trio from the Woods (仲良し3人組 Nakayoshi 3-ningumi Good Friend Threesome)
| | English Version | Japanese Version | Translation | Energy Cost |
| --- | --- | --- | --- | --- |
| Stage 1 | Puzzle Attack! | パズルで攻撃! (Pazuru de Kōgeki!) | Attack With Puzzles! | 100 |
| Stage 2 | Collecting Cherries | チェリーを集めろ! (Cherī o Atsumero!) | Collect Cherries! | 120 |
| Stage 3 | Rainbow Blast! | 必殺!レインボー爆弾! (Hissatsu! Reinbō Bakudan!) | Special Skill! Rainbow Bomb! | 200 |
Gallery
Appears
Japanese Version
April 25th, 2018 to May 9th, 2018
English Version
May 17th, 2018 to May 31st, 2018
LINE Pokopang! Collaboration Event
Collaboration Event Stages (11.5)
Princess Punt

Enchanted Princess
How to Cook Yuurinchii • You Lynch! • High Heels and Chamomile • Let's Go To The Egg • Princess's Secret • Princess Battle
Princess Punt Stage
Kerihime Is Here! (Easy) • Kerihime Is Here! (Normal) • Kerihime Is Here! (Hard)
Kerihime Awakens!
Road to Kerihime Evolution (Expert) • Road to Kerihime Evolution (Insane)
Sleeping Beauty Awakens!
Road to Sleeping Beauty Evolution (Expert) • Road to Sleeping Beauty Evolution (Insane)
Teachings of Ketbas Kingdom
Hurry Up • Buttons on Flowers • Buttons on a Crying Face • Buttons on the Second Floor • Kerihime Captured by Laughing Gate
Intense Fight! The Great Sweets War
Sweet Food in Another Belly • Medicine Is Sweet In The Mouth • Forbidden Sweets Are Sweet

Hometown Self-Defense Force

Suddenly Second Class • Corporal Pirikara • Sergeant Chakkari • Master Sergeant Yorudemo • Lieutenant Kakeashi • Major Jeje • Colonel Enyakora • Intense Chief of Staff

Google Android

To the Future
Architecture • Cloud Services • Storage Servers • On Demand • Bug Squashing • Bookmarkers • Solid State Rock • Fiber Cookie
Droid Awakens!
ParaDroid (Expert) • ParaDroid (Insane)

Million Arthur

Diffuse Million Arthur
One Million Stories • Swordsman Castle • The Fate of Britain • A Place of Skill • Excalibur • Magic School • The Birth of the True King • Gyudon and Heavy Metal

Dragon Poker

Beginning of the Docking • Real-time Battle • Shout Festival • Ban Coliseum • Rookie League • 5vs5 • Super-combined • Breaker Crash

Final Boss Advent!?

Lasvoss Strikes?!
Let's GOOO! <(@0@)>
Cabaret Cat Awakens!
Crescendo (Veteran) • Crescendo (Insane)

Merc Storia

Merc Storia: Inferno
A City Aflame (Insane)
Merc Storia: Showdown
Cats After All • Healer's Journey • Teraphobic • A Strange Bottled Girl • Subjugated Cats • Lost Memories • Threads of Love • 300 Yard Strike
Healer Awakens!
Healer Awakens (Expert) • Healer Awakens (Insane)
Merc Awakens!
Merc Awakens (Veteran) • Merc Awakens (Insane)
Titi Awakens!
Titi Awakens (Veteran) • Titi Awakens (Insane)
Merc Storia: Attack
Alois: Cowards Flight • Cornelia: Heaven's Grace • Hearscht: Silver Beast
Merc Storia: Mystery
Feathered • On Holy Wings • Blade Ritual
Trials of Merc Storia!
Trials of Merc Storia! (Healer & Co. Lv.1~20)

Dragon League

20-to-20 • Cat Battle • Nyanko Coliseum

Kishidan

Kishidan Clash! !
Shiratori Shōchikubai • Hoshi Guranmanie • Saionji Hitomi • Saotome Hikaru • Ayanokōji Shō • Super Clash!! Kishidan!!

Survive! Mola Mola!

Survive! Mola Mola!
Squid Bender • Mean Morning Sunbeams • Life Ain't Easy, Kid
300 Million Dead Molas
Only Brother Left • Life's Hard Mode • Sardine Bones • SUDDEN DEATH • One Step from Heaven
Manbosaki Strikes!
Manbosaki Strikes! (Sudden Death Lv.1~20)

Shoumetsu Toshi

~Chapter 1~
A Post-Apocalypse Tale • Deliveryman Takuya • A Mystery Girl
~Chapter 2~
Good Cats, Bad Cats • A Bothersome Cat • The Nyanko Plan
~Chapter 3~
LOST (Insane)
Takuya & Yuki Awaken
Takuya & Yuki Awaken! (Veteran) • Takuya & Yuki Awaken! (Insane)
The Lost World
Another Mystery Girl • Don't Act Like You Know Me • All Worlds Will End
City of Souls
Blackened Soul • The Two Yukis • Three Destinies
Annihilated City
A Post-Apocalypse Tale • Deliveryman Takuya • A Mystery Girl • Good Cats, Bad Cats • A Bothersome Cat • The Nyanko Plan • LOST (Insane)
The World Beyond
An Encounter With Sin • Foolish Wanderer Kano • Wishing for Happiness
Messier's Assault!
Messier's Assault! (Land of Dreams Lv.1~20)

Yakuza Apocalypse

Cats On The Road • When Bitten, Everyone Is A Yakuza • The Great Summit War!!

Monster Hunter

MonHun Great Hunting Quest
Noble Queen・Rathian 【Village】 • King Of The Sky・Rathalos 【Inferior】 • Proud and Strongest Couple! 【Superior】
【Emergency】MonHun Great Hunting Quest
Queen, Descends 【Inferior】 • The Sky Has Fallen, King Of The Sky! 【Superior】 • Hunt Sky And Fire Dragons! 【G Class】

Metal Slug Defense

Metal Slug Defense
Immortal Allen O'Neil • Attack on Huge Hermit • Jupiter King Convoy
Super Metal Slug
Devils on the Doorstep (Insane)

Yurudora

Divine! Yurudrasil
A New Mythology, Begins • Imperial City Bardia • The Backlash of the Gods • Valhalla Battle • The End is Coming?! Nya Gunaroku!

Castle & Dragon

Castle and Dragon
Castle and Dragon and Cats • Because It's A Human • Running Through The Battlefield • Trouble Talking To Girls... • Pretend to Watch • Tradition • For Pretty Cat • Mucha! I'm So Excited!
Castle and Dragon Awakes!
Road to Swordsman Evolution (Easy) • Road to Horsemen Cavalry Evolution (Easy) • Road to Ashura Evolution (Easy) • Road to Battle Balloon Evolution (Normal) • Road to Dragon Rider Evolution (Normal) • Road to Pretty Cat Evolution (Normal) • Road to Cyclops Evolution (Hard) • Road to Golem Evolution (Hard)
Immortal Castle and Dragon
League Lifting (Expert) • Things Born From Eggs (Insane) • Castle Dragon Great War (Deadly)
Castle Dragon VS Castle Dragon
Knights Invasion (Easy) • Knights Invasion (Hard) • Knights Invasion (Demon) • Knights Invasion (God) • Knights Invasion (Dragon)

Nebaaru-kun and Nyan Puzzle

Protecting Cats
Protecting with Cat Puzzle • I'll Protect You Too Nebaaru-kun • Together Protecting Cats

Neo Mushroom Garden

A Fungal Challenge
Fungal Dominance • King of the Table • Funghi Wasn't Built In a Day

Y! Mobile

Futenyan Appears
Too Much Cat • Further Fellow Cat

Puella Magi Madoka Magica

Be A Magical Girl
Make A Contract With Me • I Want You to Be a Magical Girl • Any Wish You Have • I Can Make It Come True • Make a Contract Now!
Be A Magical Girl II
Decide What You Want, Now • I Don't Understand You • You Are Naive About War • So, What Do You Wish For? • Do You Intend To Be a God?
Witch's Labyrinth: Rose Garden Witch
Allow Me To Introduce Myself • But Before That • Some Cleaning Up • Is In Order • Tiro Finale!
Witch's Labyrinth: Dessert Witch
My Body Is Light • With Such Joy • A Battle Like This • I'm Afraid of Nothing • I'm Not Alone Anymore
Witch's Labyrinth: Box Witch
I Know My Wish • Miracles and Magic Are Real • Did I Do Well? • I Have No Regrets • You'll Be Happy, Won't You
Nutcracker Witch
This is My Despair • How Did it Come to This? • Thank You For Coming • Just Couldn't Say Goodbye • I'm Sorry
Walpurgisnacht
Walpurgisnacht (Stagebuilding Witch: Cycle 1~10)

Cat Busters

Charge! Cat Busters
A World With Only Cats • Stolen Time Machine • Chasing The Mouse

Pikotaro

PPAP
PPAP

Nazousagi

Nazousagi Advent!?
A World Dominated by Mystery • Signature Lemonade • Nazo VS Helikutsu • The Four Riddles • Resolved by Physical Attack

Hiroshi Mihara

Chasing Dream Idols
Shiryouko's Photography Studio
Hiroshi Mihara Awakens!
Road to Hiroshi Evolution (Easy) • Road to Hiroshi Evolution (Normal)

Crash Fever

Gates of ALICE
Virus of Love • Explosive Escape • Order/Disorder
Moonlit City
Converging Rays • Fever Time! • World War ALICE
Queen Rampant
Sudden Rampage (Normal) • Synthetic Hubris (Hard) • Chaos Construct (Veteran) • Abandoned Future (Expert) • Tangible Existence (Deadly)

Gudetama

I Am Gudegude
You Can Boil It • You Can Grill It • It's Good To Have It Raw
I Can Eat It Anyway
Lots of Clinging • Stability Orientation • Good Morning
Gudegude Is Busy
Life Is Serious • I Can't Beat It Myself • I Don't Want To Grow Up • I Can't Do It • Seriously Starting Next Year
Gudetama Cat Awakens!
Road to Gudetama Cat Evolution (Veteran) • Road to Gudetama Cat Evolution (Insane)

Fate/Stay Night: Heaven's Feel

The Holy Grail War
Schoolyard Clash • Midnight Interception • Manor Ruins • Inconspicuous Trap • Beginning of the End
Holy War: Saber
Fated Night (Easy) • Fated Night (Expert)
Holy War: Lancer
Assault from Above (Easy) • Assault from Above (Expert)
Holy War: Archer
Unlimited Bladeworks (Easy) • Unlimited Bladeworks (Expert)
Holy War: Rider
Blood Temple (Easy) • Blood Temple (Expert)
Holy War: Gilgamesh
King of Heroes (Veteran) • King of Heroes (Deadly)
Holy War: Saber Alter
Consumed by Shadow (Veteran) • Consumed by Shadow (Deadly)

Power Pro Baseball

Sophomore Summer
Round 1 (Easy) • Round 2 (Normal) • Final Round (Hard)
Prof. Wild's Challenge
Willing Sacrifice (Veteran) • Willing Sacrifice (Deadly)
Date Chance: Karin
Iron Will (Easy) • Iron Will (Expert)
Date Chance: Misaki
Warm Smile (Easy) • Warm Smile (Expert)
Date Chance: Sairi
No.1 Angel (Easy) • No.1 Angel (Expert)
Date Chance: Ren
Burning Love (Easy) • Burning Love (Expert)

Mentori

Mentori's Masterplan
Mental Manipulations • Not A Penguin

Neon Genesis Evangelion

Evangelion Activates!
State of Emergency • NERV • I Mustn't Run Away...
Decisive Battle!
Futagoyama Fortress • Pre-fire Sequence • High-Order Energy • Don't Say Farewell • Start by Smiling
The 9th Angel Strikes!
Asuka On Board (Easy) • Asuka On Board (Expert)
The 10th Angel Strikes!
Refusal Type (Hard) • Refusal Type (Merciless)
Unit-13 Strikes!
It's Not Your Fault (Veteran) • We'll Meet Again (Merciless)
Heralds of The End
Heralds of The End (WARNING Lv.1~20)

LINE Pokopang!

Pokopang Forest Friends!
Rabbit's Mischief • Sheep's Bravado • Bear's Bashfulness
Trio from the Woods
Puzzle Attack! • Collecting Cherries • Rainbow Blast!

Get On! Kyoto City Subway

Moe Uzumasa School Attendance
Uzumasa Tenjingawa Station • Nijo • Torimaru Oike • Kitaoji • Kitayama
Saki Matsuga School Attendance
Matsugasaki • Kitayama • Kitaoji • Kuramaguchi • Marutamachi
Misa Ono School Attendance
Ono • Yamashina • Keage • Torimaru Oike • Imadegawa
Get on the Subway
Shijo • Kyoto • Jujo • Kuinabashi • Takeda

Betakkuma

Groove Like A Bear
Weird • Furious • Funky

Hikakin

Hikakin Advent
Bunbun Hello Cat • It's Hikakin
Hikakin Awakens!
Phoenix Dance (Easy)

Maji Island Tour

Treasure Island With Maji Cat!
Travel Is All About Going • Anywhere is Good...Let's Go! • Hand in Hand, Let's Go Together

Bikkuriman

Spirit War
Heaven in Decline • A Journey of Hope • World at War
Bikkuriman Choco
Hidden Stickers • Devils & Angels • Sticky Situation • A Box of Dreams • Shining Surprise
Devilish Illusion
A Tower Piercing the Sky (Hard) • A Tower Piercing the Sky (Insane)
Yamato Awakens!
Inherited Ambition (Veteran) • Inherited Ambition (Deadly)
Devil Army Assault!
Nether Reaches Lv.1~20
Angel Army Assault!
Heaven's Gate Lv.1~20

Kaohsiung Rapid Transit

Kaohsiung Rapid Transit Red Line
Taroko Park • Central Park • Beautiful Island • Kaohsiung Station • Olympia
Kaohsiung Rapid Transit Orange Line
Sizihwan • Yanchengpu • Beautiful Island • Weiwuying • Dadong
Kaohsiung Metro Red Line
Industrial Town Siaogang Station • International Airport Kaohsiung International Airport Station • For Leisure Facilities Kusanagi Station • Lush Greenery At Central Park Station • A Beautiful Station Formosa Boulevard Station
Kaohsiung Metro Light Rail
Transfer Station Hamasen Station • Rubber Duck Glory Pier Station • Sidewalk Origin Cianjhen Star Station • Swaying On the Train To the Triumphant Two Holy Stations • Last Stop Kaisyuan Rueitian Station

Chocolate

Cat Slave King
A King Imprisoned By Penguins
Chocolate Awakens!
Road to Chocolate Evolution (Easy) • Road to Chocolate Evolution (Normal)

Yuru-i GeGeGe no Kitarou: Youkai Dotabata Daisensou

Yuru-i! Neko-Musume Attacks!
I Love Fish • Bake-Neko Changes When Angry • What I Hate is Nezumi-Otoko
Yuru-i Gegege no Kitarou
Battle with Loose Youkai! • A Big Turnaround at Hyakki Yakō! • Unprecedented Youkai Changes?! • Kimo? Are You Lost? • Save Japan from Dangerous Youkai!

Dot Heroes

The Hero to be Born is a Dot • Only One Dot in the World • But Always This Dot • 3D But With Dots • Games Are All About Dots

Shakurel Planet

The Jaws of Nature • Gnawin' Bones • Chompin' Trees • Munchin' Rocks • The Future Is Chins

Street Fighter V

Street Fighter (Easy)
Warrior of Nature • Illuminating Flame • Rush & Blaze • BONUS STAGE • Blue Jade • Iron Cyclone • Impregnable Fortress • Invincible Fist • Fists of Avarice • The Clawed Rondo • Solitary Emperor • The Supreme Evil
Street Fighter (Normal)
Pride & Passion • Iron Cyclone • Blue Jade • BONUS STAGE • Rush & Blaze • Illuminating Flame • Invincible Fist • Impregnable Fortress • Warrior of Nature • The Clawed Rondo • Solitary Emperor • The Supreme Evil
Street Fighter (Hard)
Iron Cyclone • Impregnable Fortress • Rush & Blaze • BONUS STAGE • Illuminating Flame • Blue Jade • Invincible Fist • Warrior of Nature • Fists of Avarice • The Clawed Rondo • Pride & Passion • The Supreme Evil
New Challenger
VS RYU • VS CHUN-LI • VS GUILE • VS ZANGIEF • VS BLANKA • VS DHALSIM • VS KEN • VS E. HONDA • VS BALROG • VS VEGA • VS SAGAT • VS M. BISON
New Challenger
Master of the Fist (Veteran) • Sekia Goshoha (Deadly)

Tokyo Skytree

7th Anniversary ★ Tokyo Skytree
Sorakara (Easy) • From Now On (Easy) • I'll Try! (Easy)

Hatsune Miku

Hatsune Miku
Electric Diva • Sing with a Smile • Future is Virtual
MIKU EXPO
in INDONESIA • in TAIWAN • in JAPAN • in USA • in EUROPE
MIKU CHERRY
Spring Popstar • Scent of Blossoms • Sakura Dance
Hatsune Miku's Birthday!
♪ Birthday Party ♪
Electric Diva Strikes!
Electric Diva Strikes! (Song 1~20)

Nissin U.F.O.

U.F.O. Strikes!
Open the Lid and Pour Out the Sauce • Pour Hot Water and Wait 3 Minutes • Finish by Mixing the Sauce
U.F.O. Corps Strikes!
U.F.O. Corps Strikes! ① How To Make Without Reading • ② Search For Hot Water Line • ③ Add Hot Water Without Opening The Pouch • ④ Not Enough Hot Water • ⑤ Accidentally Forget • ⑥ Missed the Sauce • ⑦ Lid That Opens • ⑧ How Many Minutes? • ⑨ The Sink • ⑩ Noodles Thrown Into the Sink • ⑪ Protect the Back of the Lid • ⑫ Blue Glue Bag Disappear! • ⑬ Forgotten Chopsticks • ⑭ Mixing Power • ⑮ Slowly Sinking • ⑯ First Bite • ⑰ Cloudy Glasses • ⑱ Shining Smile with Blue Glue • ⑲ Smell That Remains • ⑳ Feast!

Nyanko Great Burglar

Great Burglar Battle!!

Ranma 1/2

Rumble in the Tendo Dojo
Betrothed from China • Girl Hates Guys • Disoriented Warrior • An Amazon's Courtship • Dirty Tricks
The Cursed Springs
Famed Pilgrimage • 100 Legendary Pools • Tragically Drowned • Horror of the Waters • Bewitched Bodies
Test of Might: Ranma 1/2
Test of Might: Ranma 1/2 (Showdown!: Part 1~20)

Godzilla

Decisive Battle! Giant Creature Godzilla
God of Destruction (Merciless)
Godzilla Vs. Cat
The Leviathan Rises • Disaster Response HQ • Climactic Cat Clash

JRA

Autumn Flower Award (GI)
The Final Race Of The Triple Crown of Mares • A Race for 3-year-old Mares Only • An Early Clock Game
Kikuka Award (GI)
Conclusion of the Classic Triple Crown • Enforcement Distance・Turf 3000m • The Strongest Horse will Win
Emperor's Award (Autumn) (GI)
The Highest Honor For an Old Horse • A Race With Tradition and History • Aim for the Autumn Shield
Arima Kinen (GI)
Decide On a Racehorse by Fan Voting • The Biggest Grand Prix at The End Of The Year • Prize Money Is The Highest In Japan at 300 Million Yen • Attack of the 2500m Turf • 2 Minutes 30 Seconds To Settle • Middle and Long Distance Elite • The Name Comes from the Race Founder • Make the Last Run!
Aim GI Nyanko Horse Racing
Aim GI Nyanko Horse Racing Check the Racecourse Carefully • More Sensitive to the Weather Than Others • Staring At a Racing Newspaper • The Million-Dollar Ticket You've Always Wanted to Win • Pondering the Horse's Condition in the Paddock • First-Class Knowledge of the Bloodlines • Lucky Number Request • The Odds are Against You • My Wallet is Just Coins for Some Reason • Deadline for Horse Sales Approaching • Catch Up Overtake Withdraw • Backfire of The Runners • A Great Turnout • From the Back Of The Field To The End Of The Race • It's All About Stamina in The End • A Very Close Race Decided by a Nose • Harsh Photo Finish • Look Three Times at the Ticket You Bought • Excited About the Rainy Day • I'll Watch it Again Next Week