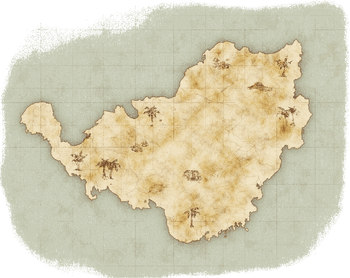 Laboratory Island (ラボラ・トリ島 Rabora Tori Shima, Labora Tori Island) is the 28th sub-chapter of Uncanny Legends, and the 77th sub-chapter overall. It was added in version 9.9, and is currently only available up to 2♛ difficulty.
Difficulty
The first stage can be a bit gimmicky, the second stage requires some good timing, and the 5th stage needs some RNG. The rest are fairly easy.
2♛ difficulty for this sub-chapter multiplies enemy strength magnifications by 130%.
List of Stages
Stage number & cost
Stage name
Description
2-28-1
Flask Hill (フラスコ岳, Furasko-dake, Flask Mountain)
Johnnyleon, Alpacky and two Youcans appear as the main threats while several peons aid in the fight, including UltraBaaBaa.
180
2-28-2
Anatomy Forest (カニミソ草原, Jintai Mokei-rin, Human Model Forest)
A fight against Dober P.D, two Kories and three Gobbles. Pigeon de Sables, Squire Rels and three Duches help as peons.
190
2-28-3
Formalin Marina (ホルマリンマリーナ, Horumarin Marīna, Formalin Marina)
Several different Starred Aliens appear on a timer with the help of the Surge Base.
180
2-28-4
Swamp of Ignorance (知識に溺れる者の沼, Chishiki ni Oboreru Mono no Numa, Swamp of Those Who Drown in Knowledge)
A stage full of Red and Black enemies. Two Can, Berserkory, Tackey and Hackey appear as the main threats.
190
2-28-5
Microscope Bridge (プレパラートの橋, Pureparāto no Hashi, Praeparat Bridge)
A fight against two St. Dobers who are supported by several Zombies (notably Li'l Zyclone) and some Gabriels.
200
2-28-6
Burning Blue (炎上する青, Enjō Suru Ao, Burning Up in Blue)
Koronium serves as the boss supported by Relic Doges, Croconators, Metal Doges, a Mr. Mole, and the Surge Base.
250
Material Drop Rates
| None | Bricks | Feathers | Coal | Sprockets | Gold | Meteorite | Beast Bones | Ammonite |
| --- | --- | --- | --- | --- | --- | --- | --- | --- |
| 32% | 12% | 5% | 5% | 5% | 7% | 23% | 9% | 2% |
Trivia
The stages of this sub-chapter tend to have variants of the same enemies as main threats.
Sub-chapter name ラボラ・トリ島, the ラボラ・トリ part means Laboratory if removing the・, fits the English name of the sub-chapter
Reference
---
<< In the Sleeping Forest | Forgotten Graves >>
---