Las Vegas is the 39th stage in Into the Future.
The next stage is Alaska.
The previous stage is Hollywood.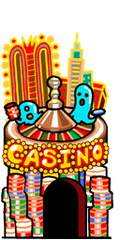 Into the Future - Stage 39
Information
Chapter 1
Energy:
58
Enemy's Castle Health:
180000
Enemies:
-Doge (600%)
Enemy Boss:
N/A
Treasure:
English Version: Poker Chips

Japanese Version: スロットマシン (Slot machine)

Score rewards:

8500 - Cat Food x10

5000 - XP 95000

XP earned:
12400
Stage Width:
4400
Max number of Enemies:
9
Chapter 2
Energy:
68
Enemy's Castle Health:
270000
Enemies:
-Doge (1200%)
Enemy Boss:
N/A
Treasure:
English Version: Poker Chips

Japanese Version: スロットマシン (Slot machine)

Score rewards:

7500 - Cat Food x10

6500 - XP 142500

XP earned:
12400
Stage Width:
4400
Max number of Enemies:
9
Chapter 3
Energy:
78
Enemy's Castle Health:
360000
Enemies:
-Doge (1800%)
Enemy Boss:
N/A
Treasure:
English Version: Poker Chips

Japanese Version: スロットマシン (Slot machine)

Score rewards:

6500 - Cat Food x10

5500 - XP 190000

XP earned:
12400
Stage Width:
4400
Max number of Enemies:
9
Battleground
Chapter 1
Gory takes the beginning of this stage, along with peons (Snache, Doge) and a couple of Mooths after some seconds.
~30 seconds in, the Enemy Base begins spawning Crocos and Shadow Boxer K at a light rate. SBK's stop spawning after the 6th one.
Chapter 2
Same premise as Chapter 1, but with more buffed enemies, and they come out somewhat faster.
Chapter 3
Le'noir starts off the level. Two Mooths follow him towards the Cat Base. Further through the level, Gory, Doge Darks, and multiple Shadow Boxer K's are spawned with a light peon spam (Snache, Doge, Croco).
Strategy
Chapter 1
Use 3-4 meatshields, and use Bahamut with tanky attackers (like Jamiera) to deal damage to the Shadow Boxer K's. Anti-Black Cats such as Cooldown Cat and Cat Eastwood are recommended, and you could bring in an anti black uber. Bring ranged attackers for the Mooths, not neccesary. Empress Chronos is useful as she has a 100% chance to freeze traited enemies, which include Shadow Boxer K. She also has area attack, multi hit attack, and a relatively quick TBA, which is a perfect way to stop the Shadow Boxer Ks in their tracks. Combine her with other attackers and you should win. If you don't have any Anti-Black Cats, high-DPS cats like Paris Cat can kill the Shadow Boxer Ks quickly.
Chapter 2
Same as Chapter 1's strategy, but use some more damage dealing cats like Ring Girl Cat or Drama Cats to get a lot of hits in for the SBK's, as they rush faster and plow through your meatshields faster.
Chapter 3
Use the Mooths to build up your money in the beginning. Crazed Sexy Legs Cat does a good job with killing them, along with some tanky units. Fast damage-dealers like Paris Cat, Drama Cats, and Holy Valkyrie are almost a necessary. For Le'noir, you can either use tanky attackers, or get in some quick hits with Lion Cat/Crazed Giraffe, etc. Cats that outrange lenoir and are anti black would be extremely helpful. Ubers like sanada yukimura when timed correctly, can ensure a high timed score.
Zombie Outbreak
Chapter 1
Zoge and Zroco appear as peons early in the match.
Gory Black and Mooth appear as supports after about 30 seconds. They will respawn throughout the match.
Zang Roo appears as the main threat as you're mid fight with the Mooth and Gory Black.
Strategy
You want to get about 2 levels into your Worker Cat before saving up to summon your anti-black units like Ring Girl Cat to take down the Gory Black for easy money. The Gory are pretty well buffed and took 3 hits from my lvl 36 Pizza Cat.
The Mooth are there to fill up your wallet as always, make sure you don't overcap your wallet so you get all the worth from them.
Zang Roo is fought just like always, prepare for the burrow with zombie killers and meatshields ready to help the back line reinforcements.
This stage is pretty straight forward, just prepare for the Gory Black and then the Zang Roo and you'll be fine. The stage does not throw any twists your way.
Chapter 2
Zoge and Gory spawn early on as peons.
Maawth and Gory Black are major threats throughout the match starting around 30 seconds in. Gory Black respawn, the Maawth do not.
Zang Roo appears as a boss with Zroco supporting her after the 60 seconds mark.
Strategy
Stop the advancing Gory Black and Gory early and stack up on easy cash. If you're not prepared for the Gory Black, they can wipe you out very quickly. Make sure your wallet is leveled up so you don't cap out on cash.
Maawth also comes out when Gory Black spawns and they will be freezing and damage your cats, making them far less effective vs Gory Black. Bring some alien freeze or knockback units to counteract their crowd control.
Once Zang Roo spawns, you will already be in a big fight with a lot of units already spawned. Either save a heavy hitting zombie unit for after she burrows OR try your luck with the cat cannon(or holy blast!) to get Zang Roo to resurface and stay at the main fight. If you can do this, the match is basically over. If not, you'll have to start a 2nd team of cats and hope that you kill Zang Roo before team 1 runs out of juice.
Chapter 3
Le'noir spawns at the start as a slow moving main threat. A couple of Mooths spawn soon thereafter as support.
Snache, Gory, Zoge, and Doge Dark appear as peons.
Zang Roo appears as the boss after around 60 seconds with no boss shockwave. A steady stream of Zroco start to spawn after Zang Roo does.
Strategy
This match is an all out slug-fest starting at the very beginning. The Le'noir and Mooth will one shot just about anything they touch due to how buffed they are. This means you'll be pushed up to your base pretty much the entire time, leaving you very little wiggle room for the zombies that spawn. This also means you need to bring cheap meatshields and more expensive ones don't do much.
Cameraman Cat can be an exception as he's good dps and takes less dmg from Mooth.
You have very little time to stall and you have to keep spawning meatshields to take hits from the early threats. Once you feel like you're a little safe against the early enemies, Zang Roo spawns and is ready to burrow right up to the edge of your base. A well timed Cat cannon or Holy cannon can mean life or death because of how strong Zang Roo is.
Even with B.C.S. Tigerclaw and EVA Unit-01 out it took almost a minute to take down the Zang Roo so be careful. They really cranked up the buff % for every unit in this stage.
Le'noir is the final threat once Zang Roo is either puddled or destroyed and will likely still have the Mooths to protect him. The trick here is to pop the Mooth to unlock the cat cash they have for you. Once you do that, spawn the rest of your lovely ubers and finish the stage off. Any freeze or weaken effects for Le'noir will prove to be helpful and will reduce the duration of the fight.
Reference
Community content is available under
CC-BY-SA
unless otherwise noted.