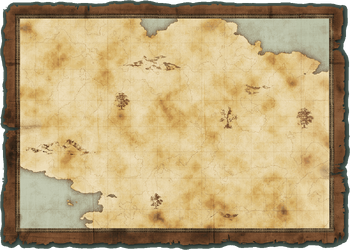 Law of the Wildlands (無法地帯のオキテ, Muhō Chitai no Okite, Law of the Lawless Land) is the 8th sub-chapter of Uncanny Legends, and the 57th sub-chapter overall. It was added in version 7.5, and is currently available up to 2★ difficulty.
Difficulty
This is definitely one of the hardest sub-chapters up to this point. The first stage is a nightmare, and the easiest stages are most likely Hunter's Hills and Morbid Mesa.
2★ difficulty for this sub-chapter multiplies enemy strength magnifications by 150%.
New Features
This sub-chapter introduces no new enemies. However, the Zombie Enemies from Into the Future Chapter 1's Zombie Outbreaks make their first appearance in Uncanny Legends here.
Cadaver Bear: The Zombie variant of Teacher Bear. He isn't tanky, but he can still take some hits before death. His range is 360, and he rapidly deals upwards of 15k damage per hit.
Dread Bore: This is Bore's Zombie variant that burrows for 1,125 and revives once at 50% health. Has very similar stats to Bore overall.
List of Stages
Stage number & cost
Stage name
Description
2-8-1
Panic Tower (ガチガチ暗黒兵器, Igusa-tō, Soft Rush Tower)
Zoge, Znache, Doge Dark help protect several Teacher Bears and Cadaver Bears.
160
2-8-2
Lady in the Clink (カウガール監獄, Kaugāru Kangoku, Cowgirl Prison)
At the beginning, St. Pigge the 2nd is spawned and Duche acts as a peon. When the enemy base is damaged, St. Pigge the 2nd, Elizabeth the LVIth and Winged Pigge appear as the bosses.
170
2-8-3
No Hope Ranch (N.G.牧場, N.G. Bokujō, N.G. Ranch)
A few Gory Blacks rush the player at the beginning. The main threats are two M. Osts and a Le'noir that spawn on timers.
180
2-8-4
Hunter's Hills (ハンチング山, Hanchingu Yama, Hunting Mountain)
Croakley and Mr. Mole work in tandem with Celeboodles and extremely strong Dagshunds that spawn every so often.
180
2-8-5
Morbid Mesa (ビクビク高原, Bikubiku Kōgen)
Snache, Those Guys, Hippoe and Gory appear as peons. The bosses are Bore and Dread Bore, with support from Znaches, Zomboes and Zories.
190
2-8-6
Revolver Ridge (デッドリボルバー渓谷, Deddo Riborubā Keikoku, Dead Revolver Ravine)
Dober P.D is spawned at the start. Partway through the battle, a Lowkey comes out of the base. Shortly after, a Kory spawns. Another Kory spawns later on.
210
Material Drop Rates
| None | Bricks | Feathers | Coal | Sprockets | Gold | Meteorite | Beast Bones | Ammonite |
| --- | --- | --- | --- | --- | --- | --- | --- | --- |
| 33% | 8% | 4% | 13% | 0% | 4% | 4% | 25% | 8% |
Reference
---
<< Neo-Necropolis | Pararila Peninsula >>
---
Community content is available under
CC-BY-SA
unless otherwise noted.