The Main Menu is the first screen that the player will see when booting up The Battle Cats.
When the game starts, the player is greeted with a language option and is able to choose their preferred language to play in. The language options range from: English, French, Italian, German and Spanish. After choosing one of the options, the player is then greeted with a message:
"※After changing display Language, additional required data will be downloaded.
If you are not connected to a stable Wi-fi environment,
you may incur additional charges from your network data plan.
※ This process will not delete your Save Data."
Once agreeing to the language option, the game will download the games files. Once finished a message will appear:
"The Battle Cats" is completely free to play. However, please be aware that there is paid content.
The intro will play with the option to skip or not. After the intro has ended or been skipped, the player must agree to the Application License Agreement, Privacy Policy and input their date of birth.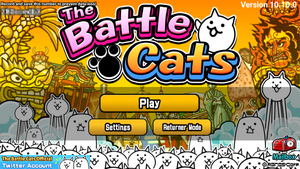 Buttons

Settings: Opens the settings option.
Returner Mode: Opens an IAP that allows veteran players to restart their progress after clearing Empire of Cats Chapter 3.

Mailbox: Gives rewards from the Ranking Dojo or special events PONOS holds over their social media.
Settings
Pressing the "Settings" button on the main menu brings up a menu that allows the player to view or change certain functions of the game to their liking.
Gallery
Battle Cats Wiki
has a
gallery
for Main Menu.
Trivia
Most of the enemy bases in the Main Menu's default background are from the Japanese version of Empire of Cats.
Ironically, none of the bases from Into the Future are present in its menu background.
The Into the Future menu background contains an unused enemy base resembling a freighter.