Dead Cells Final DLC - The Loop
Play Sound
Battleground
The enemy base's HP starts at 800,000 and increases by 40,000 with each stage.
After 3.3 seconds100f, Zroco spawns infinitely every 20~30 seconds.
After 6.7 seconds200f, Pigeon de Sable spawns infinitely every 16.7~266.7 seconds500~8000f; the first Zomboe spawns also spawns at this point.
After 20 seconds, the second Zomboe spawns.
When the enemy base is damaged, Mega-Mooth spawns with:

1 group of 3 Brollows, delay 10 seconds
2 groups of 8 Brollows, delay between them is 20~30 seconds for one and 16.7~23.3 seconds500~700f for the other
8 Pigeon de Sables, delay 16.7~23.3 seconds
2 Zories, stack after 60~63.3 seconds1800~1900f
2 Zigges, stack after 50~56.7 seconds1500~1700f
Details
On Mighty Wings Lv.
Strength magnifications
Energy

cost

Rewards
Mega-Mooth
Pigeon de Sable
Professor A.
Brollow
Zomboe
Zigge
Zory
Zroco
Treasure
Base XP
HP
AP
41
4500%
1350%
200%
100%
150%
200%
200%
200%
200%
100
Yellow Catfruit +5
1,900
42
4630%
1390%
210%
100%
160%
210%
210%
210%
210%
100
XP +1,000,000
1,900
43
4760%
1430%
220%
100%
170%
220%
220%
220%
220%
100
Feathers +5
1,900
44
4890%
1470%
230%
100%
180%
230%
230%
230%
230%
100
Leadership +4
1,900
45
5000%
1500%
250%
110%
200%
250%
250%
250%
250%
120
Green Catfruit +5
2,280
46
5700%
1620%
260%
110%
210%
260%
260%
260%
260%
120
XP +1,000,000
1,900
47
6400%
1740%
270%
110%
220%
270%
270%
270%
270%
120
Gold +10
1,900
48
7100%
1860%
280%
110%
230%
280%
280%
280%
280%
120
Cat Ticket +4
1,900
49
7800%
1980%
290%
110%
240%
290%
290%
290%
290%
120
Blue Catfruit +5
2,470
50
8500%
2100%
300%
120%
250%
300%
300%
300%
300%
130%
XP +1,500,000
2,470
51
8600%
2140%
320%
120%
260%
320%
320%
320%
320%
130
Beast Bones +10
2,470
52
8700%
2180%
340%
120%
270%
340%
340%
340%
340%
130
Red Catfruit +5
2,470
53
8800%
2240%
360%
120%
280%
360%
360%
360%
360%
130
XP +1,500,000
2,470
54
8900%
2260%
380%
120%
290%
380%
380%
380%
380%
130
Meteorite +15
2,470
55
9000%
2300%
400%
130
300%
400%
400%
400%
400%
140
Purple Catfruit +5
2,660
56
9200%
2340%
440%
130%
320%
440%
440%
440%
440%
140
XP +1,500,000
2,660
57
9400%
2380%
480%
130%
340%
480%
480%
480%
480%
140
Sprockets +20
2,660
58
9600%
2420%
520%
130%
360%
520%
520%
520%
520%
140
Epic Catfruit Seed +1
2,660
59
9800%
2460%
560%
130%
380%
560%
560%
560%
560%
140
XP +3,000,000
2,660
60
10000%
2500%
600%
150%
400%
600%
600%
600%
600%
150
Rare Cat Ticket +3
2,850
Strategies
Erasers will start to die in one hit from Zroco in the last two levels, making the difficulty ramp up with certain approaches.
Most Ubers are rendered useless by the immense pushing power and damage of Zombies burrowing, Brollows clipping, Pigeons releasing waves and Mega-Mooth knocking back with omnistrike.
It is highly recommended to have the two Zomboes killed for good before attacking the base.
A recommended cannon to bring is the Holy Blast, as it can help manage the zombies quite nicely without resetting the Brollows' attack animations.
Strategy 1 (Up to Lv. 60)
Lineup: Moneko, Neneko, Bullet Train, Pizza, Cyberpunk, Eraser, Manic Eraser, Jellycat, Cameraman and Octopus Cat.
Possible replacements include: Mitama, Madoka, Sarukani, Sniper the Recruit's True Form, talented and boosted Cataur, Babel the Darkflame or fow others in place of Bullet and/or Pizza.
Levels used were around 50+8 for gacha cats (also some talents) and max for the non-gacha cats. Lower levels and less talents may or may not work up to a lower level than 60.
Battle: The first step is to save money. For that, it's important to know two different approaches.

For levels 41 to 58, start the fight and immediately upgrade the worker to level 2, then make sure to zoom in the camera to the max and look as far right as possible, then upgrade the worker again. Once the Pigeon's sprite gets fully is view, as in the picture, summon Slime Cat. If timed right (zooming is and right is what makes the timing easy to replicate), Slime Cat will kill both enemies and die from the pigeon's wave at the same time. At this point, summon M. Eraser and watch as he forces the Zomboes to burrow.
There is a chance that the aforementioned method will fail, that is if another Pigeon spawns and kills M. Eraser early. This is unlikely, but can happen. Furthermore, due to the strength magnification, this approach will fail regardless in the last stages. If so, use Camera and Octopus to kill these first enemies, then follow with the Manic Eraser.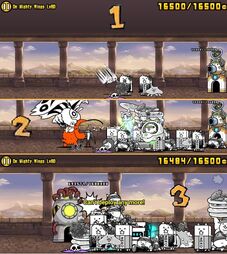 Keep stalling and make sure to chip at the Zomboes as slowly as possible, using only Slime in early stages and adding Camera, Octo and, eventually, carefully timed Bullet Trains later on. Eventually you'll be able to reach max worker level and a full wallet, at which point you should start spamming Pizza, Erasers, Camera, Octo and, after a while, Slime. Only add Cyberpunk and Bullet just as the Camera spam is about to trigger the boss wave.
Once the boss wave happens, just keep spamming, activate the cat CPU if you have it and watch as your army struggles against Mega-Mooth's. Eventually, a second Zory will spawn, so turn off the eventual CPU and be ready to stop him from burrowing with the cannon (Breakerblast recommended). Then spam manually regardless, as money can run out with a CPU.
Expect to be pushed back, so use the Breakerblast whenever you are sure that you can push both Professor A. and Mega-Mooth.
Eventually the stronger zombies will all be gone, leaving only the two main bosses of the stage. At this point, turn on the eventual Sniper, stop ever summoning Pizza and try to time Bullets to hit the bosses, rather than the occasional peons, while doing the opposite with Slime Cat. Eventually you will push back and kill Professor A, then Mega Mooth.
After that, just go for the base and win.
Walkthrough
| Video | Player | Notes |
| --- | --- | --- |
| NO Ubers Commentary Mega Menace!!!, On Mighty Wings Lv60 Battle Cats | Chuck | No Ubers, 60+ SR and 80+ Rares |
Reference