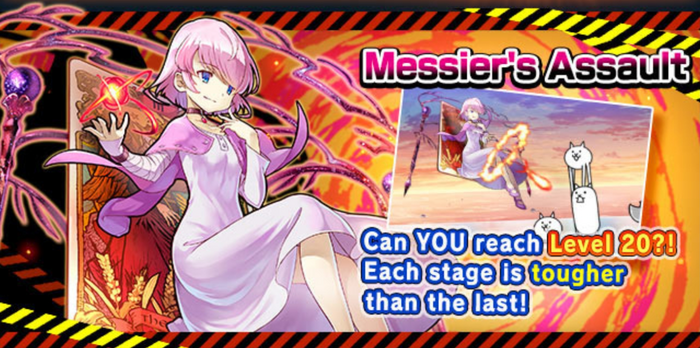 Messier's Assault! (メシエ強襲!Meshie Kyōshū!) is a Shoumetsu Toshi collaboration stage added in the Version 9.5 Update. This Gauntlet features a new enemy known as Messier.
Overview
About
Messier's Assault! contains a total of 20 No Continues levels, called Land of Dreams Lvs (夢の世界 Lvs.). After beating a Land of Dreams Lv, the player must wait for 30 minutes before they may enter the map again. Rewards for the first completion of a Land of Dreams can include XP, Catfruit, Tickets, Materials and Leaderships. The rewards reset with every appearance of the event.
Stage Battlegrounds
Play Requirements
Messier's Assault! is unlocked after clearing Empire of Cats Chapter 3.
List of Stages
| | English Version | Japanese Version | Translation |
| --- | --- | --- | --- |
| Stages 1~20 | Land of Dreams Lv1~20 | 夢の世界 Lv.1~20 (Yume no Sekai Lv.1~20) | Dream World Lv.1~20 |
First Schedule
English Version
June 1st, 2020 to June 15th, 2020
Japanese Version
June 1st, 2020 to June 15th, 2020
Reference
Community content is available under
CC-BY-SA
unless otherwise noted.