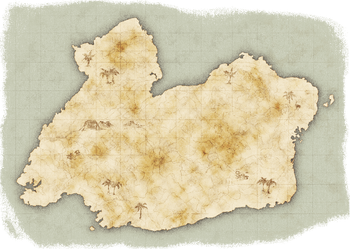 Morningstar Isle (明星おきの島 Myōjō-oki no Shima, Morningstar Island) is the 26th sub-chapter of Uncanny Legends, and the 75th sub-chapter overall. It was introduced in version 9.7, and is currently only available up to 1★ difficulty.
Difficulty
This sub-chapter has about the same difficulty level as Pumping Titanium. None of the stages should give you any trouble, with the possible exception of Stage 1.
New Features
This sub-chapter introduces two new enemies:
Johnnyleon: A chameleon with three traits: Red, Alien and Zombie. He sports extremely high health and Long Distance combined with a low standing range and damage. He serves as a strong tank.
Relic Doge Base: An animated enemy base. Compared to the Doge Base, it has longer range, doesn't create Shockwaves and can Curse cats for a long time. However, it lacks damage and takes time to charge its attack.
List of Stages
Stage number & cost
Stage name
Description
2-26-1
Curry Comet (カレー彗星, Karē Suisei, Curry Comet)
Mr. Puffington is spawned as soon as the battle begins. When the enemy base is damaged, another Mr. Puffington is spawned with Rain D. and Dolphina as support. A third Mr. Puffington is spawned eventually.
180
2-26-2
Icarus' Instinct (イカロスの本能, Ikarosu no Hon'nō, Icarus' Instinct)
Teacher Bun Bun, Bore, Bun Bun Black and Boraphim are supported by a constant Croconator spam.
190
2-26-3
Rainbow Bridge Toll (虹の橋の通行料, Niji no Hashi no Tsūkō-ryō, Rainbow Bridge Toll)
Johnnyleon appears as the boss, supported by Angelic Sleipnir, Rain D. and H. Nah. Trolly Blogger is also spawned often.
180
2-26-4
Planetarium Love (プラネタリウムラブ, Puranetariumu Rabu, Planetarium Love)
Loris appears as the boss, with a few Sir Metal Seals and Metal One Horns as the main threats.
190
2-26-5
Meteor Disco (流星大踊り, Ryūsei Dai Odori, Meteor Dance)
Gory and Those Guys appear as peons. Koronium appears as the main boss, and he will be supported by Mr. Puffington and THE SLOTH.
200
2-26-6
Cats in the Stars (星座になったネコども, Seiza ni Natta Neko-domo, Cats-turned-constellations)
The Relic Doge Base is introduced here, and it helps to support many Black Enemies, mainly Razorback and Le'noir.
250
Material Drop Rates
| None | Bricks | Feathers | Coal | Sprockets | Gold | Meteorite | Beast Bones | Ammonite |
| --- | --- | --- | --- | --- | --- | --- | --- | --- |
| 33% | 6% | 6% | 19% | 13% | 6% | 3% | 3% | 10% |
Reference
---
<< Pumping Titanium | In the Sleeping Forest >>
---
Community content is available under
CC-BY-SA
unless otherwise noted.