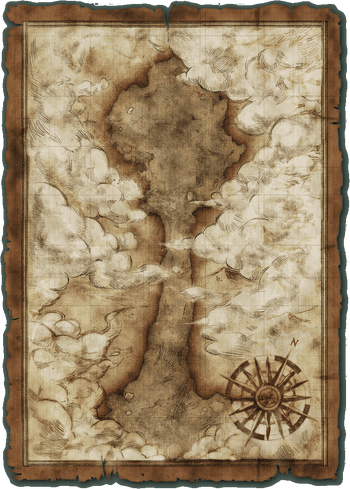 Mouseyland (ふくろのねずみランド, Fukuro no Nezumirando, "Escape from Mouseyland") is the 36th sub-chapter of Stories of Legend. It was added in Version 5.8 and is available up to 4♛ difficulty.
Difficulty
This sub-chapter brings out the potential of Zombie mechanics to a great extent. Without much knowledge on countering Zombies, some levels can be a bit troubling. Rickety Coaster in particular, can be very hard without anti-wave units.
2♛ difficulty for this sub-chapter multiplies enemy strength magnifications by 120%.
3♛ difficulty for this sub-chapter multiplies enemy strength magnifications by 130%.
4♛ difficulty for this sub-chapter makes no change to enemy strength magnifications and only allows Special Cats and Rare Cats to be deployed.
New Features
This sub-chapter introduces two new enemies:
Coffin Zoge: A coffin-shaped, Zombie variant of Wall Doge with higher health and slightly higher damage. Unlike most other Zombies, it can't burrow past your cats, but it revives with 100% HP an unlimited number of times.
Zamelle: A Zombie variant of Camelle. Similar stats to Camelle with no burrows, but can revive with 50% HP an unlimited number of times.
While not her first appearance in-game, Miss Haka makes her Stories of Legend debut here.
List of Stages
Stage number & cost
Stage name
Description
1-36-1
Greeter at the Gates (お出迎え入場門, O Demukae Nyūjō-mon, Welcoming Entrance Gate)
Decent amounts of Coffin Zoges spawn on a timer, along with Dark Emperor Nyandam and a few Tackeys.
120
1-36-2
Rickety Coaster (無気力コースター, Mukiryoku Kōsutā, Rickety Coaster)
A wave-fest, it starts off with constant Pigeon de Sables throughout the battle and includes Elizabeth the LVIth, two Kories, Berserkory, Dober P.D and Two Cans, each spawning when the base reaches a different amount of health.
110
1-36-3
Virtual Nightmare (リアルVR地獄, Riaru VR Jigoku, Real VR Hell)
Henry spawns on a timer supported by a few Gory Blacks and various Zombies.
125
1-36-4
50 Degrees Hotter (プラス50度の世界, Purasu 50-do no Sekai, World of Plus 50 Degrees)
Zamelle appears for the first time, supported by a lot of Brollows when you damage the enemy base. Zrocos also appear as minor support.
115
1-36-5
Irresistable Henhouse (誘惑のチキンルーム, Yūwaku no Chikin Rūmu, Irresistible Chicken Room)
Sunfish Jones appears shortly after the stage begins alongside some Trolly Bloggers and eventually a Calamary. When the 2nd Calamary appears, Boraphim will appear soon after alongside a 3rd Calamary.
130
1-36-6
The Haunted 1LDK (ボーンデッドアパートメント, Bōn Deddo Apātomento, Bone Dead Apartment)
Starts off with some Zombies and after a short while, Lord Gravey will spawn. After a decent amount of time, Miss Haka spawns as the boss.
145
Material Drop Rates
| None | Bricks | Feathers | Coal | Sprockets | Gold | Meteorite | Beast Bones | Ammonite |
| --- | --- | --- | --- | --- | --- | --- | --- | --- |
| 50% | 4% | 4% | 7% | 0% | 4% | 4% | 27% | 0% |
Trivia
This sub-chapter's name is a reference to Disneyland. Fittingly, some of its stages are parodies of real theme park attractions:

50 Degrees Hotter's Japanese name, World of Plus 50 Degrees, would appear to be a reference to Ice World: World of Minus 30 Degrees, an attraction at Japanese amusement parks such as Cosmo World and Kijima Kogen Park.
Irresistable Henhouse's Japanese name, Yūneku no Chikin Rūmu (誘惑のチキンルーム, Irresistible Chicken Room), is most likely a reference to the Enchanted Tiki Room, which is called Miwaku no Chiki Rūmu (魅惑のチキルーム) in Japanese.
The Haunted 1LDK a parody of The Haunted Mansion at Disneyland. A 1LDK is a term for a simple apartment that consists solely of the 3 most important rooms: the living room, dining room and kitchen, thus creating the acronym L-D-K.

In the changelog for BCEN Version 5.10, the sub-chapter was quite literally referred to as Disneyland.

The Haunted 1LDK is the only Stories of Legend stage to include event enemies (Ecto Doge, Ecto Snache and Ecto Baa Baa).
In the Taiwanese version of the game, the name of this sub-chapter is 迪死你樂園, and the Taiwanese/Chinese of Disneyland is 迪士尼樂園, which is only two words off from the sub-chapter's name, where 死 means death and 你 means you, 死你 is basically (noun/verb) kills you.

Additionally, 死你 sounds very similar to 士尼 in Mandarin.
Reference
---
<< Quarantine Isles | Walk of Fame >>
---