NASA is the 44th stage in Into the Future. It is the second level that contains I.M. Phace.
The next stage is Bermuda.
The previous stage is New York.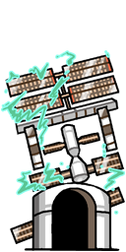 Into the Future - Stage 44
Information
Chapter 1
Energy:
60
Enemy's Castle Health:
255000
Enemies:
-Gory (600%)
Enemy Boss:
-I.M.Phace (100%)
Treasure:
English Version: Astronaut Helmet

Japanese Version: 宇宙食 (Space food)

Score rewards:

8500 - Cat Food x10

5000 - XP 105000

XP earned:
13900
Stage Width:
4500
Max number of Enemies:
8
Chapter 2
Energy:
70
Enemy's Castle Health:
382500
Enemies:
-Doge Dark (200%)
Enemy Boss:
-I.M.Phace (250%)
Treasure:
English Version: Astronaut Helmet

Japanese Version: 宇宙食 (Space food)

Score rewards:

6000 - Cat Food x10

5000 - XP 157500

XP earned:
13900
Stage Width:
4500
Max number of Enemies:
7
Chapter 3
Energy:
80
Enemy's Castle Health:
510000
Enemies:
-Doge Dark (400%)
Enemy Boss:
-I.M.Phace (600%)
Treasure:
English Version: Astronaut Helmet

Japanese Version: 宇宙食 (Space food)

Score rewards:

5500 - Cat Food x10

4500 - XP 210000

XP earned:
13900
Stage Width:
4500
Max number of Enemies:
7
Battleground
This level will be a proving ground for pacing your future stages and will be very difficult without some anti-black units and a lot of precise timing.
The pacing of the enemy units combined with the lack of an on-hit boss wave makes for some frustrating practice tries for the level and mean you have to think(or memorize) how to spend your cash early so you can have enough of a wallet cap to kill a few Mistress Celeboodles (Ch. 2/3) at once without missing any to spill over AND also have enough to summon your heavies and keep your meatshielding tight.
Don't be afraid to close and reopen the app if the massive wave of black enemies give you trouble, the waste of energy on a stage like this can be disheartening while trying to learn the flow.
Once again, it is highly recommended that you complete all Void Fruit treasures to give yourself as much of a fighting chance as possible vs the onslaught of dark baddies.
Chapter 1
A few Shibaliens spawn as peons a few seconds into the level, shortly accompanied by Gory and Baa Baa. 2 Gory Blacks follow after that. If you wait long enough I.M. Phace spawns by itself, triggering a boss wave. Various amounts of Doge Darks, Gories, Gory Blacks and Baa Baas spawn slowly for the rest of the stage.
Chapter 2
Two Shibaliens and one Doge Dark spawn almost as soon as the level starts. Then, two Mistress Celeboodles appear one after the other with some more peons. About 15 seconds later, a Scissoroo spawns.
I.M. Phace appears by itself after a minute or so, triggering a boss wave. After that, another Scissoroo spawns, followed by a Dark Otter. A second Dark Otter appears ~30 seconds later. Scissoroos, Doge Darks, Mistress Celeboodles and Shibaliens spawn continuously until you win.
Chapter 3
The level starts just like Chapter 2, a slow trickle of Shibaliens and Doge Darks, followed by Mistress Celeboodles, Scissoroos and an I.M. Phace without a boss wave. A couple staggered Dark Otters make their way down the field to test you.
Once the first Dark Otter makes his way down the lane to you the true danger of chapter 3 appears... 200% Shadow Boxer K(s).
There will be up to 2 SBK's out at 200% strength and they can really hammer through your front line, especially if you haven't finished killing the Dark Otters off yet.
Strategy
Chapter 1
I.M Phace is not a threat. Just bring something to kill Gory Blacks (Mythical Titan Cat/Jamiera Cat, Paris Cat). If you don't, Gory Blacks will clear the way, making the I.M. Phace a time bomb running straight into your base. Surfer Cat is also very helpful. It can freeze the I.M Phace and has a chance to survive when its health falls to 0.
An alternative strategy is to just destroy the base before I.M. Phace has a chance to spawn. He will spawn automatically after about a minute; as long as you can deal with the Gory Blacks, just spam fast cats to break the base first
Strategy 2 (ft Castaway and Paris Cat)
Lineup: 3 meatshields, Artist (optional), M. Titan/Jameira, Paris, Castaway, Anti-Alien Cats, True Valkyrie.
Save a bit of money, and start deploying meatshields and prepare a stack of Paris and Castaways (Atleast 3 of both) . If your cats start getting close to the cat base, start putting out Artist with Valkyrie too. Once I.M. Phace comes out, the castaways should freeze it for a long time, start spamming meatshields and anti aliens, and whittle down I.M. Phace's HP. Make sure to get rid of the Gory Blacks with your M.Titan and Paris, as they can destroy everything as stated above. With all the Castaways, Anti Aliens, Jameiras, Paris, and all of them working together, I.M Phace should die. After that, just focus on getting the Gory Blacks dead, and victory is yours.
Chapter 2
Ring Girl is a effective enough unit to deal with the Doge Darks, and works well for the Dark Otters. Use Bahamut Cat (Or if you have any uber that works better than Bahamut Cat, bring it instead) and Dragon Cat to deliver chip damage to I.M. Phace, use cats such as Psychocat and Surfer Cat to deal with the Scissoroos and Mistress Celeboodle (though Mistress Celeboodle is more of free money than a threat)
Chapter 3
This stage is becomes very easy with anti-alien and anti-black units. Cat Gunslinger is a very solid option for slowing the Shadow Boxer's advance and Ring girl is a good option to deal massive damage to the SBKs. 3 meat shields is also recommended to further slow the SBKs. Dark otter shouldn't give you too much of a problem if you meat shield properly and use Gunslinger, however, if you are being pushed back by the dark otter, you can use Holy Valkyrie for the occasional freeze proc. Be aware that I.M Phace will obliterate anything that gets into its range, therefore Ururun is not recommended for this stage. Use fast anti-floating such a Butterfly Cat units to deal as much damage as possible to I.M Phace.
Strategy 1
Uberless line up*- Crazed Macho Cat (20),Crazed Wall Cat (20), Wall Cat (20+), Artist Cat (30), an AoE attacker of your choice (30+), Cat Gunslinger/any anti-black crowd controller (30), Swimmer Cat (20+), Ring Girl Cat (20+), Holy Valkyrie Cat (20+), Crazed Bahamut (20+)
Stall the peons with meatshields when you start the level. Once the Mistress Celeboodles show up, spawn as many of your AoE ranged attackers as possible to get a stack early on. Use the money acquired from the Celeboodles to summon Crazed Bahaumut. Right after you kill the Celeboodles, I.M Phace should show up along with some Dark Otters and Scissoroo. Spawn Holy Valkyrie after the boss wave to freeze the otters. After you've dealt with the Dark Otters, time Butterfly Cat correctly to deal some damage to I.M Phace. Try to keep your AoE attackers from getting into I.M Phace's attack, if they manage to get hit, do not worry, the slow movement of your Ring Girls should keep them safe from I.M Phace. Once the SBKs show up, they should get shredded by your stack of Ring Girls, if they manage to push through your meatshields, start summoning as many Cat Gunslingers as you can to keep them at bay. Eventually, the SBKs will die and with rinse and repeat, the I.M Phace will eventually die as well. The stage should be a cakewalk after that.
At least 100% aqua crystal, 66% plasma crystal and previous Void fruit all at 100%
Normal cat works as well
You can replace with any meatshield of your choice (Jianshi does wonders)
[EDIT] if you have Wargod Shingen & Kubilan Pasalan, you can replace Holy Valkyrie & Crazed Bahamut. Just get Wargod Shingen as soon as you can.
Zombie Outbreaks
Chapter 1
Shibaliens and Baa Baas appear as peons. Doge Dark appears later on in the battle.
Gory Black appears as support; 3 will spawn in total.
Dread Bore appears at 66 seconds as the boss.
Strategy
WIP (This stage is similar to Chapter 2 [below], without the I.M. Phace)
Chapter 2
Baa Baa and Shibalien appear as peons through out the stage.
Gory Black and Doge Dark appear as support.
After about 60 seconds a single I.M. Phace will spawn and a boss shockwave will knock your units back.
Dread Bore appears as the 2nd boss for the stage 30 seconds after I.M. Phace spawns. No shockwave this time.
Strategy
Not a super tough stage but you don't have very long to save up cash. Combined with the real lack of enemy units spawning, there is not a whole lot of cash coming your way. Saving up to level 3 cat worker is about all you can do before you have to prepare for the boss.
Once I.M. Phace spawns you will have to try and push up as far as you can into the enemy base so that when Dread Bore spawns he doesn't burrow past everything and head straight for the base. Splitting your heavies from your meatshields is never a good thing.
Overall Phace isn't too much trouble but he is a constant threat while trying to keep Dread Bore from eating the rest of your units. If you don't have many alien treasures and are having a lot trouble, you may want to try again when the stage respawns.
Dread Bore feels like the real threat here and he spawns without warning or damage being dealt to the base. When he comes at you he will try to burrow so a well timed cat cannon shot can save your units from certain death. If you miss the cat cannon/freeze trick on Bore you will be dealing with him for a lot longer than if he was grouped up with the Phace.
As usual, many zombie killers are needed here because of Dread Bores awesome field presence. However, Gory Black is heavily buffed so you will likely need an anti-black cat with you as well. Any freeze units for alien/zombie are highly recommended here as well.
Chapter 3
Shibalien and Doge Dark appear early on as peons.
Mistress Celeboodle appear after about 20 seconds as a major threat, a Scissoroo also appears after the 3rd Celeboodle is spawned.
Dread Bore and I.M. Phace appear again as a boss duo. Just like before, I.M. Phace will appear at around the 60 second mark with a shockwave and Dread Bore will appear shortly after with no shockwave.
Dark Otter (and more Scissoroo + Mistress Celeboodle) will spawn as support for the bosses plus when you hit the enemy base.
Strategy
This stage is very similar to the strategy from Chapter 2. No new additional bosses, only the removal of some extra money in the form of Gory but you get some back with Mistress Celeboodle that you can stall to get cash from early on.
As far as your lineup choices go, there is only the 2 black and the 1 zombie enemy so the main focus here is on Alien enemies. If you can keep Dread Bore from burrowing with the cat cannon then you probably only need 1-2 zombie killers to finish out the stage. Any and all anti-alien treasures plus anti-aliens with freeze capabilities or resistant to damage will make dealing with this stage much easier. Pizza Cat was all i needed for the black enemies but some uber who covers black + alien or zombie + alien would be useful here.
If you're beaten chapter 2 Nasa then this stage should be just as easy. If not, read up more on the ch 2 strategy above as dealing with the bosses is identical.
Reference
Community content is available under
CC-BY-SA
unless otherwise noted.