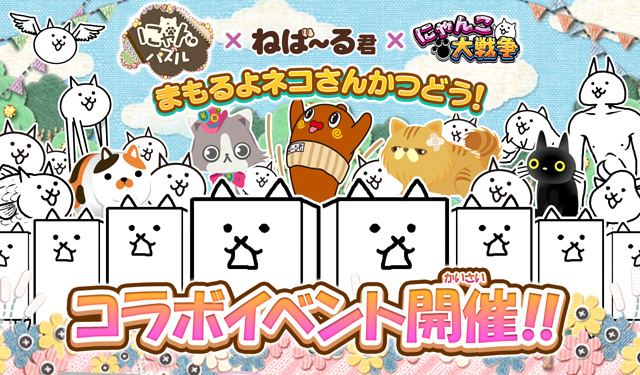 Nebaaru-kun (ねば〜る君, ねばーるくん) is the unofficial mascot of Ibaraki Prefecture since December 2013, based on Ibaraki Prefecture's famous Natto-motif[1].
Nyan Puzzle (にゃんパズル, nyan pazuru) is a puzzle game published by DeNa Co., Ltd for iOS and Android devices.
Battle Cats, Nebaaru-kun and Nyan Puzzle now appear in a collaboration event to support "Protecting Cat's Activities" (まもるよネコさん活動, Mamoru yo neko-san katsudō).
Event
Collaboration Stages appears
Limited Gacha appears
List of Levels
Mamoruyo Cat
まもるよネコさん (mamoru yo neko-san)
| | Japanese Version name | translation |
| --- | --- | --- |
| Stage 1 | にゃんパズルと一緒にまもるよ | Protecting with Nyan Puzzle |
| Stage 2 | ねば~る君も一緒にまもるよ | Neebaru-kun also protecting |
| Stage 3 | みんなでまもるよネコさん | Everyone's protecting Cats |
Appears
Japanese Version
March 7th, 2016 (16:00) to March 21st, 2016 (15:59)
Gallery
Trivia
This is the second collaboration to appear 3 different games/media, the first collaboration with 3 games involved in was Battle Cats x Million Arthur x Dragon Poker.
Reference
Community content is available under
CC-BY-SA
unless otherwise noted.