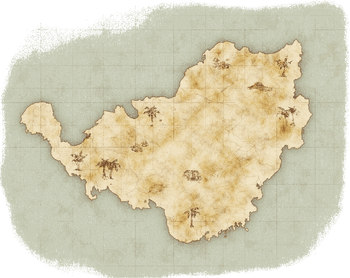 Pararila Peninsula (パラリラ半島 Pararira Hantō, Pararila Peninsula) is the 9th sub-chapter of Uncanny Legends, and the 58th sub-chapter overall. It was added in version 8.0, and is currently available up to 2♛ difficulty.
Difficulty
This sub-chapter contains very strange stages. Some are easy with the correct strategy, while others make you suffer even with the right cats. Make yourself at home, since you are going to stay in this sub-chapter for a while.
Starred Aliens get a noticeable increase in strength from this sub-chapter onward; to properly fight them, it is recommended to have all Anti-Starred Alien Treasures from both the first and second Cats of the Cosmos.
2♛ difficulty for this sub-chapter multiplies enemy strength magnifications by 150%.
List of Stages
Stage number & cost
Stage name
Description
2-9-1
Escolar Coast (シロマグロ海岸, Shiromaguro Kaigan, White Tuna Coast)
Dark Emperor Nyandam is the boss, with support from Wall Doges, Dolphinas, Kid Tappas and the Doge Base.
180
2-9-2
Project Walrus (究極兵器トド, Kyūkyoku Heiki Todo, Ultimate Weapon Sea Lion)
Three Cala Marias and a Ribbo are the main threats, backed up by a group of Star Pengs.
175
2-9-3
Loach Breach (ドジョウ破り, Dojō-yaburi, Loach Breach)
Just an Oldhorn and five Big Sals that spawn over time.
155
2-9-4
Seagull Reserve (ウミネコ湾岸, Umineko Wangan, Black-tailed Gull Gulf Coast)
A few Crocos and Zrocos are spawned at the beginning. When the enemy base is attacked, Zamelle spawns as the boss alongside Sir Seal, One Horn and Zir Zeal and Zroco.
175
2-9-5
Roe Row (べろべろ沼, Berobero Numa, Lick-Lick Swamp)
Duche spawns at the start of the battle, followed closely by three Metal Hippoes. Super Metal Hippoe appears when the enemy base is attacked alongside Duche, Shadow Boxer K and Tackey.
195
2-9-6
Heron's Call (おれおれサギ, Oreore-sagi, It's Me! It's Me! A Heron!)
Those Guys, Squire Rel, Mr. Angel and Sir Rel appear as peons. The boss is Cli-One, backed up by Angelic Sleipnir, Heavenly Hippoes, Angelic Gories and the main threat, M. Ost.
210
Material Drop Rates
| None | Bricks | Feathers | Coal | Sprockets | Gold | Meteorite | Beast Bones | Ammonite |
| --- | --- | --- | --- | --- | --- | --- | --- | --- |
| 33% | 9% | 0% | 6% | 6% | 17% | 9% | 12% | 9% |
Reference
---
<< Law of the Wildlands | Coup de Chat >>
---