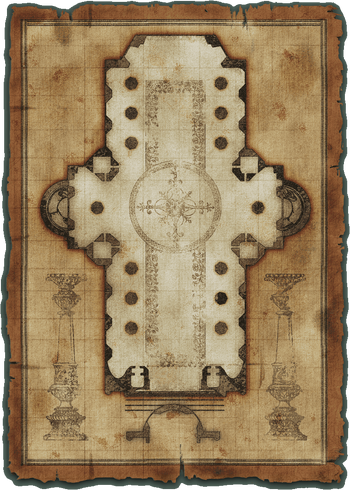 Parthenon (パルテノン神殿 Parutenon Shinden, Parthenon Temple) is the 15th sub-chapter of Stories of Legend. It is available up to 4★ difficulty.
Difficulty
Certainly more difficult than the past few sub-chapters, and the sub-chapters after this are quite hard as well. The hardest stage in this sub-chapter is Labyrinth of Hades, because it has both Kory and Bun Bun Black. In Labyrinth of Hades, you have to meatshield sparingly until Kory is dead; normally, you should meatshield because of Bun Bun Black destroying your front line, but you also shouldn't meatshield because of Kory producing wave attacks. For the fourth stage, Dawn of Gaia, the player will need a Critical Hitter, like Sunny Neneko, Jurassic Cat or Space Cat.
2★ difficulty for this sub-chapter multiplies enemy strength magnifications by 150%.
3★ difficulty for this sub-chapter multiplies enemy strength magnifications by 200%.
4★ difficulty for this sub-chapter multiplies enemy strength magnifications by 200% and only allows Special Cats and Rare Cats to be deployed.
New Features
This sub-chapter introduces two new enemies:
List of Stages
Stage number & cost
Stage name
Description
1-15-1
Altar of Zeus (ゼウスの祭壇, Zeusu no Saidan, Altar of Zeus)
A very basic level, with a few Celeboodles and Mooths to resist the player.
90
1-15-2
Sword of Achilles (アキレスの剣, Akiresu no Ken, Sword of Achilles)
To start, two St. Pigge the 2nds will spawn with a few Duches, and once the enemy base has been damaged, three more St. Pigges will spawn that are stronger than the first.
95
1-15-3
Road of Eros (エロスの街道, Erosu no Kaidō, Highway of Eros)
As soon as the level begins, a Shy Boy will spawn, and once the player has begun attacking the enemy base, two more Shy Boys will join the fight, supported by Doge Darks.
100
1-15-4
Dawn of Gaia (ガイアの夜明け, Gaia no Yoake, Dawn of Gaia)
Metal One Horn will spawn immediately after the level begins, and will be supported by waves of periodically-spawning Gories.
110
1-15-5
Gates of Aphrodite (アフロディテの門, Afurodite no Mon, Gate of Aphrodite)
The player will be tasked with defeating a very strong Le'boin, who will be supported by Jackie Peng and Hippoe. More and more Le'boins are spawned over time.
125
1-15-6
Labyrinth of Hades (ハデスの迷宮, Hadesu no Meikyū, Labyrinth of Hades)
Doge Darks are periodically spawned in groups throughout the battle. Once the enemy base has been attacked, Bun Bun Black and Kory will spawn, while Kang Roo and Doge Dark will constantly assist the bosses.
150
Material Drop Rates
| None | Bricks | Feathers | Coal | Sprockets | Gold | Meteorite | Beast Bones | Ammonite |
| --- | --- | --- | --- | --- | --- | --- | --- | --- |
| 56% | 14% | 9% | 14% | 5% | 0% | 0% | 2% | 0% |
Trivia
The names of each level in this sub-chapter have something to do with famous figures in Greek Mythology, such as Hades and Gaia. Four of them (Zeus, Gaia, Aphrodite and Hades) are included in The Almighties Majestic Zeus Uber Rare set.
This sub-chapter's name is derived from an ancient Greek temple that was devoted to the Greek goddess Athena.
The levels of this sub-chapter are basically Western Street stages with higher buffs:
This is the first Story of Legend sub-chapter where 4-star difficulty is only 200% (same as at 3-stars), rather than 300% like all the previous chapters so far.
Reference
---
<< The Scratching Post | Low Tide Beach >>
---
Community content is available under
CC-BY-SA
unless otherwise noted.