Raise a Floppa - The Loop
Play Sound
Pigeon de Sable (ド鳩・サブ・レー, Dohato-Sebu-Rē) is a Floating enemy that appears in Legend Stages.
Enemy
Pigeon de Sable has a mild attack rate and will always make a Lv.1 Wave Attack. Much like R.Ost, his range is enough for him to hide behind other peons while still blocking hits for the boss. Do not underestimate Pigeon de Sables, because groups of them can shred your units and easily break through even the toughest of meatshields. A Lv.1 Wave Attack might not sound like much, but it covers a range of exactly 467.5, being able to hit all units under that range.
Strategy
Octopus Cat is a ridiculously good counter against Pigeon de Sable, since it is resistant to Floating enemies, can weaken them and blocks Wave Attacks, which are this enemy's strongest point. Even without his Immune to Waves Talent, Dancer Cat is a great counter to Pigeon de Sables in many stages, being able to take out groups of them in a single strike. Miyamoku Musashi is similarly effective, but make sure to support him with other attackers.
Dictionary
Enemy Unit

#

125

Floating
Pigeon de Sable

EN Description
Never fears leading the battle charge
to defend his pacifist ideals.
Lovingly batters Cat invaders
with his sharp beak of diplomacy.
Enemy Unit

#

125

Floating
ド鳩・サブ・レー (Dohato-sebu-rē)

JP Script
平和のシンボルとして、代々引き継が
れてきた宿命を背負う17代目ハト。
侵略してくるにゃんこに平和の頭突きが
うなりを上げる!
EN Translation
As a symbol of peace, this 17th-generation
pigeon comes bearing the same destiny
as those who came before him.


Batters the invading Cats with headbutts of peace!
Variant
| Name | Appearance | Information |
| --- | --- | --- |
| Sa-Bat | | A weaker variant of Pigeon de Sable first seen in the All Hallows Road event. It moves slower, has less health, damage and range, has an extra knockback, and unlike its avian counterpart, it can't release Wave Attacks. |
Encounters
Stats
Pigeon de Sable
Health
Attack Power
Attack Range
Attack Frequency
Movement Speed
Knockback
Attack Animation
8,300 HP
1,200 damage
(818 DPS)
205
(Single Target)
44f 1.47 seconds
18
2 times
5f 0.17s
(6f 0.2s backswing)
Special Ability
Type
100% chance to create a Lv.1 Wave Attack
Floating
Existence Elsewhere
In Nyanko Defense Force, Pigeon de Sable makes a cameo appearance as a stone carving in one of the backgrounds.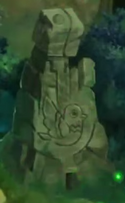 Pigeon de Sable Carving
Pigeon de Sable makes a cameo in Go! Go! Pogo Cat!, along with Brollow and Ecto Doge. Unlike the other two, seeing Pigeon de Sable has no requirement, as he can be seen flying in the background when the game begins.
| | |
| --- | --- |
| | |
| A group of Pigeon de Sables in the sky | Pigeon de Sable's spritesheet in Go! Go! Pogo Cat |
Pigeon de Sable appears as a League 7 trap in The Burgle Cats.

Carrier Pigeon
Gallery
Trivia
He is a reference to Kamakura's famous dove-shaped butter cookies, Hato Sables (Hato being Japanese for "pigeon/dove").
Reference
---
<< Drury Swordsman | Dark Otter >>
---