Pigge (ブタヤロウ Buta Yarō, lit. "Jerkish Pig" or "Bastard Pig") is a Red enemy that appears in the Main Chapters and Legend Stages.
Enemy
Pigge has similar attributes to Hippoe, but with 50% more health. She is quicker in both speed and attack than previously encountered enemies.
Strategy
This is the second "boss enemy" fought in the game, similar to Hippoe. However, this early in the game, Red enemies are nothing more but opponents with a huge disadvantage. To kill her easily, focus on anti-Red Cats like Axe Cat or Ninja Cat. Gross Cat and/or Lizard Cat also work well against Pigge, as they can deal a lot of damage and have long range.
Later in the game, Pigge is nothing more than a meatshield for stronger enemies, like in Boiling Spring or Fainting Porch, or even a free source of money, so she can be taken out easily by almost any attacker.
Dictionary
Enemy Unit

#

004

Red
Pigge

EN Description
Loves going to the tanning salon,


that's why her skin is red.
Born in an organic free range farm.
Did you know that pigs like to clean?
Enemy Unit

#

004

Red
ブタヤロウ (Buta Yarō, Bastard Pig)

JP Script
あだ名を命名してもらったブタ(メス)


だが本人はこの名前に納得はしていない。
体の赤い色は日焼けである。
本名はエリザベス。イギリス生まれ。

EN Translation
A pig (female) that has been given a nickname,


but she herself doesn't admit that name.
Her red body was caused by sunburn.
Real name is Elizabeth. Born in England.
Variants
| Name | Appearance | Information |
| --- | --- | --- |
| St. Pigge the 2nd | | A much bigger version of Pigge which usually replaces Pigge in Stories of Legend. Doesn't wait between attack animations, has much more health in proportion to her attack power, and twice as many knockbacks. |
| Pigge Back | | Appears to be 3 Doges holding up a Pigge, first appearing in the Autumn = Sports Day! event. |
| Elizabeth the LVIth | | Alien version of St. Pigge the 2nd. She has much higher health, and can produce Wave Attacks. |
| Zigge | | Zombie variant of Pigge. Has higher health and damage, is a little bit faster, and can knockback units. Like most Zombies, she can burrow past cats and revive once with 50% HP. |
| Winged Pigge | | Angel variant of St. Pigge the 2nd. Has much higher health and damage, Omni Strike that reaches 340 range, moves faster, and weakens cats by 90%. |
| Pigge Victorious | | A variant of Pigge Back, the Pigge is now flipped upwards and she has a school jacket. Appears in the Go Go Graduates! event. |
Encounters
Strength magnifications are 100% in Chapter 1, 150% in Chapter 2, and 400% in Chapter 3.
Strength magnifications are 200% in Chapter 1, 400% in Chapter 2, and 600% in Chapter 3.
Strength magnifications are 2,400% in Chapter 1.
Stats
Pigge
Health
Attack Power
Attack Range
Attack Frequency
Movement Speed
Knockback
Attack Animation
1,500 HP
120 damage
(49 DPS)
150
(Area Attack)
73f 2.43 seconds
5
2 times
14f 0.47s
(8f 0.27s backswing)
Special Ability
Type
-
Red
Existence Elsewhere
Nyanko Daibōsō
Pigge appeared as a regular enemy in Nyanko Daibōsō.
Nyanko Defense Force
Three different UFO Pigges appeared as uncommon enemies in Nyanko Defence Force.
| | | |
| --- | --- | --- |
| | | |
| Winter UFO Pigge | Green UFO Pigge | Dark UFO Pigge |
Kyoutou Project
Pigge appeared as an enemy in Kyoutou Project during the game's collab with The Battle Cats.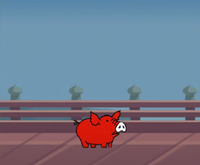 Pigge as an enemy in Kyoutou Project
The Burgle Cats
In The Burgle Cats, Pigge makes a cameo appearance as a toy on a shelf in the Market.
Gallery
Trivia
Pigge's name in the original English version was "Elizabitch". This is referenced by her Japanese description which states her real name is Elizabeth and that she was given a nickname that she doesn't admit. This theme is later carried on with St. Pigge the 2nd's royal motif, Zigge's description's references to her being a past monarch, and in Elizabeth the LVIth, who not only has the royal motif of St. Pigge the 2nd, but is even named Elizabeth.
Reference
---
---