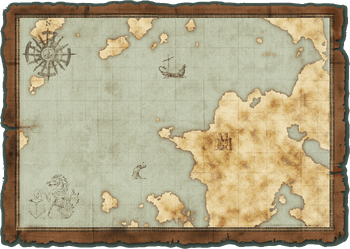 Primeval Currents (じゃぶじゃぶ旧海道 Jabujabu Kyū Kaidō, Stirring Old Sea Circuit) is the 4th sub-chapter of Uncanny Legends, and the 53rd sub-chapter overall. It was added in version 7.1, and is currently available up to 2★ difficulty.
Difficulty
Difficulty in this Uncanny Legends sub-chapter is rising as the stages progress. The first two stages are arguably the easiest in the sub-chapter. Palcaccio Waters and Rutsborg Vortex are by far the hardest stages in this subchapter, although Utsubobo Seamount and Frontier Dawn shouldn't be too bad.
2★ difficulty for this sub-chapter multiplies enemy strength magnifications by 150%.
New Features
This sub-chapter introduces one new enemy:
List of Stages
Stage number & cost
Stage name
Description
2-4-1
Marine Town (マリネタウン, Marine Taun, Marine Town)
A Metal Hippoe spawns at the beginning of the level. Snache, UltraBaaBaa and Relic Doge are peons, with Gory and General GreGory appearing as periodic threats.
180
2-4-2
Wandering Conch (さすらいのホラガイ, Sasurai no Horagai, Conch of Wandering)
Le'noir serves as the boss. Various Zombies appear as peons.
160
2-4-3
Palcaccio Waters (パルカッチョ海溝, Parukatcho Kaikō, Palcaccio Trench)
The battle leads off with four Heavenly Hippoes. Some time after, Gabriels and Mr. Angels start spawning. After attacking the enemy base, a Bore will appear as the main threat, Heavenly Hippoes will spawn every so often and Angelic Gories will spawn constantly. An additional two Bores appear some time later.
170
2-4-4
Utsubobo Seamount (ウツボボ海底火山,Utsubobo Kaitei Kazan, Utsubo Seabed Volcano)
Just a Kory, an Oldhorn, another Kory, another Oldhorn and a Berserkory, in that order. The only peons, B.B.Bunnies, are spawned occasionally.
175
2-4-5
Frontier Dawn (暁フロンターレ Akatsuki Furontāre, Dawn Frontale)
Snache and Relic Doge appear as peons. Those Guys are also spammed at the beginning of the level, but eventually stop spawning. Upon damaging the enemy base, THE SLOTH will spawn alongside a trio of Rain D., and another three Rain Ds appear after 20 seconds. Sir Rel is spawned occasionally, but will stop after a total of 25 Sir Rels have appeared.
165
2-4-6
Rutsborg Vortex (ルツボー渦, Rutsubō Uzu, Rutsbo Vortex)
Croco and Squire Rel spawn at a mild rate. After 33.3 seconds, Mooth will appear. Once the enemy base's HP has been reduced to 99%, Othom will appear as a boss. Gabriels, Heavenly Hippoes, Angelic Gories, Angelic Sleipnirs, Relic Doges and Sir Rels appear as support.
200
Material Drop Rates
| None | Bricks | Feathers | Coal | Sprockets | Gold | Meteorite | Beast Bones | Ammonite |
| --- | --- | --- | --- | --- | --- | --- | --- | --- |
| 33% | 9% | 0% | 3% | 3% | 15% | 6% | 12% | 20% |
Reference
---
<< The Endless Wood | Barking Bay >>
Community content is available under
CC-BY-SA
unless otherwise noted.