Principal's Rebellion is the fourth stage in The Devils' Academy. This stage is a remake of Beached Mammals.
Battleground
Strategy
If the Ribbos and Corporal Weylands keep warping/killing your units, Golfer may be of use. It can break Ribbo/Weyland's barrier as well as deal consistent damage to them. It is also possible to stack them at the start of the level because of the Hippoes.
Strategy 1
Lineup:
Battle: Start by upgrading the worker, then let the first Shadow Boxer hit your base and respond with Pizza and Cat Jobs, then follow with Cameraman and start spamming Maximum the Fighters for the rest of the fight.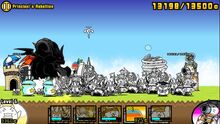 The next step is advancing while dealing with the other peons with a couple of Pizza Cats. You should also add Apple Cat and Sanzo to the spam more or less when your army is midway through. When the base is hit, you should be able to freeze the Bore and slow the Bun Buns, as well as using the cannon to break Ribbo's barrier. You will soon notice that Pizza and Cameraman are strong enough to knock the buns back quite often, allowing your stallers to do their job. Eventually you will kill the bore, when it happens, there will no longer be any need for Apple cat, so you can stop summoning him; as for the Ribbos, the cannon is your best weapon, but Pizza can also help if it generates a wave attack. It should not take long for the bosses to die and for you to win.
Reference