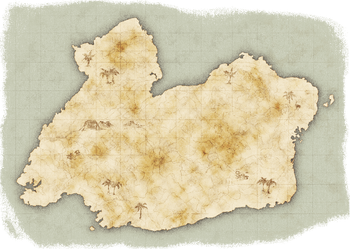 Quarantine Isles (絶島パンデミック Zettō Pandemikku, End Island Pandemic) is the 35th sub-chapter of Stories of Legend, available up to 4★ difficulty. This sub-chapter was added in update version 5.7 of BCEN and BCJP on December 7th, 2016.
Difficulty
This sub-chapter is unsurprisingly harder than the previous one, predominantly featuring Zombies supported by enemies of other traits. Stage 2 can be a nightmare if you don't have proper anti-Metal Cats or Critters. Stage 6 features a new enemy that can be hard to stall if you don't have Mighty Bomburr or Freshman Cat Jobs, either of which can easily cheese the stage.
2★ difficulty for this sub-chapter multiplies enemy strength magnifications by 120%.
3★ difficulty for this sub-chapter multiplies enemy strength magnifications by 140%.
4★ difficulty for this sub-chapter makes no change to enemy strength magnifications and only allows Special Cats and Rare Cats to be deployed.
New Features
This sub-chapter introduces one new enemy:
Big Sal: A Zombie enemy and the final boss of this sub-chapter, he has very close range and attacks non-stop. Like other Zombies, he can revive one time and, different from other Zombies, he can burrow underground many, many times until he's at the Cat Base. He also does 4x damage to the Cat Base, allowing him to destroy it in one hit. Usually encountered at 200% strength magnification.
List of Stages
Stage number & cost
Stage name
Description
1-35-1
Virus Smugglers (感染者密航, Kansen-sha Mikkō, Smuggling the Infected)
An onslaught of Zrocos pops up, along with The Face, and then Li'l Bun Buns show up, along with some Zackie Pengs, but they stop spawning after a while, and then there is just The Face.
110
1-35-2
Bionic Seaweed (ハイテク昆布漁, Haiteku Konbu-ryō, High-tech Kombu Fishing)
Metal enemies galore! This stage has only them! A lot of Metal Doges support a Metal One Horn, Metal Hippoes, a few Sir Metal Seals, and several Super Metal Hippoes for the boss.
120
1-35-3
Ancestral Ways (先祖の行進, Senzo no Kōshin, Ancestors' March)
Zoges, Znaches, Zomboes, Zories and Zigges support a Kory.
105
1-35-4
High Watchtower (脱出を阻む者, Dasshutsu o Habamu Mono, Escape-thwarters)
A Galactic Overseer Nyandam appears first, with peons as basic support, as well as a Bore and a Razorback.
115
1-35-5
Tunafish Trenches (怒りのマグロ戦線, Ikari no Maguro Sensen, Angry Tuna Front)
Pretty much just a remade and buffed-up version of Frozen Tuna Front. All enemies from Frozen Tuna Front are present here besides Master A., who is replaced with Professor A. Duche, Dagshund, Metal Hippoe, St. Pigge the 2nd and Doge Dark appear as support, as well as some basic peons.
125
1-32-6
The Infected King (感染、島の主, Kansen, Shima no Omo, Infection, the Island Lord)
Big Sal makes his first appearance here as the boss. Every time the enemy base's health is reduced by 20% (400,000) at and below 80% (1,600,000), a buffed Camelle spawns, as well as the 200% Big Sal popping up at the beginning, burrowing under any Cat Unit unless immediately provoked, or if he is at the Cat Base.
140
Material Drop Rates
| None | Bricks | Feathers | Coal | Sprockets | Gold | Meteorite | Beast Bones | Ammonite |
| --- | --- | --- | --- | --- | --- | --- | --- | --- |
| 48% | 9% | 5% | 5% | 14% | 0% | 0% | 19% | 0% |
References
---
<< Suburbs of the Dead | Mouseyland >>
---
Community content is available under
CC-BY-SA
unless otherwise noted.