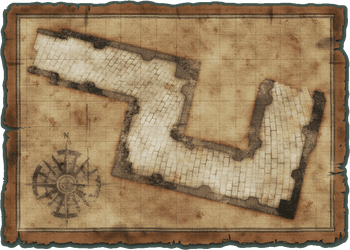 Roads of Torment (まどいの魔道路 Madoi no Madōro, Confusing Wicked Road) is the 15th sub-chapter of Uncanny Legends, and the 64th sub-chapter overall. It was introduced in version 8.7, and is currently only available up to 1★ difficulty.
Difficulty
Half of this sub-chapter is very or decently difficult (stages 1, 3 and 6), and the other half is bearable or easy.
List of Stages
Stage number & cost
Stage name
Description
2-15-1
Pulling Hair (毛皮をかき揚げて, Kegawa o Kakiagete, Deep-Frying Fur)
This level has your basic peons and a Sunfish Jones. There are six Chickful As that spawn in groups of three, with each group coming with a buffed Dagshund. Gabriels also appear as support.
190
2-15-2
Mermaid Sauce (マーメイドのあんかけ, Māmeido no Ankake, Mermaid Sauce)
Initially, you have Zoges, Znaches, Those Guys, and UltraBaaBaas. On base hit, you have a Dread Bore as the boss, with more UltraBaaBaas, some Kid Tappas and some Zories.
180
2-15-3
Lord's Lecture (帝王の教室, Teiō no Kyōshitsu, Emperor's Classroom)
Starts off with three Li'l Bun Buns. On base hit, they will be spammed, but will eventually stop spawning. They are supported by a Calamary, Maawth, I.M Phace and Bun Bun Symbiote. However, the enemy limit in this stage is only five, so you won't see these all at the same time.
175
2-15-4
Cracked Column (バタバタ大黒柱, Batabata Daikokubashira, Clattering Great Dark Pillar)
This is a Crunchy Pillar remake. Four Tackeys are added to the boss fight.
200
2-15-5
Guardian of Innocence (潔癖症の番人, Keppeki-shō no Ban'nin, Guardian of Germophobia[?])
Here is a Disapproving Giant remake. Everything in this stage has been converted to Alien if it had an Alien counterpart, and several Mesocosmocyclones are added to the boss fight.
180
2-15-6
Total Myopia (絶対近視区域, Zettai Kinshi Kuiki, Total Myopia Territory)
The stage starts off with Metal Doges and Relic Doges. On base hit, you have more Metal Doges, a Super Metal Hippoe, a Sir Metal Seal, and a Loris.
225
Material Drop Rates
| None | Bricks | Feathers | Coal | Sprockets | Gold | Meteorite | Beast Bones | Ammonite |
| --- | --- | --- | --- | --- | --- | --- | --- | --- |
| 33% | 2% | 18% | 4% | 6% | 6% | 18% | 8% | 4% |
Reference
---
<< Exile's Resort | Heaven's Back Alley >>
---
Reference
Community content is available under
CC-BY-SA
unless otherwise noted.