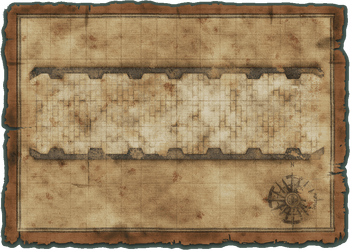 Rose-Colored Road (バラ色の袋小路, Barashoku no Fukurokōji, Rose-Colored Dead End) is the 42nd sub-chapter of Uncanny Legends, and the 91st sub-chapter overall. It was added in Version 11.2 and is currently only available in 1♛ difficulty.
Difficulty
This sub-chapter is about as difficult as its predecessors, or a little more. It features all traits of enemies and a great variety of stages, from gimmicky to spam to a stage with an enemy limit of 2. Players will have to adapt to multiple situations and have an army prepared for various types of stages, increasing the chance of finding a weak point.
List of Stages
Stage number & cost
Stage name
Description
2-42-1
Speechless Tongues (モノ言わぬ舌, Mono Iwanu Shita, Reticent Tongue)
Shibaliens, Hyppohs and a few Zang Roos supporting Spacefish Jones and Corporal Weyland. After about 2 minutes, 5 Zang Roos appear with little time between each.
190
2-42-2
Lamps Aloft (ランプを手にした群衆, Ranpu o Te ni Shita Gunshū, Lampbearing Crowd)
Sir Rels, Trolly Bloggers and 2 Ragin' Gories appear at the start. When the base is hit, Loris and Henry appear with more Ragin' Gories.
200
2-42-3
Ashes Just Ahead (一寸先は炭, Issunsaki wa Sumi, Ahead Lies Charcoal)
Red EnerGs are spammed throughout the battle, supported by periodic Assassin Bears.
180
2-42-4
Cloak of Hiding (権力者の隠れミノ, Kenryokusha no Kakure Mino, Hidden Mino of Power)
A Sir Metal Seal and a total of 4 Gobbles spawn after the base is hit, support by Metal Doges and Metal Hippoes.
180
2-42-5
Hall of Feasting (晩餐の館, Bansan no Kan, Mansion of Supper)
Winged Pigge is the boss, supported by Zuches, Chickful As, The Thrillerz, Mr. Angels, Pigeon de Sables, Gabriels and Miz Devils.
200
2-42-6
Roast Meat, Not Cities (焼肉焼いても街焼くな, Yakiniku Yaite mo Machi Yakuna, Grill the Meat but Don't Burn the Town)
Features the Surge Base, Master A. and Ursamajor filling the enemy limit cap. Whenever a slot is freed, Capy, Bun Bun Symbiote and R.Ost spawn in that order.
260
Material Drop Rates
| None | Bricks | Feathers | Coal | Sprockets | Gold | Meteorite | Beast Bones | Ammonite |
| --- | --- | --- | --- | --- | --- | --- | --- | --- |
| 34% | 5% | 10% | 5% | 8% | 10% | 15% | 8% | 5% |
Trivia
This sub-chapter is all about meat and cooking, but most of it doesn't translate well to English if at all.

Rose-Colored Road: The Japanese word for rose is bara, which can also be short for baraniku, meaning "rib meat".
Speechless Tongues: A cooked tongue is good for eating, less so for speaking.
Lamps Aloft: Lamp shares a Japanese pronunciation with rump, as in meat cut from the rump of an animal.
Ashes Just Ahead: The Japanese name instead refers to charcoal, which makes more sense to see in a cooking environment.
Cloak of Hiding: The term used for "cloak" in the Japanese name is mino, a traditional Japanese raincoat made of straw. However, mino can also refer to a cow's rumen.
Hall of Feasting: Where the meat is eaten. If you remove the no (の) from this stage's Japanese name (晩餐の館), it becomes Bansankan (晩餐館), a well-known condiment brand.
Roast Meat, Not Cities: Self-explanatory, but is also a reference to "grill the meat but don't burn your home," a translation of a phrase from one of Bansankan's yakiniku sauce commercials.
Reference
---
<< Dead Heat Land | Behemoth's Peak >>
---