For the Starred Alien counterpart, see Shibalien Elite.
Shibalien (エイリワン Eiriwan, Aliwan) is an Alien variant of Doge that appears in Into the Future, Cats of the Cosmos and Legend Stages.
Enemy
As the first Alien enemy encountered, Shibalien poses little to no threat outside of his first few appearances and is usually just there to take a hit for stronger enemies, although at high buffs he can survive the Cat Cannon. Using two Lion Cats or one Crazed Sexy Legs Cat can get the job done fast.
Strategy
When you first encounter him in Japan, do not underestimate him, as he can easily kill your frontline cats. However, ranged cats like Dragon Cat or Sexy Legs Cat can dish out lots of damage and eventually kill him. Even UFO Cat can be a decent option if protected with meatshields.
If you use Valkyrie Cat or Bahamut Cat, this enemy should be trivially easy.
Dictionary
Enemy Unit

#

167

Alien
Shibalien

EN Description
A lovable Doge, genetically modified by
the invaders to be the perfect foot soldier!
Always says "We think", but is really selfish.
That's why he fights with his dorm-mates.
Enemy Unit

#

167

Alien
エイリワン (Eiriwan)

JP Script
宇宙からの侵略者の手によって姿を変え
られてしまったわんこ。「ワレワレハ」が
口癖だが集団行動が苦手。最近受験に
受かるも学校生活に馴染めずにいる。
EN Translation
A dog modified by invaders from space.


Has a habit of saying, "We are," but is actually
bad at working with a group. Recently took the
exam, but still hasn't adjusted to school life.
Encounters
Stats
Shibalien
Health
Attack Power
Attack Range
Attack Frequency
Movement Speed
Knockback
Attack Animation
900* HP
150* damage
(109.76* DPS)
120
(Single Target)
41f (1.37 seconds)
8
3 times
8f 0.27s
(10f 0.33s backswing)
Special Ability
Type
-
*Stats shown are with all Anti-unstarred Alien Treasures.
Unstarred Alien
Existence Elsewhere
Nyanko Defence Force
UFO Shibaliens were a common enemy in Nyanko Defence Force. Like most normal enemies, they could rarely appear as sparkling, which would drop either an item or a type of gem.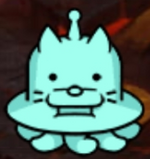 UFO Shibalien
Gallery
Trivia
This enemy's name is a portmanteau of two words: "Shiba Inu", a race of dogs which the famous meme Doge is, and alien. Thus, Shibalien.
His Japanese name, Aliwan, is a portmanteau of alien and wan, the Japanese onomatopoeia for the sound a dog makes.
He is the only enemy from Into the Future Chapter 1 whose ID lines up with when he's introduced.
Reference
---
---